The BEAUTY and health industries are the two sectors are some of those that readily embrace innovations, in the past; many people solely relied on conventional drugs, supplements and herbs to cure certain pains and illnesses.
Using conventional medicine is all-good but some of the drugs come with long-term side effects. It is for this reason that some people opt to use non-invasive and drug free light therapy to cure their illnesses, find relief for their pains and stay take care of their complexion and other parts of the body. One of the most popular light therapies in the market today is RUBYLUX INFRARED BULB.
Read More: Beurer Infrared Heat Lamp Reviews
Best Infrared Bulb Selling On Amazon:
RubyLux Infrared Bulb Review
Made by RubyLux, the above bulb has infrared heat and near infrared wavelengths that help with pain relief, increase in collage levels and circulation, renewal and rejuvenation of body cells, improving recovery times and much more. The human grade bulb is specifically designed for near heat lamp light therapy. The bulb peaks at 850nm and with a distance of 4 inches from the body, it has the ability to emit 1432 Mm W/cm2.
Some of the people that have used the light therapy say that they find relief after just one use while others feel less pain after several uses. RubyLux unlike many other products in the market does not require UV blocking because the bulb does not produce any ultraviolet rays. The bulb does not contain any Teflon or mercury making it one of the safest bulbs to use for light therapy.
Other than that, it is also free from heavy metals and other toxic substances that you find in many other bulbs. You also do have to worry about off-gas fluorinated fumes when using the bulb. The CE certified bulbs are quality guaranteed. The NEAR INFRARED bulb is also versatile and you can use it with any kind of heat resistant lamp or any near infrared bulb sauna fixture that comes with a rating of 250W or more.
The bulb offers a circular treatment diameter radius of 15 to 20 centimeters. Made in the USA, the bulb passes all the safety and regulations and it comes with a 60-day money back guarantee. It is also very affordable and unlike other lamps that come with expensive replacement parts,
RubyLux can fit in your ordinary home 250W lamp. It fits well in a regular socket and it can serve for two years without having to worry about replacing anything. The light bulb comes in 120v for users in the USA and Canada and 220 v for European Union countries, Australia and other countries across the world. If you are in a country that uses 220v, you will need a converter to use the 120v bulb.
Benefits of RubyLux infrared bulb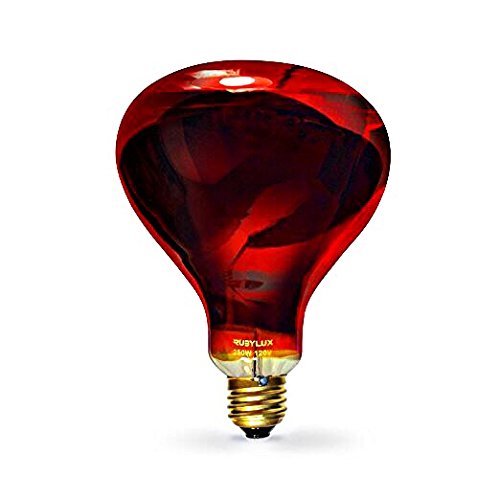 Helps to relieve pain of the joints, muscle and other parts of the body
Helps to fight the aging symptoms by increasing skin elasticity and collagen
Helps to speed the healing process
Helps with relaxation
Contains no ultraviolet rays
One of the safest bulbs in the market as it contains no Teflon, fluorated fumes, mercury, chemicals and no toxic substances
CE certified
Comes with a 60-day 100% manufacturer backed money back guarantee
Lasts for two years
Easy to use
Affordable
Requires no replacement parts
You can use it at home with ease on a 250W normal lamp
Comes with safety instructions
Cons
Bulb may get extremely hot therefore making it risky when near the body. To avoid this, you should ensure that there is a safe distance between the affected area of the body and the bulb. Also, do not touch the bulb with your bare hands especially 30 minutes after switching it on.
Does not come with any heat control mechanism
FAQs
Below are some of the questions people ask about the light therapy bulb,
Should I wear protective glasses when using the light bulb?
The answer to this question is yes. When you are using infrared light, it is always advisable to wear protective glasses especially if you have to look directly at the bulb, the red light of the RubyLux bulb is strong and it could harm your eyes. It is just the same as looking directly into the natural sun or to any other bright light. If you have no protective glasses, use the bulb with your eyes closed to protect the retina.
Is the light from the bulb the same as that from LED?
There are different types of RubyLux bulbs. We have the RubyLux all red LED bulbs and the near infrared light bulb or the NIR-A. The latter is nowhere near a LED bulb. The bulb is an incandescent bulb, which means compared to the LED bulb it can get extremely hot. Led and INCANDESCENT LIGHTS also produce different wavelengths. While LED light produces only red light, RubyLux produces infrared light.
Does this kind of light therapy help with hair growth?
For people that are looking for ways to promote their hair growth or improve the texture of their hair from thinness to thickness, this light bulb is a big help. It also helps to fight hair loss and other hair problems.
User's reviews
RubyLux bulb has an average of 4.5 stars from all users. One particular user, JJ gave the bulb 5 stars and hailed the light bulb for its ability to heal not only the humans but pets too and this is what she wrote;
"This bulb delivers powerful healing for a wide variety of ailments from arthritis to abscessed teeth. Every member of our family, including our 12-year old German shepherd, has experienced pain relief and measurable results due to the RubyLux light therapy. Our 12-year old German shepherd Sophie offers an unbiased testimonial. She recently suffered a dilapidating stroke that paralyzed her hind legs and triggered constant eye tremors. The vet diagnosed her with a brain lesion. We decided to try RubyLux. Within two days, Sophie's eye tremors cease and she was able to stand up and walk. After 5 days of NIR-A therapy treatments, aimed directly at her brain stem, she regained 90% of her balance. This NIR-A bulb has extended Sophie's life"
Our verdict
This bulb is simply the best especially if you are tight on the budget ad looking for the most affordable way to take care of your joints and muscles. It comes with many benefits and besides relieving pain; it can keep your skin tight and flawless by getting rid of wrinkles and fine lines. What is even better is that you can use it on your pets to make them feel just as good. This is necessary buy.
Wrapping it up
RubyLux infrared bulb is a little magic wonder that will change the way you feel. If you have that back pain that keeps coming back or that acne that lowers your self-esteem or you have joint and muscle pains from an exercise or too much work or you want something to make you relax, this bulb will do just fine. The intense light from the bulb penetrates into the body cells to improve circulation, increased elasticity and collagen and offers all the relief you need.
Besides being affordable, you can use the bulb with ease at home with your everyday lamp and not have to worry about buying any replacements. The sturdy bulb offers fast healing abilities. Read our earlier articles for more on infrared light therapy and RED LIGHT THERAPY bulbs and lights.