Many of the people with hair loss issues hide the problem under hats and wigs or use other means of treatment creams, shampoos and conditioners to get rid of the problem.
While some of the products in the market work, others may leave the situation worse than it was. Others come with claims of regrowing the hair fast, which never happens. Growing hair back is not an easy thing to do and not many products do as the labels claim. Using a laser comb for hair regrowth treatment is however one of the best solutions for you if you want to stop the hair loss and regrow your hair back looking healthy and natural.
You are reading: Laser Comb For Hair Regrowth-Hair Loss Reviews
What is a laser comb?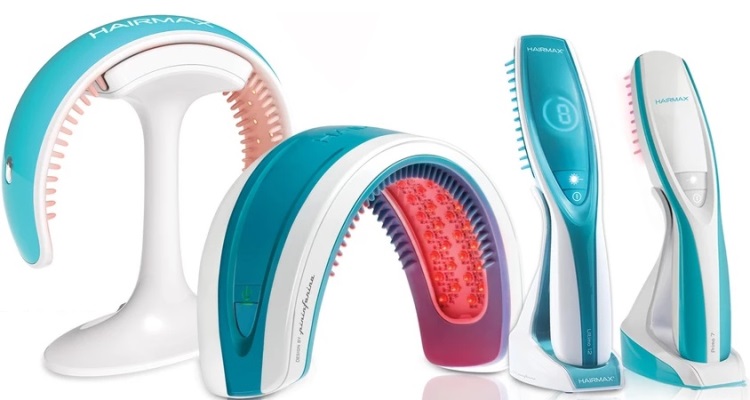 A laser comb may be new to many people because it is not a very old concept in the market. The comb uses Low-Level Laser Therapy (LLLT) to penetrate deep into the hair follicles to stop hair loss. This it does by stimulating the scalp and follicles to enable hair regrowth.
Though using laser combs is not the ultimate miracle for people with hair loss problems, there is medical evidence that it is very effective in eliminating the problem. It is a laser comb because apart from the features, it looks just like the normal comb and it uses the same combing motion to treat.
See also:
Laser Hair Regrowth Treatment Comb
We reviewed some of the best laser comb devices and came up with the following four devices.
HairMax Ultima 9 Laser Comb
This home medical HairMax laser comb is everything you need to reclaim your hair back. The FDA approved device promotes hair growth to both women and men while at the same time enabling the treatment of hair loss. The clinically proven laser hair comb reverses hair-thinning process, fixes damaged hair, stimulates further hair growth and increases the density of the hair.
The comb uses laser light energy that penetrates deep into the hair follicles giving it life and promoting new and healthy growth. It emits nine laser beams that nourish the scalp helping it to regain its natural life back. The device also uses photo bio stimulation, which is a process that allows light energy to penetrate into the follicles to offer nourishment for regrowth.
Treatment time using the laser comb takes 11 minutes and it is ideal to use directly on the scalp. It is advisable to use the device for three days a week unless advised otherwise.
Pros
Easy to use and comes with a manual
The device is safe to use with no side effects.
Portable
Lightweight
Sophisticated design
Fast therapy time ranging from 11 to 20 minutes
One of the FDA approved home medical laser device clinically tested
Medically tested for safety and efficiency
It comes with a two-year warranty
Cons
May cause burning if you are bot careful when using the device,
Not a permanent cure if you have severe hair loss
Using the comb is not a walk and can be tiring because of movement of brushing and combing
The laser comb costs more than others in the same calibre do
User's reviews
HairMax Ultima 9 Classic has an average rating of 4.5 stars with majority of the customers hailing the device for its high quality performance. Eli with a five star rating wrote:
"I bought this as a gift for my brother who was having some hair loss problems and he was so overwhelmed by how well this worked! He could not believe how amazing this product is. Aside from being handy, it is also very easy to use."
Yeamon 3-in-1 phototherapy scalp massager
If you are battling loss of hair and need a quality hair massager, Yeamon Phototherapy Massager Comb is the product to buy. The 3-in-1 comes with an attractive design that uses high frequency vibration to promote blood circulation and relax body muscles. It also improves the stimulation of cells and it is easily portable allowing you to use it anywhere and everywhere.
Read more : 14 Best Laser Hair Removal At Home Machine Review
The comb massager uses both red and blue light to promote new hair growth. It is easy to use and it is noiseless. The enhancement of blood circulation by the comb massager helps nutrients and oxygen to penetrate deep into the hair follicles stopping hair loss and damage.
Frequent use of the device also helps to prevent intermittent or full-blown headaches. The package comes with a massage comb, an instruction manual and a USB charging cable. The massage comb also makes a great gift for a friend, parent or to a partner and it is easy to use.
Pros
The massage comb helps to increase blood circulation, which in turn penetrates deep into the follicles stopping hair damage and loss
Besides hair loss, the comb also helps to reduce grease on the hair in the case of oily hair and scalp and helps to improve the hair bifurcate issues.
After a tiring day, the massage comb helps the muscles to relax
If you have constant headaches, the blue and red light of the comb massages you back to normal
With four easy steps and a user manual, anyone can use the massage comb without any difficulties
The comb is easily portable allowing you to use it everywhere such as in the car, in the office, as you lie down on your bed, as you relax at your backyard and many other places.
Cons
The battery life of the comb is not as long as others in the market
Customer's reviews
The Amazon rating on the device is 4.4 stars with many of the users praising it for its efficiency. This is what one customer by the name Traci Mills wrote after a five star rating;
"I love the vibrating scalp massager! It feels so good! The brush is very pretty and easy to use. I can't wait to see if the red and blue light therapy will make a difference. I'll update after I've used it for some time."
Vinmax Hair Growth Comb
Vinmax Hair Growth Comb is another quality growth comb that helps to reverse hair loss by stimulating the hair follicles and return the scalp to its cycle of healthy growth. the comb helps to improve the production of oil using red lights with a wavelength of 650 nm that regulate scalp grease secretion which in turn allows hair to grow back healthy and strong.
The comb promotes effective blood circulation, which nourishes the hair roots. The red light also stimulates aging hair follicles, which promotes natural and healthy hair growth. The comb comes with an elastic broach that protects the scalp from any scratches ensuring that the massage session is comfortable. The comb is firm, durable and does not break easily.
The design of the comb has a one-button switch that is simple and fast to operate. The massage comb uses 2 AA batteries and you have the option of unlimited use of 1.5 volts without charging the comb. For ease of cleaning, you can separate the head of the comb from the body easily.
Pros
The massage comb is easy to use and comes with a manual
The batteries are easy to install without the need for prior charging
The comb promotes blood circulation, which stimulates the hair follicles for new hair growth that is more healthy and natural
The comb uses red light, which penetrates into the root of the scalp stopping the loss of hair
If you are not happy with the comb, you can return it for a 100% money back
The detachable head of the comb makes it easier to clean and maintain the device
The price of the comb is lower than that of many other laser combs
Cons
There were no cons of this laser growth comb
Customer's reviews
With 32 reviews, Vinmax has an average rating of 3.5 stars but with over 50% of the customers giving a five star rating, it can only mean that the device is excellent. Troy Smith wrote:
"I never expected that an affordable brush like this would be so effective! It really stimulates the scalp and feels great in the process. I think this is a great buy for the money."
Nutrastim Professional Hair Growth Laser Comb
Nutrastim is a big company that manufactures different quality laser products for the treatment of various problems. This particular device is a lightweight laser comb that takes only 8 minutes to treat the problem of hair loss. It comes with an ergonomic design that makes it easy and comfortable to use the cordless device is safe on all kinds of hair types and skin types and you can use it in conjunction with other hair boosting treatments and products.
It is ideal for people with mild to moderate hair loss. The FDA cleared laser treatment comb is also a favourite with many physicians and professionals. The device is best for home use, as the lightweight is not fit for professional use. The device is ideal for people of all ages and for both men and women.
Pros
The comb helps to improve blood circulation, which helps to stimulate the hair follicles for regrowth and stoppage of hair loss
The comb works in only 8 minutes to start regenerating hair
It is long lasting
The laser comb has an ergonomic design that makes it easy to handle and use
It is lightweight and easily possible meaning you can use it anywhere and everywhere
Cons
If you are on a tight budget, this laser comb may cost you much more than the others in the market.
Customer's reviews
Reviewed by 55 customers, 29% of who gave a five star rating, the product enjoys mixed reactions. The main issue is that it does not act well on severe loss. However, many people have very positive things to say about the product and one of these is Petra Romer with a five star rating. Petra wrote:
"My husband has been using this since Christmas. I have noticed new sprouts everywhere! Great investment for him."
Laser comb buying guide
Read more : 4+ Best Ipl Hair Removal Machine At Home Reviews
Now that you have a list of some of the best laser comb devices in the market, it is important to know what to look for when buying the devices. One of the reasons why this is important is because the devices are very new in the market and several people out there do not know about them. As new as they are, the options in the market are many and it is difficult to choose the right one. A laser comb is a treatment device you are buying and not one to use on your hair for just styling purposes and therefore buying the wrong product can lead to some serious side effects. What should you look for when buying the laser comb? This guide is user-friendly and it touches on everything you should put into consideration when choosing your laser comb treatment.
Weight
The weight of the laser comb is very important.  You will use the device continuously on your hair daily. It is also a device that you can carry with your everywhere you go ad continue to treat your hair loss problem. The laser comb you buy should be lightweight s that the motion of combing back and forth is not tiring.
Charging
You do not want to buy a device that comes with many charging ports or is hard to charge. A good laser comb is the one you can plug directly into the wall and start treatment. Majority of the laser combs use the power of batteries some of which are rechargeable. It would be wise to choose a model that can hold charge for a minimum of one hour. This is easy because most of the laser treatment combs use very few minutes for treatment.
Portability
Another important feature to look out for is the portability of the comb. It should be easy to carry to the places you go to so that you do not ever miss any treatment.
Budget
Many of the hair treatments in the market are extremely expensive while others are mildly expensive. Laser combs also fall on these categories with some being too expensive while others are mildly affordable. If you are planning to use a laser comb to treat your hair loss, you should have some money set aside for that.
Very few of the devices cost below 100 dollars so you should prepare yourself. Look at all the features that come with each laser comb before settling for the one you want. Remember cheap may be more expensive in the end, therefore choose wisely.
Reviews
Reading reviews on the different types of laser combs in the market from past users is also very important, as it will help you to narrow down your search. You will need the assurance of knowing and finding out if, the devices work.
The cause of your hair loss
Before starting the laser comp treatment, it is important to know the cause of your hair loss first. Have your doctor evaluate the extent of the problem before you go on laser treatment. Using laser treatment blindly without finding out if your scalp and hair can withstand it, may lead to side effects.
Safety/Brand name
It is good to go with the most popular brand names such as HairMax Laser combs when choosing your laser comb. This is because they have better chances of providing high quality and FDA approved device. which proves that they are safe medical devices to use. Check if the product you want to buy comes with any side effects because you do not want that to weigh you down after or during treatment.
Does laser comb work?
One of the frequently asked questions is whether laser comb works. The answer is an astounding yes it works. Laser combs work well for both men and women suffering hair loss. In majority of the cases, the therapy treatment works well with people in their initial stages of hair loss.
People with severe hair loss conditions may not benefit as much from the treatment. The laser combs use an advanced technology of red light therapy or low-level laser therapy (LLLT) to release photons that penetrate deep into the scalp to revitalise and nourish hair follicles for regrowth. The procedure is non-invasive and painless and you do it all by yourself.
Wrapping it up
Using laser combs for hair growth treatment may be a new technology in the market but it is catching up with people from different lifestyles across the world. The good thing is that today, you do not have to book a doctor's appointment for hair treatment sessions. The devices are lightweight and portable to use at the comfort of your home easily, conveniently and comfortably.
The above four are some of the best laser combs in the market that come with efficiency and ease of use. Gets your hair growing back today with whichever one you deem well enough for you.
Source: https://cosmeticnews.com
Category: Laser Machine