Getting rid of unneeded hair gives you a fantastic freshness and boosts your overall confidence. Luckily, you can now enjoy that smoothness every day thanks to the ipl hair removal technology.
Investing in a quality at-home IPL laser hair removal device will not only get rid of excess hair but will also save you countless hours spent on shaving or waxing. Here we review the top four best IPL devices that will offer incredible results and value for your money. We have also included a buyer's guide to inform you of a few things you need to consider before giving this treatment a chance.
You are reading: 4+ Best Ipl Hair Removal Machine At Home Reviews
Intense Pulsed Light Hair Removal System Reviews
Gillette Venus Silk-expert
Gillette Venus Silk-expert is an innovative hair removal device with a unique IPL technology that automatically adapts to your skin tone providing the safest shaving experience. It works underneath the skin surface targeting the melanin hair follicle to provide permanent hair reduction.
Skin tone is not uniform in all the parts of the body. The exceptional SensoAdapt skin tone sensor continually monitors your skin complexion -80 times per second and instantly adapts the light intensity to ensure safety and efficiency. The hair removal machine is powered by Braun and provides fast treatments without compromising on effectiveness. You can treat a large body part, such as an arm or leg in 8 minutes, and the results are remarkable!
Pros
Fast and convenient for large body parts such as arms and legs
Dermatologically tested to ensure safety
Provides satisfying results in 4 weeks
Gives long-lasting results
Works to prevent unwanted hair from reaching the skin surface
Comes with 300,000 flashes cartridge for fast treatment
Cons 
May be painful to some people
Does not work in all skin tones
Customers' Reviews
This product has a rating of 3.7/5 rating on Amazon. This is what a customer wrote;
"I really went with gut on this, thinking to myself.. "well it's cheaper than laser. Give it a try…less hair even is better than full hair". My expectations when purchasing this product were middle of the road, but I am so over the moon"- Susan
CosBeauty IPL Permanent Hair Removal System
This is one of the safest IPL technology and has been certified by the FDA. It is fitted with a unique sensor which adapts to your skin tone to provide the right intensity for the safest and most effective treatment.
The device offers an impressive flash rate of 200000 flashes meaning that you can treat large body parts such as a leg or an arm in just 8 minutes. Consistent use of this device will offer noticeable results in 4-6 months while preventing the re-growth of hair. In fact, 94% of women reported experiencing visible results after just three months of application!
With this product, you will bid adios to annoying hairs on your legs, arms armpits, and bikini area as well as the costly visits to the beauty shop.
Pros
Offers permanent hair reduction
Easy to use
100% safe with FDA certification
Pocket-friendly
Includes safety glasses
Cons 
Does not work on all hair types
Not a wireless device and has to be used near a power source
Customers' Reviews
This hair removal product has a rating of 3.5/5 on Amazon. This is what a user had to say
"I've had this for over a month now, and I didn't know what to expect. All I can say is that after only two uses, I now need to shave a third as much as before. This stuff does work"-Simona Lasculescu.
Pro LightBased Face and Body IPL Hair Removal Beauty device
This innovative hair removal device by Hibeauty is specially designed for full body hair removal including legs, arms, armpits, bikini line, chest and back. Both men and women can use this device.
The device operates on 1: IPL photon instrument providing both hair removal and skin rejuvenation properties. It is a non-stimulating gadget which makes hair removal less awkward.
The IPL device removes hair permanently by producing a harmless light that is absorbed by the melanin around the hair follicles. The light heats up the hair shaft and thus suppress the cells responsible for hair growth.
Additionally, pro light based face and body IPL hair removal has five adjustable settings which means you can customize according to the skin texture and the amount of hair in a particular body part. This ensures maximum efficiency and safety.
Read more : Capillus Laser Hair Growth Cap Reviews | Hair Loss Treatment
With this device, you will achieve smooth, flawless skin in the comfort of your home
Pros
Ergonomic design that offers comfort
Offers double benefits of hair removal and skin rejuvenation
Adjustable setting to choose the mode that works best for your skin and hair
Painless
Offers fast operation
Easy to use
Cons 
A customer lamented that the enclosed instructions were unclear
Customers' Reviews
Majority of users were impressed by this product. This is what one customer wrote:
"I bought this for my sister because of her facial hair issue. I've heard nothing but great stuff. She has used it three times; she says that her hair which could come back more, has improved."–Victoria S
Silk'n Flash&Go Permanent Hair Removal Device for Women and Men
Inspired by dermatologists, Silk'n Flash&Go offers professional hair removal in both men and men. It utilizes the Home Pulsed Light HPL technology which is clinically tested and produces gentle light that targets hair follicles, eliminating the chances of hair re-growth.
This state-of-the-art hair removal tool is ideal for full body treatment, including the face to offer incredible permanent speed. The device is loaded with 5,000 flashes off hair removal energy, making it suitable for small targeted areas.
Pros
Painless
Offers long-lasting results
Suitable for sensitive and small targeted body areas
Full body treatment
Pocket-friendly compared to similar devices
Easy to use
Cons 
Hair grows back after discontinuing the use of the product
A customer complained of experiencing severe burning sensations after using the product
Customers' Reviews
While not all customers were satisfied with this product, the majority reported impressive results. This is what a user had to say:
"Pretty amazed with this thing. I believe my skin pigment is on the ideal lighter side, and so my results must take this into account."- Rainforest
Read Next: Best Full Body Laser Hair Removal Devices
IPL Hair Removal Before and After-Results
From armpits to bikinis and legs to lips, the effectiveness of  hair removal by IPL hair removal technology is unparalleled.
Factors to consider before purchasing an IPL device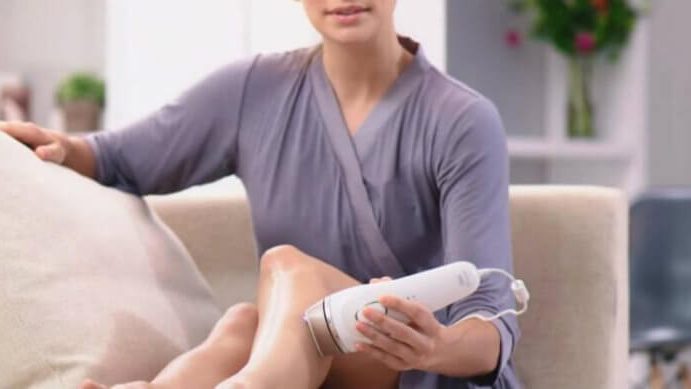 The devices reviewed in this article utilizes the IPL technique to get rid of unwanted hair. There are few factors you will need to consider before buying a IPL hair removal device. Let us have a review of some of these aspects.
The epilator should be compatible with your skin and hair tones
In general, laser treatment works best on light to medium light skin and dark hair. This is because the technology is designed to detect the contrast in complexion between skin and hair. A fair skin with dark hair allows the device to locate the hair and remove it easily.
Although most at-home IPL  hair removal devices have been advanced to employ the most innovative technology, they still can't work on darker skin complexions. This technology still has a few stairs to scale before the devices can effectively detect hair follicles against a coloured complexion
Also, people with white or blonde hair may find this method of hair removal ineffective. This is because the hair lacks enough pigmentation needed to absorb the light into the hair. Insufficient light will not generate the heat required to destroy the hair follicle.
So, consider your skin and hair colour before opting to this kind of treatment.
Safety standards
After confirming the compatibility with your skin complexion and hair, the next thing you want to ascertain is the device's approval by the FDA. The epilator should be safe to use on your skin, and that's why this certification is very critical.
Read more : Best Cavitation Machine [Fat Burning] For Home Use
For a beauty product to be approved by the FDA, it has to undergo rigorous processes and procedures. It is better to buy an expensive but safe product than a cheap device that will bring more problems for your skin.
The size of the application window
This refers to the glass surface that makes contact with your skin during the application. The size of the window you choose will depend on the targeted treatment area. The wider the surface, the larger the area it is likely to cover.
If you want to target large areas such as legs, arms or back, it is recommended to choose an epilator with a wide application window that ranges from 4 to 7 cm squared. This will allow for a faster and more practical application.
Conversely, if you want to treat a small area such as the armpit or the bikini areas, then you are better off with a hair removal device that has a small window size of between 2 and 3 cm squared. A full body treatment will require an epilator with several window sizes. This will allow you to customize the size according to the area being treated.
Skin tone sensor
Most devices are fitted with this critical feature that enables the device only to treat when the skin tone is suitable. Some products also come with a range of setting that can be adjusted according to the skin and hair being treated. Having a device with an automatic skin tone detector will free you from the tedious exercise of matching your skin complexion against a printed chart.
Energy produced per flash
This is measured in Joules and ranges between 3 to 9 joules per cm squared. The energy requirement of a device depends on your skin and hair type.
More sensitive skin will need a device with low-intensity energy of between 3-6 joules per cm squared. Contrarywise, a normal skin that can withstand high light intensity will allow you to choose a more powerful machine.
Also note that the higher the intensity, the less often you will need to use your devices and the longer you will stay before the next treatment.
Number of light pulses
This refers to the number of times that the bulb inside the device can flash before replacing the cartridge. In other words, it indicates the lifespan of your IPL device. Always go for devices with a high number of flashes as it will be sure to serve you for a more extended period. A quality hair removal device can deliver up to 400000 pulses. This is enough to last you for a lifetime without thinking of a replacement.
However, be informed that the more flashes a device has, the pricier it is likely to be.
IPL Hair Removal Cost
The price of an epilator is a crucial factor that you will need to consider before purchasing one. Some tools will allow you to save a few dollars if you are operating on a budget. However, if you want to spend a few extra bucks, some devices will take care of that as well.
While most high-priced IPL devices will offer superior results, there are also reasonably priced tools that have proved to be as competent. It is all about researching to find a method that will effectively get rid of your unwanted without you having to break the bank
In conclusion
IPL hair removal is an excellent option for people who are tired of constant shaving and waxing. IPL hair removal uses pulsed light to target the melanin in the hair and dissolves the follicle making them unable to produce more hair.
As we have observed, this treatment works best on lighter skin tones with dark hair; the devices have been programmed to spot dark hair and remove it. However, the advancement of laser technology has seen people with lighter hair and darker skin tones receive adequate treatment, but it is always safe to be sure than sorry. Consult and research widely to decrease the chances of damaging your skin.
IPL hair removal has a lot of benefits and key among them is the sense of personal hygiene experienced after each treatment. People of all ages, both men and women, opt for this treatment to achieve a smooth, flawless body. It is the safest way to reduce unwanted body hair permanently.
Source: https://cosmeticnews.com
Category: Beauty Devices