Everyone desires to have a smooth and flawless face. After all, the face is what everyone sees first and identifies you with. It is for this reason that many people will do anything possible to maintain a clear face.
Among the many solutions available for achieving a right skin tone, microdermabrasion has been proved to be one of the most effective procedures.
You are reading: Best Microdermabrasion Machine At Home Reviews
So, what is microdermabrasion?
Microdermabrasion is a procedure used to improve the overall skin texture and tone. It can renew the skin to reduce the appearance of wrinkles, sun damage, acne scarring, fine lines, melasma, age spots, and other skin conditions and concerns. A unique applicator that has an abrasive surface is used to perform the procedure by gently sanding away the outer skin layer to allow it to rejuvenate.
It can also work through spraying of fine particles aluminum oxide or sodium bicarbonate using a vacuum or suction. Both techniques use tiny crystals to exfoliate and remove the dry, dead skin cells of the skin to achieve the same results.
Microdermabrasion is a very safe procedure which can be performed on all skin types. One can opt for the treatment if they have conditions like hyperpigmentation, brown spots, enlarged pores, blackheads, stretch marks, dull skin complexion, acne and acne scars, uneven skin tone, melasma, rough skin texture, and sun damage.
See also:
9 Best Microdermabrasion Machine On The Market
RejuvadermMD by Trophy Skin-Microdermabrasion Facial
This is a lightweight machine that produces a beautiful glow by combining diamond exfoliation and suction exfoliate dead skin cells to reveal the radiant skin underneath. It performs microdermabrasion facial treatments effectively and safely to reduce the appearance of wrinkles, fine lines, sun damage, age spots and mild scarring. It is quite cost-effective and can be used at home.
RejuvadermMD is salon-quality microdermabrasion which produces a soft, clear and glowing skin wherever you are. It is quite portable such that you can put in in your purse, gym bag or travel case for quality treatments anywhere and anytime.
It comes with four power levels of suction to deliver effective results. Its operation is quite simple, and it comes with DIY instructions, which makes it user-friendly for beginners. To get effective results, you need 5 minutes of treatments 2-3 times per week. Its results have been clinically proven to increase blood flow to the epidermis to rebuild collagen and elastin for glowing skin.
Pros
It uses diamond tip exfoliation which is salon quality but used at home. The treatments are short and only take 5 minutes for 2-3 times a week
Easily portable
Four levels of suction power
Easy to operate and friendly for beginners
Clinically proven results for younger-looking skin
Cons
If you are not purchasing this microdermabrasion machine from North America, you need to buy an adapter separately
It has only one diamond tip, which is quite few compared to others
The results are dependent on your skin type
Some users have reported weakening of suction power over time
The device gets clogged severally during treatment which may prompt you to clean the several time in one treatment
Customer Reviews
This product has a rating of 4/5 on Amazon. This is what one of the customers had to say:
"Works well if you clean the head with an ultrasonic jewelry cleaner. It will do the job as well as the spa with regular use and proper cleaning.
Like any other skin Gizmo, you must be committed." -Zillabreeze
Silk'n Revit Microdermabrasion machine
This is an at-home microdermabrasion machine that results in glowing skin. It is an ultra-powerful device that has a diamond peeling to remove all the dead cells and stimulate the production of new ones. It lifts and massages the deeper skin tissue to stimulate blood circulation in the skin.
Silk'n Revit microdermabrasion machine uses gentle microdermabrasion exfoliation together with vacuum stimulation to deliver a smooth and soft skin with a glow while improving the skin complexion. It reduces the appearance of blemishes, spots, scars, fine lines and other imperfections while enhancing the skin tone, texture and elasticity. It reveals a big difference between microdermabrasion before and after use.
It uses tip exfoliation to remove dead skin cells professionally at a meager cost right at the comfort of your home. It comes with auto and manual modes for easy operation.
This machine comes with three unique diamond tips (body, regular and fine) and 30 filters to ensure maximum skin exfoliation. The tips are made of very high-quality material which ensures durability during treatment. The device sucks the dead skin cells removed from the skin and caught by the replaceable filters.
Pros
Improves blood circulation to the skin
You can choose between 3 diamond treatment tips
Reduces dead skin cells giving you a firm and radiant skin which looks much younger
It results in a tight and elastic skin with improved texture
It gives you refreshed and rejuvenated the skin
It blurs outage and acne spots, skin irregularities and softens fine lines
It comes with a massage treatment tip
Gives better results faster
Cons
It is hard to find replacement tips once the original ones a broken or stop working
It is expensive
The suction power becomes low with continuous use
It can cause damage to the skin
Customer Reviews
"Love this, after one use my face is very smooth & stayed smooth! The different tips make it even better so that you can use different types depending on when you need it. Continues to provide great results!"
Diamond Dermabrasion
Diamond dermabrasion uses a diamond-tipped wand to remove dead skin cells to allow the inner younger skin to glow. It suctions off dead skin cells while inserting pressure on the skin to improve blood circulation and stimulate cell regrowth. The excess hardened skin layer and impurities resulting from clogged pores are removed, making the skin appearance to be finer and firmer.
Read more : 14 Best Foot Massager Consumer Reports
It works by passing the device twice over each area of the skin for optimum removal of the skin. It exfoliates the skin deeply, making the treatment more complete. It works on a deeper level, which stimulates blood flow to help reduce fine lines and boost the production of collagen.
This device comes with three large and three small rubber rings, two fuses, a PVC hose and cotton filters. It also has three stainless steel wands for effective treatment.
Pros
It is safe and reliable
It is easy to assemble and use
It refines fine lines and wrinkles
It improves ageing and rough skin
There's a fast recovery
It can be easily controlled
There are no side effects
Lightens melasma
Improves skin texture
Cons
The suction power of the machine weakens with continuous use
It has too many parts which may confuse users when assembling them
It is bulky and takes too much space
The diamond tips are not very smooth, and they wear out quickly
Customer Reviews
"Product is easy to use and produces results like the pros. I have fair skin that often has dry spots. I have used the machine three times and am very pleased with the results. It only takes 10 to 15 minutes. The instruction booklet is not very well written, but the machine is simple to use, so you will figure it out. I even used it on my legs with good results. A very cost-effective solution to beautiful, healthy skin. I would recommend it's purchase."- RT
Microderm Glo Diamond Microdermabrasion For Acne
Microderm Glo Diamond Microdermabrasion has been proven to be a safe and gentle skin exfoliation machine which is safe to be used on all skin types. It has a maximum suction capacity of 22 in/Hg. It comes with a patented Diamond Safe3D technology, which is used in salon-quality machines to ensure excellent results in eliminating skin debris, wrinkles, blemishes, uneven skin tone and pigmentation and superficial scars.
This is a device which is portable and easy to use, and it is clinically proven to reduce pore sizes and ageing signs. Visible results are observed even after the first treatment.
Pros
It uses clinical dermabrasion to achieve a smooth skin texture
It is portable and easy to use
It uses Diamond Safe3D technology to promote skin regeneration and growth of new cells
It gives an anti-aging effect through smoothening of fine lines, wrinkles and sun damage
This device is recommended for beauticians
It is suitable for all skin types
Increases blood flow to the skin which boost collagen and elastin production
FDA registered
Safe for regular use
Suitable for both men and women
The deep exfoliation invigorates the skin complexion
Cons
Microderm Glo Diamond Microdermabrasion is quite costly
Customer Reviews
"Awesome product. Almost feels like the real machine, but just compact. I tried it out the second day I had it and I must say my face has never been matte for a full day! Thanks to Microderm Glo my skin is on its way back to brilliance!"
Leyoung Diamond Microdermabrasion
Leyoung Diamond Microdermabrasion comes with three diamond tips and one clear tip to gently exfoliate dead skin cells to reveal the underlying healthy skin. The three tips include normal diamond tip, precision diamond tip, and body diamond tip.
With 4 different modes to choose from, it is suitable for beginners to carry out dermabrasion at home and they get to select the mode best suitable for them. It only takes five minutes treatment to achieve a smooth and healthy glow. Within eight weeks you will be able to notice a smoother and well-complexioned skin. It is available in pearl white and matte black colors.
Pros
Smoothens dull and rough texture
Reduces the appearance wrinkles, fine lines and blemishes
Combines suction with exfoliation to reduce formation of blemishes
Clears out clogged pores by releasing trapped dirt and oil leaving the skin clearer, vibrant and beautiful
It removes acne and acne sports and promotes skin cell regeneration
It is easy to use
Cons
      The diamond tips are very small and can be easily lost
Customer Reviews
"I always liked the results I got with microdermabrasion at the spa but it's far too expensive to keep doing at the spa ,and while I was searching for alternatives found this little device ,it actually does feel like it's making a difference in my skin. I have only used the microdermabrasion tips few times now but my skin feels softer and more smooth already,all you do is put in a filter and the tips are super easy to change , it literally sucks onto your face and you slide it over each area. It pays in itself with a few uses ,super convenient and effective."- OM
Kendal Professional Diamond Microdermabrasion Machine
This is a high-quality product which refines, rejuvenates and smoothens the skin. It is a highly affordable machine recommended for aestheticians and dermatologists. This system is crystal-free and it uses a diamond tip wand instead of the micro-crystal flow. The diamond abrasion is suitable for areas closer to the eyes and mouth because there is no risk of stray crystals causing damage.
It uses sterile diamond heads to provide a non-surgical skin resurfacing treatment by peeling and rubbing off the dead skin cells. It then follows with a vacuuming/suctioning to remove particles and dead skin.
KENDAL Professional Diamond microdermabrasion machine is suitable for removing skin debris, wrinkles, scars, blemishes and uneven skin pigmentation. It comes with 2 stainless steel handles and different sizes of fine, medium and course diamond tips for different purposes. It also comes with 360 cotton filters, air hose and power cable.
Pros
It makes the skin smooth and glowing
It removes blemishes, skin debris, scars, wrinkles and skin pigmentation
Provides non-surgical skin rejuvenation
Replenishes natural nutrients and restores cell activity
Has a strong suction power
Great for both home use as well as professional use
Cons
Come customers lamented that some parts were missing
It comes with very many parts which makes it difficult to assemble
Parts are not covered by the warranty
The diamonds get worn out easily
Customer Reviews
"For starters, I have very bad acne scars from when I was a teenager, when I say bad I mean it…. I must have spent over $400 on various types of skin-care products to reduce the appearance of these scars, but had little to no luck with them. After three uses of this machine I saw more results with this dermabrasion machine than three years of using skin care products. I would highly recommend this product for people who suffer from scarring, I am now much more confident with my body and very satisfied with this purchase."
4 in 1 Diamond Microdermabrasion Peeling Machine
This diamond microdermabrasion machine is used to remove skin debris, scars, wrinkles, blemishes and uneven pigmentation. It comes with two massager probes which massages the skin tissues to remove wrinkles and fat deposits.
It acts as skin scrubber to clean off dirt in the pores making the skin clean and fresh. Before cleansing the skin, the hot side opens the pores. After the diamond dermabrasion, the cold side is used to close the pores, calm the skin and to smoothen it.
Pros
It comes with 9 diamond shaped heads which perform different functions
It has an adjustable vacuum intensity which adapt to different areas of treatment
Cleans and makes the skin fresh
Cons
No proper instructions on how to use the parts that come with it
Its not easy to use
Customer Reviews
"The machine is perfectly working, the diamond heads, the Power of vacuum and ultrasonographic parts are great for professional purposes. The only problem is poor guidance for how to use. I could not understood how to use the bio part asked the seller but they just send me a video link which explains almost nothing. If they can give some support everything will be fine." – Muge Ozden
Olay Prox Microdermabrasion Plus Advanced Cleansing System
Olay Prox Microdermabrasion Plus Advanced Cleansing System is the best microdermabrasion for acne and acnes spots. It delivers 700% better results than when using the scrub only. It exfoliates the skin to reveal a visibly brighter, more radiant and even skin tone. It uses microdermabrasion Foam Head and a thermal crystal polisher which is self-warming to deliver excellent results. You notice improved texture after only two uses. This system is not only used for microdermabrasion. It is also used for daily cleansing together with the soft bristle head and exfoliating renewal cleanser.
Pros
You can see results after only 2 uses
Can be used for daily cleansing
Comes with 3 speed settings for a customized facial care
700% better results
Designed and approved by dermatologists
Cons
Some people say it is too gentle for exfoliation
It breaks down easily
The brush power is too weak
Customer Reviews
This product has a rating of 4.2/5 and this is what one of the customers had to say:
Read more : 11 Best Infrared Massage Reviews & Buyer's Guide
"Love this cleansing brush sets have been using it for couple years is good for my sensitive skin and clean well love it."- Amazon Customer
Microdermabrasion Kit
Neutrogena Microdermabrasion System
Neutrogena Microdermabrasion System very simple and convenient suitable to be used at home. It delivers a younger-looking, luminous and firmer skin over time and the results are noticeable after every use. It comes with single use puffs and the microdermabrasion applicator. To achieve the perfect gentle exfoliation, the puffs are pre-closed with ultra-fine crystals and mild purifiers.
Pros
Reduces signs of aging
Clinically proven results
Noticeable results after every use
Reduces the appearance of wrinkles
Produces a firmer, younger-looking skin over time
Cons
It causes skin breakouts
May cause a burn rush on the skin
Can cause skin irritation
Not good for sensitive skin
Customer Reviews
This product has a rating of 4.4/5 on Amazon and one customer had this to say:
"I truly love this product BUT there's one thing I need to warn ya'll about….DO NOT get any of this in your eyes! I did and it took close to an hour to be able to see again!!!!!"
Microdermabrasion Before And After
Factors to consider Before Purchasing Microdermabrasion Machine
Depending on the manufacturer, microdermabrasion systems come in different designs, therefore, you should check the reputation of the company. This information can be obtained from customer reviews on their websites. You should also understand the machines key features and components and what to look for when buying one. If you compare microdermabrasion vs chemical peel, you will find that microdermabrasion cost is quite reasonable and it is relatively safe. Here is a detailed look at some of the aspects that you should look for.
The suction power
The suction power of a microdermabrasion is a very important aspect to look at when buying the machine. So, what does microdermabrasion do?  It exfoliates the skin to remove dead skin cells making it smoother and exposing the much younger inner skin which is healthier and more beautiful. The machine's suction power is what gives it the power to work.  For these machines to function efficiently, they need a powerful suction. If the machine's suction is powerful, it will be in a position to remove dead skin and black heads easily. The suction removes the outer layer of the skin after it has been exfoliated.
The machine should also come with a powerful monitor to allow you to read the total pressure of the suction. It will also prevent you from exceeding the suction power adjustments.
Number for Accessories
Most of the microdermabrasion machines come with additional tools and parts. In most cases, they are packaged as a kit to include the extra tools. These tools may be replacement diamond tips, filters and adaptors. Ensure that the machine comes with all necessary equipment so that you can get started easily. Purchasing the kit is more convenient especially for use-at-home devices. If possible, avoid machines with too many parts as they may get lost and render your machine functionless.
Design
The right design of the dermabrasion machine is very important. Make sure that the accelerator opening has the right size so as to achieve the right abrasion level. A very small opening will make the abrasion too concentrated for your liking. It will also cover a small area of the skin and may cause damage. You will be forced to make several passes for any abrasion to be made, which results to a lot of pressure which may rapture your capillaries.
Also, ensure that the crystals are consistent is size. The crystals must be very clean and bear no dust at all as this can worsen the clogging issue. Check to make sure the device has proper airflow and the correct size of the accelerator. This will ensure that the system works effectively to deliver the desired results.
Durability
When buying a microdermabrasion machine, ensure that the machine is designed with longevity in mind. You definitely want to have great results for a long time. Therefore, ensure that the device is built to last. Research the products on its care and use and look at the customer reviews.
Ensure that the manufacture has clear instruction on how to use so that you don't overuse it and shorten its lifespan. You want to be sure your money is not wasted on something that will break easily. Buy a machine that will last for several years if you apply the correct maintenance procedure.
Ease of Use
Unless are specialist is doing the treatment for you, you will be using the microdermabrasion at home so you need to be able to operate is easily. Microdermabrasion facial machines need to be easy to operate because you will not see your face during the treatment. You should be able to assemble the machine, start the power, carryout the treatment and clean it if it gets clogged. This means that its use should be straightforward.
If you find yourself constantly referring to the manual or consulting online tutorials, then that device is too complex for you. Look for a device which is easy to understand and use. It should also be light and portable enough to use it on your own anywhere and anytime.
Read next: Revive Acne Light Therapy System Reviews
Benefits of Microdermabrasion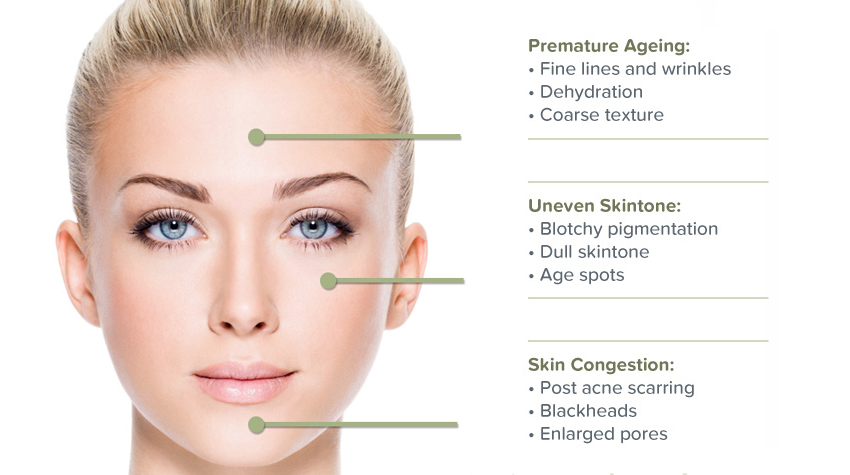 Microdermabrasion is a safe procedure which targets face, neck, upper thighs, hips, abdomen and waistline. It can also be performed on the entire body using certain machines but you should be careful to avoid areas with thin skin like ears, feet and hands. The benefits of microdermabrasion have been proven and they include:
Reduction of fine lines, wrinkles and dull skin
Reduction of irregularities like blemishes, and uneven skin tone
Treatment of age spots and un even pigmentation
Shrinking of enlarged pores
Removing blackheads
Read Next: How To Get Rid Of Acne Scars
Conclusion
The benefits of microdermabrasion are numerous and it is also a very safe procedure which can be performed on all skin types. It is an ideal treatment which will help in reducing wrinkles and fine lines, acne spots, blemishes, scars and other skin damages. It is a fast and gentle non-invasive treatment which removes the dead cells to reveal the younger and more radiant skin underneath. It is idea for acne treatment as well.
When choosing a microdermabrasion machine, put into consideration your desired results, its safety and the design so as to get value for your money. Dermabrasion costs less when performed at home compared to spa treatments.
Best Selling Microdermabrasion Machine Products
Source: https://cosmeticnews.com
Category: Massage Tools