You have to bear several factors in mind when looking for quality essential oil. The quality of the oil can vary depending on the distillation process used by each brand. It is necessary that you find out what the manufacturer uses to dilute the plant oil. Do they use bases or additive? Make sure to see that the ingredient list only has the oil or sometimes even a carrier oil. It is good to apply caution when dealing with essential oil from third-party sellers since most of them are known to add synthetic materials to the oil without revealing the additives on the label.
We have researched the best and most trustworthy essential oil brands in the market today that can offer quality and pure products you can use either in a diffuser or on your skin. Here are the top brands that can provide you with the quality essential oils for your therapeutic needs.
You are reading: The 10 Best Essential Oil Brands And Company Reviews & Compared
See also:
The Top 10 Quality Essential Oils Brands in the Market
Young Living
The company began in 1993 with its headquarters In Lehi, Utah. It also has offices in Europe, Canada, Australia, Singapore, and Japan. The company simulates a multi-level marketing structure and has grown to be one of the world leading producers of essential oils.
Their quality standard and control together with their distillation process of the essential oils are the most extensively researched when compared to all the other brands in the market. They offer a holistic approach to the quality setting of the products.
Their distillation process is unlike all the other brand in the market as they use a slow steam extraction process that effectively brings out the essential oils without any unwanted alteration.
Thieves Essential Oil by Young Living
The Thieves Essential Oil is a product of Young Living. It is 100 percent pure making it a therapeutic grade essential oil. It comprises of a blend of Cinnamon bark oil, Rosemary leaf oil, Lemon peel oil, Eucalyptus leaf oil, and Clove bud oil. The oil gives off a vibrant and spicy aroma with some touch of Cinnamon.
doTERRA Essential Oils
doTERRA is one of the most popular brands in the essential oils industry today. Name spells Gift of Earth in Latin. A group of health care and business professionals founded the company some of whom were initially from Young Living. Every batch of oils produced by the Company is taken through their internal Certified Pure Therapeutic Grade (CPTG) quality control protocol to ensure that it is potent, consistent and pure.
They source their plants from a global botanical network of 40 different countries. The essential oils are distilled through a process of low-heat steam distillation or cold extraction. The company is very open to its consumers on the journey of the product from the sourcing to botting and finally to a consumer. In case you are not satisfied with the result, you can return it for a 100 percent refund or 100 percent product credit depending on whether you opened the product and the timeline.
doTERRA Lavender Essential Oil
Lavender has over the centuries been cherished due to numerous uses and aroma. It is widely known for its calming and relaxing qualities that help with peaceful sleeping and easing of tension. It is also used to clear off skin imperfections. You can ingest the essential oils to release anxiety and promote sleep.
Plant Therapy Essential Oils
Plant Therapy began its operations in 2011 and is slowly dominating the market with its high-quality essential oils that retail at reasonable prices. The company takes all their oils through third-party testing and puts up the results online for download. All their oils are guaranteed to be pure and of the highest quality. Their range of products includes 125 essential oils, 47 blends, 20 carrier oils, 23 roll-on oils, and 43 sets.
You can get essential oils that are safe to use to improve the sleeping patterns of kids and their concentration in school. The company offers a 100 percent full money back guarantee within 90 days of purchase.
Plant Therapy Frankincense Carteri Organic Essential Oil
The Plant Therapy Frankincense Carteri Organic Essential Oil is 100 percent certified to be pure without any fillers or additives. It is steam distilled from the gum resin of the Boswellia tree in Somalia. It helps support the immune system and protect you from catching a cold or flu. The essential oil can be used to relieve the body from eczema, scars, and achy joints. Whenever well diluted, it can help with skin rejuvenation.
Plant Therapy Top 6 Organic Essential Oils Set
The oils come as a set of 6 high-quality essential oils that are versatile and beautifully scented. The can make a fantastic gift as they come packed in an amazing wooden box. All the oils are 100 percent pure and undiluted. The package contains essential oils from Eucalyptus that help with respiratory support and in boosting the immunity. There is a peppermint essential oil that is important in supporting digestion and improving focus. It has lavender that provides relaxation and calmness. Tea tree is present as well and acts as an antimicrobial and anti-fungal oil. Finally, Sweet orange helps with relieving stress.
Plant Therapy Essential Oil Fractionated Coconut Oil
The Plant Therapy Essential Oil Fractionated Coconut Oil is 100 percent natural. It is colorless and odorless and will always remain as a liquid. It comes with antioxidants and nutrients that make it a fantastic moisturizer. The oil is absorbed rapidly by the skin and does not leave behind a greasy residue. It hydrates dry skin and can also be used on the hair to restore the shine and luster. Before the oil is released, it undergoes multiple rounds of testing that include organoleptic testing by Robert Tisserand and GC-MS testing through third-party labs
Aura Cacia Essential Oils
Aura Cacia is a cooperative company established in 1976 that produces a unique brand of essential oils in which some of them are certified to be organic. The oils are packaged in amber glass bottles that make sure light does not seep through preserving the oil's integrity and individual properties. The essential oils are 100 percent pure and do not contain any additive or fillers.
The company offers a 60-day window starting the day the invoice is issued to claim for a refund or replacement.
Aura Cacia Essential Oil, Uplifting Bergamot
Read more : 10 Best Sexiest Perfumes For Women Reviews
The Aura Cacia Bergamont Essential oil is 100 percent pure. It has a strong, sweet citrus and tea-like aroma that is uplifting and helps users build up confidence. It comes with a child-resistant safety cap that ensures children do not get access. You should only use it under the directions of a physician if you are pregnant, sick or under medication. You should appropriately dilute the essential oil as it can irritate the skin.
Aura Cacia Organic Essential Oil, Ylang Ylang III
The Aura Cacia Organic Ylang Ylang III Essential Oil is 100 percent pure. The oils are sourced from the Ylang Ylang flower that grows in Madagascar. It gives a user a sensualizing effect. The oil has been tested for purity by Gas Chromatography/ Mass Spectrometry. QAI certifies it.
Edens Gardens
Edens Gardens is a respectable brand that has been in business for almost 20 years. They offer a large variety of single and blended essential oils that are 100 percent pure and safe to use. They have severe measures in place to always ensure that their clients still receive fresh and quality oils. The oils go through thorough tests before packaging. In case you feel dissatisfied with the essential oil you collect, the company offers you a 30-day refund policy without any questions asked.
Edens Garden Head Ease-Essential Oils For Headaches
Edens Garden Head Ease is a blend of different oils meant to provide an all-natural solution to headaches and provide muscle relaxation. The essential oil is packaged in amber bottles and come with a pipette dropper. Before it is released to the market, it goes through several rounds of testing to ensure that it is pure, fresh and of high quality.
Edens Garden Basil
Eden Garden Basil is an essential oil crafted to help soothe the spirit and to help get rid of fear, indecision, anger, negative thoughts, mental fatigue and a lack of confidence. The oils are extracted using steam distillation from basil leaves. It comes with a sweet and herbaceous aroma. It is recommended to dilute first before use as it may cause skin irritation due to its concentration levels.
Now Foods Essential Oils
Now Foods has been in the industry for 50 years and running. They have their in-house laboratory where all their essential oils are tested and evaluated before they are distributed. They utilize third-party testing only when necessary. All their essential oils are USDA certified and 100 percent pure. Only one jasmine blend has a label of synthetic due to the high costs of jasmine oil. The company is transparent as they give enough information about each product.
NOW Eucalyptus Essential Oil-Essential Oils For Energy
The NOW Eucalyptus Essential Oil is extracted by steam distillation from the leaves and small branches of the eucalyptus plant. It helps to influence the mood by getting rid of negative energy. It is revitalizing and invigorating as it carries with it a strongly aromatic and camphoraceous scent.
NOW Peppermint Essential Oil
The NOW Peppermint Essential Oil is made from 100 percent pure peppermint. It is steam distilled from the aerial parts of the plant. The oils come with a fresh, strong minty aroma that revitalizes and gives off a cooling feel. To get an energizing blend. You can mix one drop of peppermint oil with one drop of rosemary oil alongside two drops of cinnamon oil
Mountain Rose Herbs
The Mountain Rose Herbs Company produces organic oils from farms that are organic and free from GMO products. They only use renewable energy and have many certifications that support natural growth. They perform numerous tests on the oils before releasing to the public.
Mountain Rose Herbs Rosemary Essential Oil
The Mountain Rose Herbs Rosemary Essential Oil is extracted from the flower tops by steam distillation. The oil comes with fresh and robust camphor-like aroma with a woody-balsamic undertone. The oil helps to improve memory as well as deal with hair loss. It is packed in an amber glass bottle and comes with a drop reducer for easy application. You should dilute the oil before use.
Tea Tree Essential Oil
The Tea Tree Essential Oil is extracted by steam distillation from leaves and twigs. The oils have a warm, fresh and spicy camphoraceous aroma. It is well known for its skin healing abilities. The oils should only be used externally and should be kept far from the reach of children. Always dilute and perform a skin patch test before using.
Rocky Mountain Oils
The Rocky Mountain Oils has been operational since 2004 and is one of the leading essential oils producers in the market today. All their essential oils go through the GC/MS tests that are done by a third party. The oils are 100 percent pure and sell at a reasonable price. They offer free shipping of their products and 90-day money back guarantee.
Rocky Mountain Pure Immune Strength Essential Oil Blend
The Rocky Mountain Pure Immune Strength Essential Oil Blend comes from a blend of 100 percent pure and natural oils all extracted from plants that grow organically. It comes with a citrus aroma alongside a rich and deep herbal undertone. The oil blend brings about calmness and comfort when putting in a diffuser. It can as well increase the strength of cleaning products.
Saje Natural Wellness
Saje Natural Wellness is a company that has an extensive portfolio of different products no only essential oils. The offer only 26 different oils that are 100 percent organic without any additives or chemicals. The company values the environment as illustrated by their packaging that is od recyclable material.
Saje Peppermint Halo Essential Oil Blend
The Saje Peppermint Halo Essential Oil Blend comes from 100 percent natural oils including eucalyptus, cajeput, peppermint, vetiver, lavender, and rosemary. It helps to give the head a soothing feeling. The oils used in the blend are all plant-based with no extra additives, toxins, fragrances, synthetics, dyes or parabens.
ArtNatural
ArtNatural is an environmentally cautious company that delivers only 100 percent therapeutic grade essential oils extracted from natural ingredients. They offer different oils for various purposes. Their oils are inexpensive and have received positive remarks from different clients.
 ArtNaturals Aromatherapy Top 8 Essential Oils
The ArtNaturals Aromatherapy Top 8 Essential Oils is made up of a set of eight different essential oils that are extracted from natural ingredients using the latest steam pressing techniques. The oils have skin care properties as they come with a carrier oil such as Jojoba. They are not tested on animals and do not have any chemicals.
Understanding the Formation of Essential Oils
It takes a large number of raw materials and a difficult extraction process to get just a drop of essential oil hence their high price. But how are they extracted?
Extraction by Cold-Pressing
Read more : Best Fruity Perfumes & Fragrances For Women's
One age-old process still in use today is cold pressing. It was traditionally used to extract citrus oils from the fruit peel. A sponge would be used to compress the skin hence absorbing the oils. Today, plant materials that can quickly release their aromatic components are mechanically compressed, and the oil is separate from the oil-juice mixture that results.
Cold-pressed essential oils are lighter and smell fresh. They can retain their exact aromatic content from the original plat since the raw materials used do not have exposure to heat. For this reason, they are seen to be superior amongst their kind. Even so, cold pressing is not the most suitable way to extract the oils.
Extraction by Steam Distilling
In this process, the raw materials are enclosed in a container and steam is passed through them to a condensation chamber. The oils vaporize as the steam passes through and carries them to the condensation chamber where they cool down and turn to liquid. Since they cannot mix, they form separate layers that undergo distillation.
Most of the essential oils form a layer on the top of the water; however, some like clove oil is very heavy hence taking the bottom layer. A majority of oils that come from leaves, barks, flowers, and roots us this process of extraction. Even so, when the raw materials are heated as the hot steam passes through them, the temperatures used are not of the individual boiling points of the oils.
Extracting using A Solvent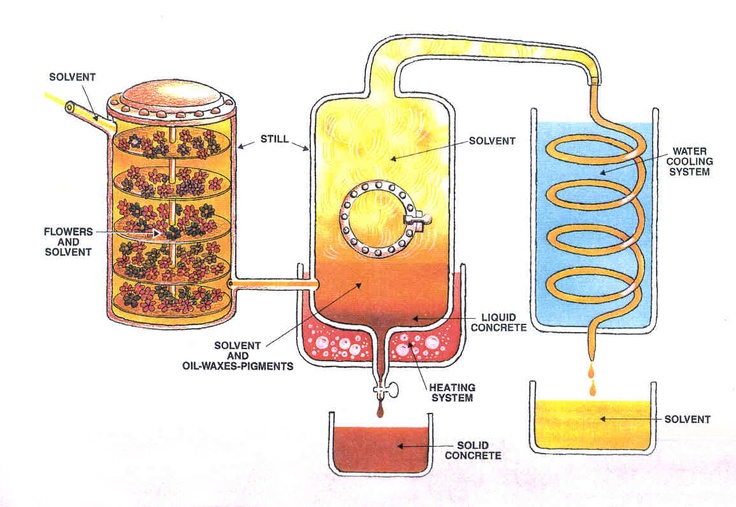 During this method, a suitable solvent is introduced where it chemically binds with the oils in the raw materials. The most common solution in use is alcohol mainly because of its availability. Once it separates from the raw material, it evaporates and leaves behind the oil. Several untrustworthy brands use this method of extraction with highly volatile organic compounds such as propane, acetone, and hexane leaving behind toxic residues that make the oils unsafe for use therapeutically.
How Do You Tell a High-Quality Oil from A Sub-Standard Oil?
Due to the high cost of quality essential oils, several sub-standard essential oils have emerged in the market. Most of them only have traces of the correct ingredients while others do not have at all. It is then difficult to identify unreal essential oils. Even experts cannot determine the authenticity of essential oil by just looking or smelling it.
When you are in the market for essential oil, knowing what they mean is a right step towards getting value for your money. Oils with names of fragrance oils, perfume oils or aromatherapy oils are not pure essential oils. They may be diluted forms that contain vegetable oils. A simple test to help you figure out if an essential oil is diluted is by putting a drop of the oil on a piece of paper and letting it dry. If you see any oil stain, there are very high chances that the essential oil is mixed with some vegetable oils.
How do you source the best quality essential oils for therapeutic use? There are several factors that you should consider when looking for essential oil.
Purity
Is the oil you listed by a seller pure? When choosing an essential oil, you want to get your exactly what you requested. If you pay for vanilla, you should receive vanilla. The best way is to look for companies that test all their oils and share the findings. One standard test is the Gas chromatography-mass spectrometry test (GC/MS). This test can identify the components that make up an essential oil. By getting such a test, you are assured of value for your money. It may save you some money by getting an essential oil blend instead of buying several oils and mixing them to meet your purpose.
Even so, it is best to buy pure essential oils separately regardless of the amount you can acquire. The stronger they are, the more effective they will be.
Verifiable Source
It is vital that you verify the source of the essential oils before you make a purchase. Are they from organically grown crops? Do they come with proper certifications? The underlying concern is that you do not want to get an essential oil that is contaminated or one that has harmful fillers. Any effects of pesticide residue in the essential oils will be stronger since they come from highly concentrated plant essences.
You may get that some oils are extracts from wild plants. It may be difficult to get the organic certifications of such products, but they may be better than from organically grown crops. It is mainly due to the better nutritional profile of the plant since it grows in soil that is naturally designed to feed the plant.
Which Oils do you Need?
With so many essential oils in the market, you may find different versions of essential oil with the same name but not for the same purpose. Some essential oils are extracted from various plants but share the same name. A good example is German Chamomile and the Roma Chamomile. The two oils are from very different species with very different properties and use.
The good thing is that you can easily tell them apart as the Roman Chamomile has a pale yellow color while the German one has an intense blue. But then for many other oils, you may not know how to differentiate them. Oils from related plant species may also confuse. An example is a citrus family where sweet orange oil and Bitter orange oil are extracts of different types of oranges. It is imperative then that you get an essential oil that has both the Latin name and the common name.
Oils extracted from different parts of the same plant can as well contribute to the confusion. Dry ginger gives off a very different oil from fresh ginger both in their therapeutic use and aromatically. Similarly, Bitter orange oil comes from the Citrus Aurantium fruit. Neroli is extracted from the same plant but the flower while Petitgrain Oil is derived from the plant's leaves. To get rid of the confusion that comes when selecting these oils, always check if the product label mentions the product label.
How Reliable is The Company
The most substantial aspect to consider is the reliability of the Company producing the essential oil. Since it is nearly impossible to verify the purity or quality of the essential oil, it is best to opt to purchase from a reliable seller. Always look for companies that have in-depth knowledge in producing the essential oils. Also, they should be open and forthcoming with information on the oils they produce.
Stay away from companies that sell oils at a flat rate. A good company will have essential oil prices that are not too good to be true. They should have some oils that are more expensive than others based on the amount of the plants required to make the oil and the availability of the plant.
Summing Up
Before using any essential oil for therapeutic use, to improve your health, you need to conduct extensive research on the type of essential oil you need and where to source it. You should only use pure products from reliable companies. It is worth your time, money and energy to find essential oils that meet the highest quality demands.
★★ Top 5 Best-Selling Essential Oil on Amazon
Source: https://cosmeticnews.com
Category: AROMATHERAPY