The number of anti-aging eye creams in the market can be overwhelming. But, in this article, we will guide you out on which anti-aging cream best suits your skin, how you can avoid eye wrinkles, and the most effective ingredients you should consider. We have also rounded up the best anti-aging eye creams available on the market today.
Read more:
What is the Best Anti-Aging Eye Cream?
There are significant pointers you need to consider first before choosing the right type of anti-aging eye cream for you. Here is an in-depth guide to help you narrow down your choices.
Understand Your Skin Type.
Eye creams are not one-type-fits-all kind of product. Each and every eye cream has its own specific formulas that target different kinds of concerns. Certain formulas are solely specialized for a particular skin type. For instance, mature skin requires a lot of nourishment and hydration compared to people under 30. With this being mentioned, a typical drugstore eye cream might not suffice to the needs of a person with mature skin.
In addition, people with sensitive skin might have adverse reactions toward certain ingredients. This is why it is essential to understand your skin type prior to purchasing an eye cream.
Determine Your Specific Eye Concerns.
One of the most common problems around the eye area is wrinkles. And if you are currently battling wrinkles around your eyes, the best eye cream for wrinkles should be formulated with strong skin-firming ingredients such as peptides, collagen, and hyaluronic acid.
On the other hand, if dark circles and puffy eyes are your major eye area concern, you have got to thoroughly check the eye cream you are buying. It should be more than just hydrating your under eyes, but should also contain potent brightening properties.
Determining your specific eye concerns is inevitably prerequisite. That way, you will give your skin the best treatment and care it deserves.
Consider Reputable Brands.
If you are not familiar with what type of anti-aging cream to buy, one of the factors you can consider is the product's brand name. While independent and start-up skin care brands can definitely provide efficient treatment, it is still more likely a long trial and error process. On the other hand, well-known skin brands have established their reputation over the years. Hence, these brands are backed up with proven technology and reliable reviews from a lot of consumers.
Some of the skin care brands that have pioneered in the anti-aging field are AHAVA, La Roche-Posay, and Paula's Choice. Brands like these are mostly recommended by beauty experts, dermatologists, and even celebrities.
Look for an eye cream that matches your age bracket.
The eye cream that used to work so well back when you were in your 20s may not be as efficient as it is now that you are over 30. The truth is, the needs of our skin constantly vary over time as we age. This is one of the main reasons why most manufacturers include detailed information about the age bracket the eye cream is suitable for.
Xem thêm : 10 Best Retinol Serum Reviews To Buy Now
You can look up the details of the brand you want to buy and check if the eye cream matches your age or if you are in the age bracket provided. Identifying the information stated in the product description allows you to know the best eye cream options specifically for your age.
Know the Ingredients.
The product's ingredients list is extremely important when it comes to choosing the best eye wrinkle treatment for you. Understanding the ingredients that your eye cream contains will also help you identify whether a certain ingredient is a great match for your skin. Some people with hypersensitive skin find a number of ingredients incompatible with their skin and hence, causing skin irritations.
In addition, educating yourself about the benefits of the ingredients will help you optimize your anti-aging skin care routine, particularly around your eye area. However, it is not always easy to get yourself completely familiar with all these ingredients in every eye cream. That is why we have jotted down the most effective ingredients that skin care experts and beauty enthusiasts highly recommend.
What Ingredients are in the Best Eye Wrinkle Eye Creams?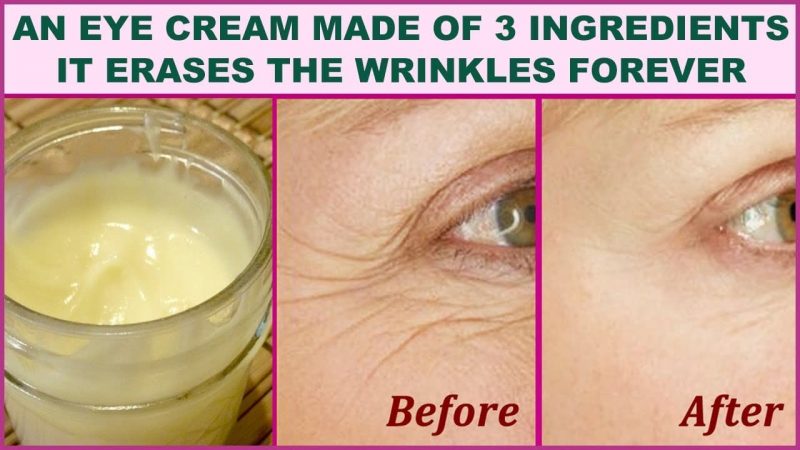 Collagen:

Collagen is a substance naturally present in the body. It is mainly responsible for skin cell repairs and regeneration. As we grow older, our body loses larger amounts of collagen on a daily basis. So, by supplying the skin with collagen through skin care products such as an eye cream, you can diminish the effects of aging such as wrinkles, crow's feet, fine lines, and saggy skin. With the great supply of collagen, the skin gets plumper and firmer resulting in a more youthful skin texture.
Peptides:

Peptides are an essential substance that has been formed due to the fragments of molecule bonds between the collagen strands. It is also known as hydrolysate and hydrolyzed collagen. This ingredient enhances the skin's natural ability to heal itself. It also boosts skin vitality which not only improves the texture of the skin around the eye area, but also provides brightening properties that reveal a more even complexion.
Hyaluronic Acid:

Hyaluronic acid is another fundamental ingredient that is naturally present in the body. It plays a vital role in boosting moisture retention in the skin and enhancing the skin's overall texture. However, the lifespan of hyaluronic acid is quite short as it only lasts for around 8 hours in the body. That is why regular replenishment of hyaluronic acid is necessary to keep your skin supple, hydrated, and nourished.
Retinol:

Retinol is a very popular ingredient in the anti-aging skin care products. It is the purest form of vitamin A and it is known to have an extremely strong brightening and rejuvenating properties. While it is a very efficient anti-aging eye cream ingredient, retinol's process of exfoliating and renewing the skin makes it more sensitive and hence, more prone to sun damage. That is why dermatologists recommend that retinol eye creams should only be used at night.  
Antioxidants:

Our skin can be prone to damages and may lose its natural smoothness and softness due to the harsh elements in the environment and free radicals. This when antioxidants become an essential ingredient for anti-aging eye creams. Antioxidants work a lot of wonders on the skin where it repairs the damaged skin cells and revitalizes the skin for a better, smoother, and softer texture.
Natural emollients:

The natural emollients are responsible for keeping the skin supple, plump, and moisturized. It naturally transforms dull and dry skin to a better condition with enough moisture. And when the skin is fully hydrated and moisturized, it becomes more young-looking and much healthier.
The Best Anti-Aging Eye Creams You Should Try
StriVectin Eye Concentrate for Wrinkles
Fighting off the wrinkles and fine lines need more than just an ordinary anti-aging eye cream from your typical drugstore. If you are aiming for positive results, you need an anti-aging cream that is specifically formulated to diminish wrinkles and fine lines. Among the products you can use is StriVectin Eye Concentrate for Wrinkles.
Formulated with peptides, StriVectin works as an effective anti-aging eye cream that boosts the skin's capacity to rejuvenate and hence, transform it into a healthy young-looking skin. You can worry less about the wrinkles, dark circles, fine lines, and puffiness around the eye area. As it fortifies and restructures the skin's barrier, you can achieve a bright and healthy skin.
Perricone MD Hypoallergenic Firming Eye Cream
If you have a sensitive skin and still desires to achieve a healthy and ageless skin, the best under eye wrinkle cream for you should not contain abrasive ingredients that might cause negative reactions on your skin, particularly around the eye area. It should be hypoallergenic and exceptionally gentle to your skin. Considering all these, the ultimate skin care solution that might suit you best is the Perricone MD hypoallergenic firming eye cream.
Perricone MD contains olive polyphenols, a health-protective ingredient derived from an extra virgin oil. It is among the natural ingredients that you may likely find in certain eye creams for sensitive skin. Olive polyphenols along with the four propriety neuropeptides, reduce fine lines, wrinkles, crow's feet, and saggy skin while providing the skin a gentle treatment. As it is hypoallergenic, any amount of cream you put around your eye area won't cause any allergic reaction. It also effectively works as a moisturizer that keeps your dry skin hydrated.
Olay Total Effects 7-in-one Anti-Aging Transforming Eye Cream
While certain eye creams are formulated to target a particular eye skin problem, Olay Total Effects enriches your skin with 7 benefits to make it even more youthful, bright, and supple. This natural anti-aging agent transforms the skin and makes it much firmer, replenishes the skin with proper moisture, reduces fine lines and wrinkles, minimizes pores and dark spots, unveils your skin's natural glow, evens the skin tone, and diminishes the appearance of dark circles and puffiness.
These amazing benefits are the result of the incredible merge of the finest ingredients that help fight off the signs of aging. It contains Vitamin B, Vitamin E, and VitaNiacin Complex that all make a nourishing formula that encourages the skin to renew naturally.
Baebody Eye Gel for Dark Circles, Puffiness, Wrinkles and Bags
If you are looking for the best eye cream for wrinkles and fine lines, you can definitely find a lot of effective eye treatment and skin care solutions in your local drugstore. But if you're eyeing for this Baebody Eye Gel, it actually does more than just reducing those fine lines and wrinkles. It also deals with dark circles, crow's feet, puffiness, saggy skin, and eye bags leaving the skin ageless, particularly the area around your eyes.
While this anti-aging gel battles the effects of aging, it moisturizes and hydrates the under eye skin at the same time, leaving the skin more youthful and bright. As the skin around the eyes is delicate, BaeBody ensures a safe treatment with its natural and mild ingredients.
Vichy LiftActiv Eyes Anti-Wrinkle and Firming Eye Cream
Most eye creams leave a sticky and heavy feeling. But if you are all after a light and soft texture, Vichy LiftActiv is an anti-aging eye cream that comes off without grease and muggy feeling like most creams do. This 2-in-1 anti aging eye cream does its primary job to reduce wrinkles and fine lines. But at the same times, it provides an efficient treatment to eliminate dark circles.
The key ingredients are pure caffeine, DRM bright complex and Vitamin Cg. These anti-aging ingredients improve the skin's circulation and encourage it to revitalize and renew naturally. And because it is formulated with safe and natural ingredients, those delicate areas around your eyes would be carefully treated with a gentle touch.
La Roche-Posay Redermic C Eyes Vitamin C Eye Moisturizer Anti-Wrinkle
It seems a bit tough to find the most suitable eye cream, especially when you have sensitive skin. You have got to be extra careful with what you put on your skin. Otherwise, adverse skin reactions such as irritations and allergies might occur. That is why La-Roche Posay gives your delicate and sensitive under eye skin a tender touch and safe treatment with its natural ingredients.
As you take this a part of your morning and evening regimen, La Roche-Posay generously works on those fine lines, wrinkles, and crow's feet wrinkles to reduce their appearance and thus leave you with an ageless skin that you've always wanted. It does not only diminish these signs of aging, this eye cream also provides adequate hydration around your eye area.
AHAVA Time to Hydrate Gentle Eye Cream
Xem thêm : Best Eye Cream for Wrinkles and Crow's Feet
It targets fine lines and wrinkles. AHAVA gentle anti-aging eye cream is developed to fight off the signs of aging while keeping your skin plump and healthy. As it soothes your skin, every little amount of this anti-aging eye cream does give your sensitive and delicate skin around your eyes the ultimate defense against the effects of aging.
With all its natural botanical ingredients, vitamins, and Dead Sea minerals, your skin can pave its way to a natural skin renewal process without the damages and negative reactions usually caused by abrasive ingredients. As the skin absorbs the formula efficiently, the skin experiences rejuvenation resulting to a young-looking, soft, bright, and moisturized skin.
Paula's Choice–RESIST-Anti-Aging Eye Cream
Those stubborn wrinkles and fine lines are all part of the aging process. Although it cannot sometimes be completely eliminated, you can soften their appearance using an anti-aging cream. Paula's Choice can definitely be an excellent choice. As one of the reputable brands for anti-aging products, Paula's Choice is an effective treatment to reduce those fine lines and wrinkles around your eye area. Dark circles and dullness are also among the eye concerns this cream deals with.
A little goes a long way. With its thick consistency, your skin can benefit from its anti-aging properties even with just a little amount. As it penetrates the skin, particularly the delicate areas around your eye, the cream does its wonders and brightens your skin, reduces the fine lines, and keeps it hydrated all day.
Eye Cream Moisturizer (1oz) 94% Natural Anti Aging Skin
For many consumers, the safest choices for anti-aging eye creams are the ones with organic and mild ingredients. And if you do want to supply your skin with a gentle treatment, this eye cream moisturizer must be a great addition to your morning and evening beauty regimen. The formula contains hibiscus flower extract, rosehip oil and nourished with vitamins C and E that do not damage your skin as it restructures and softens the fine lines and wrinkles.
While it reduces the appearance of fine lines and wrinkles, Eye Cream Moisturizer also hydrates your skin, lifts and firms the skin around the eye area, leaving it with a youthful glow. As the signs of aging affects everyone regardless the age and gender, men and women can truly benefit with this anti-aging eye cream. You can apply it on your face and neck, too!
Calily Life Hyaluronic Acid Eye Cream
Hyaluronic acid is one of the fundamental ingredients an eye cream should have. As it naturally boosts the skin's moisture retention and enhances the texture of the skin to a softer, healthier, and plumper condition, it also keeps any dry skin hydrated. Calily Life eye cream is formulated with such fundamental ingredient and encourages the skin to renew to an all-natural process.
In addition to Hyaluronic acid, it contains natural dead sea minerals and organic extract that makes the eye cream completely safe for those who have sensitive skin. With its efficient formula, you won't have to face a day with dark circles and eye bags. It also firms the skin and leaves the areas around your eyes a softer appearance of fine lines and wrinkles.
Burt's Bees Intense Hydration Eye Cream
Burt's Bees is one of the well-known brands for effective skin care. And for anti-aging eye creams, it offers an array of eye cream products that help reduce the common signs of aging such as fine lines, wrinkles, dullness, and dry skin. Formulated with natural ingredients, this Burt's Bees eye cream repairs and revitalizes the delicate areas around your eyes with the substantial nutrients and vitamins. It targets all types of skin. So, whether you have oily, blemish-prone, or sensitive skin, it will work effectively to defend your skin against the rapid effects of aging.
It is non-greasy, unlike other anti-aging eye creams. It is also formulated without parabens, phthalates or petrolatum that can be harmful to your skin, particularly the sensitive parts near your eyes. Hence, this anti-aging eye cream is completely safe to use.
Brickell Men's Restoring Eye Cream for Men
Men also have to face their own dilemma through the aging process. They are also prone to dark circles, eye bags, and a few fine lines and wrinkles can make them feel much older than they are. To resolve those eye concerns, Brickell Men's anti-aging eye cream would be an ideal skin care solution for men.
It contains hyaluronic acid, natural and organic ingredients that work well with various types of skin. So, whether you have sensitive, oily, or other types of skin but desires for an anti-aging treatment, you can go with this eye cream. It reduces the appearance of wrinkles, fine lines, eye bags, and dark circles.
CONCLUSION
There is definitely a lot more to know than just the typical anti-aging eye creams you can purchase over the counter. As the choices for the best eye cream for wrinkles and other eye skin concerns can truly be overwhelming, finding the most suitable for your skin and treatment needs might be a bit challenging. Therefore, determining the essential factors and the specific guidelines about anti-aging eye creams will lead you to the product that will give your skin the best treatment.
From all the important notes we have jotted down, there are five (5) factors you have to consider first before buying an anti-aging eye cream. Here's what you should know:
Understand your skin type
Determine your specific eye concerns
Consider the reputable brands
Look for an eye cream that matches your age bracket
Know the ingredients
In addition, to make sure that the anti-aging cream you are buying is completely safe, matches your skin type, is highly effective and complies with your treatment needs, it should contain safe and tested ingredients such as collagen, peptides, hyaluronic acid, retinol, antioxidants, and natural emollients. And to wrap everything up, we have also rounded up the top anti-aging eye creams you can find on the market today.
Should you have any concerns or questions, don't hesitate to share your thoughts. Let us know!
Nguồn: https://cosmeticnews.com
Danh mục: Anti-Aging