If you are feeling under the weather, anyone looking into your eyes or the area around them can tell that you are not okay. If you stayed up tossing and turning the whole night, the lack of sleep shows on the eyes and the skin around it in the form of puffiness and redness. If years are catching up with you, the fine lines, sagging skin and WRINKLES around the eyes tell it all. You can however prevent or hide all these imperfections by taking great care of your eyes. There are several ways to take care of the eyes.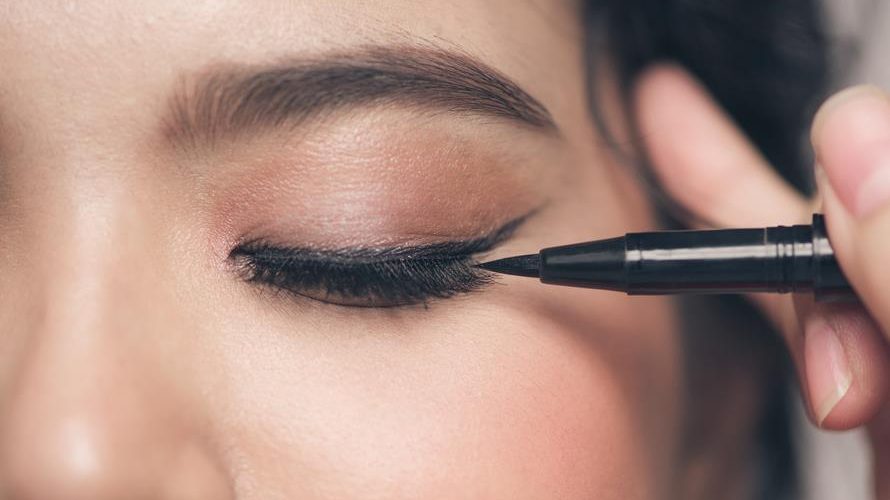 You can use the Best Eye Creams in the market to reverse majority of the signs, or make your eyes look sexy and irresistible to look at by using other eye makeup products such as Mascara, eyeliners, eye pencils and many others. Today, our focus is on eyeliners. Many women find it hard not to include eyeliner in their makeup routine making it one of the most important items to have for a complete look. Using eyeliners is one of the best ways to draw attention to any woman's eyes. They give that cat-eye look or a smoky eye look that is irresistible. This they do by making the eyelashes appear longer than they are and by giving more vibrancy to the color of the eyes. Anyone wearing eyeliner in the proper manner looks more awake and alert than a person not wearing anything on her lashes does.
You are reading: Best Eyeliner | According to Makeup Artists
Eyeliners define the eyes making them noticeable and they are usually among the first beauty items every girl gets to know first. Eyeliner accentuates and uplifts not only the eyes but also the whole face. Eyeliner can turn a dull look into an extremely attractive look.  If you are one of those women, then this article will come in handy for you. Deciding on the best eyeliner to use for your daily routine may seem like a simple thing to do considering that every brand in the world of beauty has eyeliner with their name on it. However, there are several things to take into consideration before settling for the eyeliner of your choice.
For starters, whatever you decide to go with should have easy application and withstand all weather conditions. Some people tear up or scratch their eyes and good eyeliner should not smudge after a few tears or a few eye itches. You do not need eyeliner that you will keep reapplying because it ran. Long lasting eyeliner is what you need if you have to stay feeling confident and beautiful the whole day or night depending on the occasion. With all these factors in mind, we researched and reviewed many eyeliner brands in the market and came up with this list of the BEST EYELINER that will help you in making the right choice.
See also:
Our Top List of the Best Eyeliner
Stila Stay All Day Waterproof Liquid Eyeliner
This number one selling liquid eyeliner allows you to create different effects that completely change the look on your face and eyes. The effects range from dramatic to thin and thick precise lines. The eyeliner has a formula that that glides on the lash lines with ease without leaving any smudges. You do not have to worry about the eyeliner running because it does not and it will last you the whole day. The eyeliner does not skid or pull. It is ideal for first time users and professionals and dries up fast after application. what is even better is that the Stila Eyeliner comes in 14 amazing colors so whatever your skin tone or texture is, you are sure to find a color that blends in well.
Eyeko Skinny Liquid Liner
Eyeko is another easy to apply liquid eyeliner that allows you to create different looks such as fine defined lines, feline flicks and thin lines. Whatever style you choose, the eyeliner accentuates your eyes and your looks. The liquid eyeliner features a long lasting formula that has SODIUM HYALURONATE, which contains hyaluronic acid and treats the dry eye syndrome as the main ingredient. It gives you a smudge proof finish with an amazing color intense. The formula is parabens free and it comes with the treatment benefit containing carbon black and smudge proof formula enhanced with conditioning algae extract. The eyeliner is good as an everyday wear and perfect for the cat eyes and cult classic looks. With moderate use, the eyeliner can last for one year and more. It comes with a tapered brush to allow easy application for both first time users and professionals.
Schwig Liquid Eyeliner, Black Matte Finish
Defining and lining eyes is not a very easy thing to do especially if you do not have the right product. This however should not be a problem if you get yourself the amazing Schwig Liquid Eyeliner. The eyeliner comes with a tapered felt tip applicator that is uniquely thin and very easy to use for even first time users. The eyeliner enables you to have careful control when creating the bold lines and other strokes. It gives a rich matte black finish that does not run, smudge or flake. The eyeliner dries up fast and it is easy to carry around, as it is very compact. It is also ideal for all skin types.  Therefore, if you are looking for the coolest eyeliner in the market and you need to bat those eyelashes in style, get the amazing schwig liquid eyeliner.
Julep Long Lasting Waterproof Gel Eyeliner Pencil
Read more : Best Eye Lift Cream for Hooded Eyes Reviews
This ophthalmic tested easy to use eye pencil contains a creamy formula with an intense color payoff of quality gel eyeliner. The eye pencil sets in 30 seconds after application and you can go with it for the next 10 hours without worrying about smudges or flaking. The eye pencil does not contain any harmful ingredients and it is parabens free, SLS free, and cruelty free. It also comes with a quality sharpener that works fast. Wear the eye pencil during any time of the day irrespective of the weather because it is waterproof.
Blinc Ultrathin Liquid Eyeliner Pen
One of the amazing things that set this eyeliner apart from the rest is its tiny brush, which compared to many others in the market, has the most precision. With this kind of precision, you can create the thinnest and the most exact lines as much as possible, which gives the eyeliner unparalled versatility. It is waterproof and no matter the situation, the eyeliner does not fade or run.
If you are a novice and using the eyeliner for the first time, you do not have to worry because it has no complexities. It glides smoothly and easily and the brush allows you to create any look you so desire to have. You can create a winged look, a dramatic finish look or a thin classic look. It lasts the whole day and night without the need for reapplication and just as it is easy to apply, the eyeliner is easy to remove using a gentle makeup remover.
LORAC Front of the Line PRO Liquid Eyeliner
LORAC is yet another high-performing quality eyeliner that lasts long without the worry of having any smudges or budges. The eyeliner is water resistant so you can apply it at whichever time you wish to for a unique eye-catching look. The unique automatic delivery system formula of the eyeliner offers a precise application every time you use it. The tip of the eyeliner is flexible enabling it to provide ultimate control and accuracy for smooth strokes making sure you do not miss any line. You can create anything from a dramatically bold look to a thick or thin line with this eyeliner anytime. It is parabens free, sulfates free and it does not contain any synthetic fragrances, synthetic dyes, phthalates or petrochemicals.
Laura Gellar New York Eyeliner Pencil
If you are looking for an eyeliner pencil that will last the whole day and go easy on the eyes, try this INKredible Laura Gellar New York eyeliner pencil. The pencil contains super intense pigments that deliver instant results. The pencil is waterproof and the creamy gel texture glides smoothly along the lashes without tugging or skipping. The pencil comes with its own sharpener, located at the base of the liner. The sharpener ensures that you get precision lining every time you use the pencil. Ophthalmologist and dermatologist tested, the eyeliner is safe for people that wear contact lenses and it is ideal for all skin types including sensitive skin. Do you want your eyes to feel and look INKredible? If you do, then you have the perfect answer, which is Laura Gellar New York eyeliner pencil.
TONYMOLY Gel Eyeliner
TONYMOLY is not new to quality beauty products and the company uses innovative technology and high quality ingredients to give you unique products. This eyeliner for example is one of their best products and it comes with a gel-based formula and great precision. The liquid eyeliner also comes with a brush applicator for easy and smooth application. The liner glides on precisely and smoothly without leaving any smudges or budges. It dries quickly, is long lasting and water resistant. You can choose between black or brown colors.
jane iredale Mystikol Powdered Eyeliner
Creating the sexy look that you love starts with the quality mystikol eyeliner that comes in an appealing bottle. The eyeliner gives you a creamy lined eye that is both sexy and appealing. Mystikol eyeliners are easy to use as they come with built in and removable brush. The brush makes it easier to create rich lines without leaving any smudges. The powdered eyeliner has the staying power of liquid eyeliner and you can smudge it across your lashes as either a pencil or a powder. The cream powder contains coco glycerides and no artificial additives. If you are looking for that sexy smoky look or a shadow that will not fade no matter the weather or occasion, then try, Mystikol Powdered Eyeliners and you will not regret or ever worry about creases or smears.
Cargo Swimmables Eye Pencil
This amazing eye pencil from cargo cosmetics is waterproof and has the feel of liquid eyeliner. Its versatility is out of this word and you can create whatever look you want with it. The ultra-creamy eyeliner locks well into place and you can walk around without the fear of the liner running out for up to 14 hours. The main ingredients in the extreme wear confortable eyeliner are SUNFLOWER OIL, which has amazing moisturizing effects, and Avocado, which also give the liner a cushiony texture that feels both smooth and comfortable. The pencils versatility allows you to create anything from thick lines, delicate lines and full coverage looks.
Different Types of Eyeliners and Their Application Tips
Read more : 10 Best Body Wash for Dry Skin Reviews
To achieve that magical look from eyeliner, it is important to know how to apply it and where exactly to apply it. Also knowing the color that best suits your skin tone is also another very important factor. Before we go through the tips, it is good to know what kind of eyeliner you want for your lashes. Eyeliner comes in three types, which are in liquid form, as an eye pencil and in gel form. The three types have different ways of application and skill levels. Of the three, the most common is the pencil and the most advanced of the three is the liquid eyeliner.
Eye Pencils
Besides being the most common, eye pencils are also the easiest to use. Even people using them for the first time get it right without too much fuss. They are also good for your everyday look and they go well with all kinds of makeup. The only problem that many of the people have with eye pencils is the sharpening. Some people do not sharpen their pencils as regularly as they should, which makes it harder to achieve fine lines across the lashes.
Sharpening the pencils regularly also ensures that they stay clean and free from bacteria. Other people prefer dull and round pointed pencils, which are okay for shading, but not for the precision application, that gives the lashes a seamless look. Another important thing to note is that as much as it is advisable to sharpen the pencil regularly, you must make sure that it is not too sharp because any wrong move could see the pencil end up in the eyeball.
Liquid Eyeliners
Liquid eyeliners are not only the most advanced in the market but also they create more dramatic effects than the other types of eyeliners. They are also the most difficult to apply as compared to the other two categories of eyeliners and you have to be extra careful to avoid making any messes. The trick when it comes to liquid eyeliners is to find the best application techniques that will ensure that you get it right. Another thing that sets liquid eyeliners apart from the rest is that they need some time to dry. After application, it is good to keep your eyes closed for at least 30 seconds to avoid any smudges. To get even better looks with liquid eyeliner, you can dab a setting powder on top of the dry lash line and compliment the look with your best Eyeshadow.
Gel Eyeliners
Majority of gel eyeliners come in a pot and an application brush. Unlike the eye pencil, gel eyeliners are trickier because you have to be sure, of how much you need to apply in order to get the effect you want. The creamy texture and consistency of the gel eyeliners however make it easier to glide the brush across the lashes without any tugging or pulling as the pencils do. The other difference between gels and the other two types of eyeliners is that they dry out faster mainly because they come in pots.
Wrapping it up
Achieving the best look is all about using the right products and eyeliner can bring out the best in you. All you need to do is find a color that suits you best, eyeliner type that will offer the best application and get yourself looking sexy with cat-eyes or any other irresistible look you so desire. With the above products, you can achieve all this and more. Make it even better by making sure that you accompany your eyeliner with a good and quality eye primer that will give your application a base for a lasting application.
We hope this article was of help to you and you will know exactly what to look for when you go shopping for your next eyeliner. If you have any comment or question to ask about the above products, you can share it them on the comment section and we will get back to you. Read more of our other Beauty Products to find out what best works for you.
Top 5 Best Eyeliner On Amazon:
References:
Source: https://cosmeticnews.com
Category: Makeup