Though people of all ages can get dark circles, the older people are more prone to them than the younger people are. Dark circles, which appear with other skin imperfections, are not irritating but they make you look tired, dull, aged and as if you had a night of turning and tossing with no sleep at all. Dark circles are hard not to notice and instead of answering numerous questions on why you have dark circles around your eyes, you can get rid of the problem finally by concealing them effectively with a quality concealer.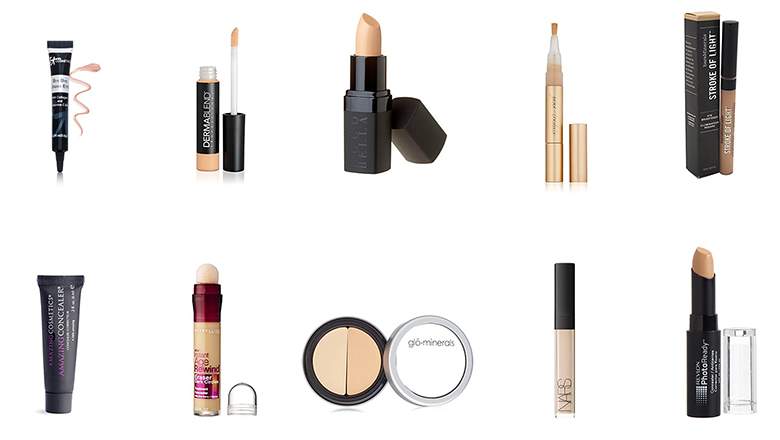 Some people choose to use a FOUNDATION or an eye cream to hide the dark circles and all other imperfections around the eye area, but today, we look at the Best Concealer for Dark Circles that we reviewed. We judged the concealers based on their coverage, ease of application, their ability to diminish the dark circles and other imperfections effectively and their ingredients. We also concentrated on concealers that will not smear or crumble and those with lasting power. Check out our list of the five products that we came up with below.
You are reading: Best Concealer for Dark Circles And Spot Reviews
Our Top Picks of the Best Concealer for Dark Circles
Maybelline Instant Age Rewind Eraser Dark Circles Treatment Concealer
Maybelline New York is one of the top manufacturers of quality beauty products and the instant age rewind eraser is one of their top selling concealer. The concealer has a medium to full coverage build able formula that erases dark circles, gives the face a nice shape and covers all other imperfections. It works instantly to create a radiant refreshed look around the eye area. The anti-aging dark circle treatment contains an infusion of GOJI BERRY known for its highly potent ability for the treatment of eyes, kidney and liver ailments among others, and HALOXYL, which is an effective anti-aging ingredients and also helps fighting dark circles, eye bags and to boost the blood circulation.
Read more : 10 Best Drugstore Foundation for Dry Skin 2021 Reviews
The concealer also features a micro-collector applicator sponge that enables you smooth and even application to the fine lines, dark circles and other imperfections with ultimate precision. Irrespective of your skin tone, you will find a shade that goes well with you because the concealer comes in 12 shades. It also diminishes the puffiness and under eye bags leaving you looking radiant, smooth, and flawless with an illuminated eye makeup, that lasts the whole day and night.
It Cosmetics Bye Bye Under Eye Full Coverage Concealer
The Bye Bye Under Eye Concealer by IT Cosmetics, is a favorite with many people across the world because of its effectiveness. Developed by top plastic surgeons, the concealer delivers long lasting, highly pigmented coverage that stays on the whole day without creasing or cracking. It contains Anti-Aging Peptides and High-Performance Pigments along with Vitamins, HYALURONIC ACID , Hydrolyzed Collagen and Anti-Oxidants that help to improve the appearance of fine lines, and wrinkles.
The formula also works instantly to conceal dark circles, age spots, redness, eye bags hyperpigmentation, broken capillaries and skin discoloration. The multi-tasking full coverage concealer makes your skin look younger, smoother and softer. It comes in light and medium shades with the medium shade being the most popular. It is waterproof and you can apply it on its own or underneath a foundation. You can also set the concealer with a powder if you so prefer. It is as easy to remove, as it is to apply.
Essentials SPF 20 Correcting Concealer
For a fresh and smooth look, your skin needs protection from the sunrays and Essentials Correcting Concealer can do exactly that. The concealer has a creamy formula that combines SPF protection with a superior and a lightweight coverage that conceals dark under eye circles, dark spots and blemishes. The dermatologist-tested concealer is 100% authentic and great for casual wear. The most active ingredient of the concealer is Titanium Dioxide. The fast acting concealer leaves you looking radiant and fresh with an even toned complexion. The lightweight concealer blends well with any makeup you choose to go with it, and looks natural on the skin.
Maybelline New York Instant Age Rewinder Eraser Dark Circles Treatment
Read more : Best Drugstore Foundation For Oily Skin Reviews
For a radiant refreshed looking eye area, use the fast acting Maybelline New York Instant Age Rewinder Eraser. Just as the name suggests, this concealer hides all the aging signs around the eye area that include fine lines and wrinkles. It conceals dark circles, age spots, EYE BAGS and other imperfections with ease. Infused with Goji Berry and Haloxyl, the concealer also helps to diminish puffiness leaving you radiant, healthier and with a much smoother and younger looking skin. It is easy to apply and offers a sheer, medium and full coverage.
L'Oreal Paris Visible Lift CC Eye Concealer
If you are looking for the best concealer to lift your eyes giving them a fresher younger look, use L'Oreal Paris CC Eye Concealer. With a weightless nourishing formula, the concealer deeply hydrates the skin without making it feel greasy or heavy. The sheer color capsules of the concealer help to correct and even the skin tone, giving it a brighter complexion. The formula of the concealer also contains an infusion of Vitamin C And Calcium that provide visible age correction actions such as reduction of dark spots, correcting and evening the skin tone, brightening the skin complexion, nourishing and protecting the skin with SPF 20. Its versatility also helps to eliminate some of the usual makeup routines and still leave your complexion looking radiant and younger.
Read Next: Best Concealer for Dry Skin You'll Need For Winter
Wrapping it up
You do not have to walk around with dark circles, blemishes, age spots and under sagging skin and eye bags when you can easily cover them up to have a good day. Concealers help to change your look by giving your face a different shape, brightness and a smoother complexion. With the above concealers, you can also skip some of your makeup routines because they are versatile. They also go well with face POWDER and foundations and besides concealing the dark circles and other imperfections, they help to nourish the skin, hydrate it and diminish the aging signs. For more on the best beauty products, read our earlier articles and do not hesitate to reach out to us in case of any comments or questions.
Source: https://cosmeticnews.com
Category: Makeup