Every true beauty enthusiast knows that she cannot achieve the kind of look she wants from makeup without using the best makeup brushes for the job. A face is like the canvas, makeup is the paint and to make good art, you need a brush. If you want blushing cheeks or those smoky eyes you see in beauty magazines or you need to hide your face imperfections with the BEST CONCEALER in the market, you need to get the right makeup brushes to help you achieve the look.
You need the perfect brush for foundation, lips, eyes, shadow, neck, cheeks and every part of your face. Unfortunately, for some people, they do not appreciate the good properties of a good makeup brush and will go for anything that they can use as alternatives. Finding the perfect makeup brush is however not a very easy task considering there are dozens of different types of brushes in the market. If you are not sure of what makeup brushes you need for your face transformation, we will help you with our pick of some of the best makeup brushes in the market today.
To give you that look that you have always wanted and to take the confusion out about makeup brushes, we have provided you with 10 of our favourite picks of the brushes in the market today. Read on to learn why these makeup brushes should go hand in hand with BEST FOUNDATION FOR DRY SKIN and other cosmetic and makeup products and why they stand out.
See also:
Our Pick Of The Best Affordable Makeup Brushes Kit
BS-MALL Makeup Brushes
BS-Mall offers an assortment of high quality makeup brushes that are easy to handle and use. They come with a bold handle that even a person doing makeup for the first time can easily handle. BS-Mall brushes are soft and silky, making makeup application a luxurious experience. The bristles are high density, made from synthetic fiber hair and they do not shed no matter what kind of makeup you use. The assortment of brushes includes kabuki, lip liner, eye shadow, foundation and blush makeup brushes.
The steps to take while cleaning the brushes
Do

not use very hot water as it may damage the bristles, so run them

under lukewarm water
Use

some baby shampoo on the water and you can use liquid castle soap if

you do not have baby shampoo
Do

not immerse the handles into the water but dip the bristles inside

the soapy water and swirl them gently
After

swirling and making sure the bristles are clean, rinse them in

lukewarm water
Pat

all the bristles dry and then reshape them back to their original

shape
Fluff

the brushes with your fingers after air-drying them
Beauty Junkees Foundation Makeup Brush
Beauty Junkees offers affordable high quality kabuki brushes that are a favoirite with many users. The versatile kabuki makeup brush has a flat top used for the application of foundation. The bristles are best for medium to heavy face coverage. You can use the same brush to do your finishing. For better results, buy two brushes so you can use one for foundation and the other for your finishing powder.
The kabuki brush comes in a wooden handle that gives the brush longevity while at same time providing enough stability and easy handling as you apply your makeup. The bristles are synthetic and dense enough to ensure that you apply your makeup evenly without losing any of it to the bristles. The material does not shed and it is hypoallergenic, which is great especially for people with sensitive skins. The brush also comes with a copper ferrule, which is a common feature in quality rushes.
Lamora Kabuki Makeup Brush Set
Lamora is a highly rated, top selling makeup brush set that gives your face a flawless look. The brush is ideal for buffing, stripling, contouring, buffing, shading, and highlighting. It is the perfect brush to use if you want to hide your imperfections. It is a soft non-porous and vegan brush with dense and silky bristles. The brush is easy to clean, it does not trap or adsorb your makeup and you can use it daily with long lasting effects. It is also durable and does not shred.
The handle is wooden and glossy making it easy to handle when applying makeup. It also contains copper ferrule, which is great for people with problematic skin conditions like blemishes, spots, pimples, dermatitis, redness, pores, acne, and redness among several others. The makeup brushes also come with a free eBook on easy makeup application tips. With the brushes, you also get a 30-day satisfaction guarantee. If the product does not please in the first thirty days, then you can always get your money back. .
EmaxDesign Makeup Brush Set
With 20 pieces of makeup brushes, you will definitely enjoy using this set from EmaxDesign. The brushes will give your face a flawless look and finish without leaving any buildup or streaks. Made with synthetic fiber materials, the bristle are smooth to the touch and feel and they are ideal for all kinds of makeup whether liquid, cream or powder.
Xem thêm : 15 Best Body Wash For Acne Prone Skin Reviews
The set includes a foundation brush, eye shadow brush, mascara brush, eyeliner brush, concealer brush, lip brush and eyebrow brush. The brushes come with easy to hold handles and they are good for anyone with both normal and sensitive skin. Every brush is hand assembled and the material is of the highest quality. The bristles are high density and do not shed.
KOLIGHT Pro Makeup set
Get these wonderful 20 pcs pro makeup set powder foundation from KOLIGHT for a very affordable price. The set, which contains quality brushes for foundation, eyeshadow, eyeliner, lips and other places, are soft and very pleasing to the skin. Made with high quality goat, soft and nylon materials, they have soft non-shed bristles.
For a firm hold, the handle made from wood measures between 18.5 to 13.3 centimeters. The brushes adopt high quality nylon hair, which provides them with the ability to hold every makeup in place.
Real Techniques powder brush
Real Techniques has four of the best makeup brushes you will find in the market today. The powder brush, which is one of Real Techniques collection of brushes, has ultra-plush bristles made with synthetic Taklon and aluminum ferrules. This combination helps top give the brush the ability to apply powder evenly and smoothly over the whole face.
The bristles are long lasting and easy to clean. With this brush, you will not have any powder streaks on your face or buildup. The brush also has a stylish classic style complete with an angled cut. You can use any kind of powder including liquid with the brush. You can also use a wide range of other products with the brush with the same quality and smooth results.
Created by Sam and Nic Chapman who started experimenting with makeup at an early age, the brushes are a favorite for many people all across the globe. Other Real Technique brushes that you can use alongside the powder brush are foundation brushes, the hue/purple coloured eye brushes, and the beautiful pink/hue finishing brushes. You can trust all these brushes to transform your look to a shiny smooth lavishly beautiful finish.
Qivange Eye Brush Set
The above makeup set of 12 black and rose gold brushes come in different sizes and shapes with quality bristles that allow you to have a flawless application of your makeup. The brushes are essential for a complete eye makeup and include eyeshadow brushes, bent eyeliner brush, blending brushes, concealer brushes and an eyebrow brush. The bristles do not shed nor leave anymakeup streaks on your face.
They are cruelty free and come with very durable handles made with premium wood and which are easy to hold. The design and the two colors make the brushes look chic, luxurious and fashionable. The company QIVANGE gives a satisfaction guarantee and if at all the brushes does not meet your needs; you can call them up to complain.
EcoTools Eye Enhancing Duo Brush Set
EcoTools is a brand that aims at making women look beautiful on the outside while at the same time feeling good about them on the inside. Their range of products are all high quality and popular with many makeup enthusiast across the globe. This particular product is an enhancing eye set designed with four quality brush heads that define, shade, smudge and blend.
The four makeup brushes condense into two, which makes space in your makeup bag for other products. Each brush comes with descriptions on to use them. They are easy to clean and use. The bristles are soft and cruelty free. EcoTools products are a favorite with celebrities and people in the beauty industry and the reason is that the products are one of a kind.
BESTOPE Makeup Brushes
This set of 8 pieces makeup brushes is one of the most popular set of brushes in the world. Made by BESTOPE beauty Magic, a renowned leader in makeup and cosmetic products, the brushes are great for both professional makeup artists and beginners. The brushes are every soft as the material that makes them is soft synthetic fibers. They also have natural hair as the other material which when combined with the synthetic fiber, makes the bristles super soft and suitable for all skin types.
The brushes do not shed, they have no hair and they will not hurt your skin. The brushes are very smooth making it easier for anyone using them to apply whatever kind of makeup they want with ease. The handle is wooden texture made with high-end performance alloy and soft synthetic. The brushes are easily portable as they are very compact. If you are looking for that flawless finish, trust BESPOKE to give you that.
Yoseng Makeup Brush Set
If you are looking for elegance and beauty in a makeup brush, then you should go with Yoseng Makeup brush set. The brushes have a toothbrush shape, which looks both fashionable and chic. They also come with an elegant color design and hair made with synthetic material. The hair material makes it easier for makeup to hold in place without streaking or bleeding. You can confidently apply your cream, foundation, liquid makeup and anything else with the assurance that it will stay.
The brushes are compatible with BB cream, every type of foundation, powder, cream, blush and liquid. The brushes deliver a full flawless full coverage of every makeup you apply. The material on the brushes is good for all skin types and it is durable. For faster, smoother and silky soft makeup, take the journey with Yoseng Makeup brush set and you will not regret.
Buying guideline for different makeup brushes
The market has many different kinds of makeup brushes. They come in different sizes and shapes. Brush bristles differ from brand to brand and the prices depend on the brand and the quality. Brushes have different application purposes and to help you in choosing the right makeup brushes, below are a few guidelines to look out for.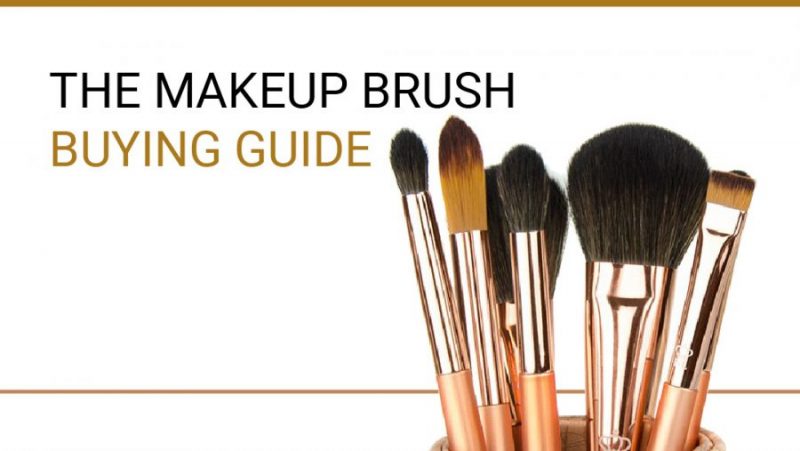 Blusher brushes
For the perfect blusher blush, you should make sure that the head is round and it has many bristles that will create a good flush of color on your cheeks.
Bronzer brush
A bronzer brush should have a large head for a smooth and even full-face application.
Foundation brush
For the best foundation brush, go for a flat paddle side that will allow you to reach all the places of your face without wasting any foundation. A flat paddle side brush also gives your face an even and smooth finish.
Powder brush
If you need a lightly applied powder on only the places you need to give you that flawless and dewy complexion, then look for a brush with a sculptured end and light fibres. A brush with these characteristics will ensure that the powder application is precise and ensures that you skin will not look flat and caked but smooth and shiny.
Eyeliner brush
For precise eye lining, get a brush with an angled point. You can use the same to apply light color to the eyelids to give them a defined subtle look.
Blender brush
For every makeup, you should have a blender brush with soft bristles because it is your first step to makeup application.
Lip brush
Choose a brush with a square tip for a precise makeup finish to your lips. You can also use the same brush to soften your lip liner to give you a good pout.
How to keep you makeup brushes clean
Many people want to own the best quality makeup brushes but not all clean them as often as they should. A makeup brush is probably one of the most used items in your regimen of cosmetics and makeup products. It is therefore important to keep them clean in order for them to perform their tasks well.
If you leave your brushes dirty for a long time, the bristles lose their original shapes due to excess makeup caught in between them. You also get the danger of oil and dirt building into the bristles and transferring the same to your face. This can cause acne, breakouts and other germs and bacteria that can harm your skin.
Establishing a good and regular makeup brushes cleaning routine is not hard. Follow these simple guidelines, keep your brushes for a longer period, and avoid any diseases.
How often you should clean your brushes
You do not need to clean your brushes after every use but it is fair that you at least give them a thorough cleaning once a month. If you are using brush cleansers, you should clean them at least once a week. Sponges and foundation brushes should be cleaned even more once in a week because they house oils that may clog the pores thus damaging the skin. For even better management, after every application, you can use makeup wipes to clean your brushes every day.
What to use when cleaning the brushes
Always use warm water and gentile dish wash or baby shampoo to clean the brushes. Do not use very hot water, as it will change the shape of the bristles. Use products that are hypoallergenic and one that will effectively remove the makeup from the brushes.
How to clean
Put some shampoo into a bowl of warm water, dip your brushes into the soapy water and swirl them. Then massage the bristles with the palm of your hand to remove all the makeup. After you are done, rinse the brushes and squeeze the excess water out lightly. Lay the brushes on a towel or a soft fabric to dry.
Wrapping it up
There is a lot more to learn about makeup brushes and we have many other products in the market, but the above are some of the best. They will give you flawless smooth makeup finish and they are all easy to use. All the brushes are affordable and you can easily purchase them from Amazon. There is therefore no reason to have a bad makeup application or a foundation cover that does not make you look good when you have a choice of the best makeup brushes to help you. For more articles on makeup products, read our earlier articles.
Nguồn: https://cosmeticnews.com
Danh mục: Makeup