Choosing a skincare product for a mature skin is not the same as choosing one for younger skin.  For example, the type of eye cream you choose for an older skin will have to hide the fine lines and the wrinkles around the eye area. Like the eye cream, you also need to change your foundation depending on the kind of skin you have now that you are older.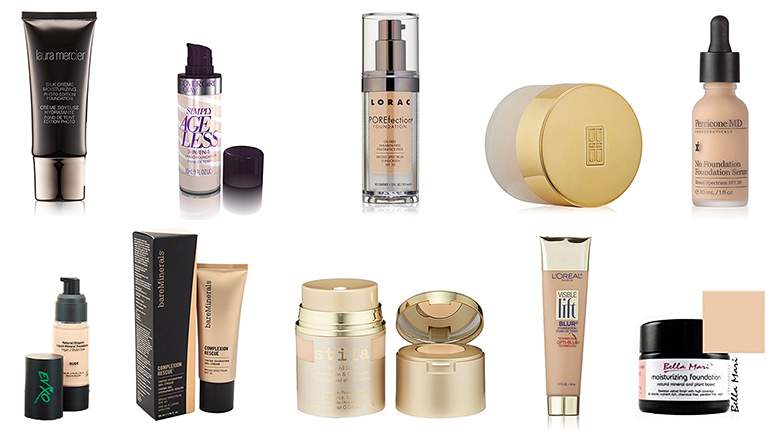 Apparently, the market is flooded with makeup choices for all types of skins, and the foundation for mature skin is no exception. We understand that it can be daunting to find the best foundations for mature skin considering there are many products in the market. In this article we have outlined out picks of the best foundation for mature skin. The foundations provide full coverage; concealing the tell-tale signs of aging on the skin. They improve the texture of the skin as they diminish the fine skin lines and wrinkles.
Created with superior ingredients, the foundations are for mature skin, and they will give you a glowy youthful look as they diminish the ANTI-AGING effects. Therefore, if you have mature skin and you need the best foundation that will conceal those skin wrinkles while at the same time firming and plumping your skin, then check out the following list.
See also:
Best Foundations For Older or Aging Skin  (Over 40,50,60) Reviews
#1 DERMABLEND Cover Crème Full Coverage Foundation
Cover Crème Full Coverage Foundation is one of DERMABLEND's bestselling foundations containing broad spectrum SPF 30. The cream foundation has a great formulation, which is ideal for all skin types. For people with mature skin, the effects of age come with lines and wrinkles. This cream foundation hides all the flaws to give your skin a flawless look. The foundation provides hydration for the skin all day from its high concentration of high-performance pigments.
The foundation is not mask or cake and it feels lightweight on the skin.
The Foundation glides evenly on the skin leaving it feeling smooth, soft and fresh. What is even better is you can use the cream for other purposes. You can use it as foundation, a concealer and as a contour. Makeup artists use this foundation as their go-to foundation to conceal skin flaws such as scars, hyperpigmentation, acne scars, vitiligo, uneven skin tones and birthmarks.
The foundation cream provides continuous skin coverage for 16 hours. In those 16 hours the cream dose not smudge, or transfer color. It works even better when used with DERMABLEND setting powder.  It is non-comedogenic, hypoallergenic and does not contain parabens, sodium lauryl sulfate or phthalates. The most active ingredient of the cream is titanium dioxide.
#2 New Clinique Even Better Makeup
With SPF 15 that protects the skin against UV sunrays, and infused with quality and potent skin care products, even better improves the appearance of the skin by diminishing age spots. It gives the skin more clarity and a youthful look. The advanced formula, developed by dermatologists is oil free and it is perfecto wear during the spring and summer. It hydrates the skin leaving an even toned look. Its coverage is medium to full and it gives a matte finish. The foundation comes in different shades meaning that whatever your skin tone is, you will find a shade to go well with it. It has long lasting effects
Developed by dermatologists, this advanced liquid product diminishes the appearance of age spots and visibly improves clarity for a more even skin tone.
#3 BareMinerals barePro Foundation
If you are looking for natural glam coverage, then try the bareMinerals barePRO foundation. The foundation is good to wear day or night and it contains quality and power natural ingredients that give your skin a healthy young looking complexion. The foundation is good for all skin types and textures and it gives full coverage. It also gives a natural matte finish and it stays on without caking for 12 hours.
The ingredients include minerals and vitamins that blend to give the skin a smooth, soft, healthy and strong complexion. The foundation reduces the pore sizes, controls the skin shine and hydrates the skin. It is lightweight and breathable. The foundation comes in different shades for every kind of skin complexion.
#4 Estee Lauder Perfectionist Youth-Infusing Makeup
For women over 50 looking for a foundation that will delight them, then the Estee Lauder is the perfect solution. The foundation contains strong ingredients that give the skin a youthful look. It radiates the skin by minimizing wrinkles and fine lines. The foundation does not cake; it is lightweight and free from any oils. The anti-aging serum in the foundation moisturizes the skin and fights any aging signs.
Xem thêm : Best Drugstore Foundation For Oily Skin Reviews
The foundation also gives your skin a satin natural finish. Give your skin back the youthful look with this foundation that has great and powerful youth infusing ingredients and say goodbye to fine line. You do not have to worry about the foundation caking into the lines because it is very light and spreads evenly along the skin leaving no flaking.
#5 Bella Mari Natural Moisturizing Foundation
Bella Mari foundation is a mineral moisturizing foundation made with natural ingredients. Unlike many other foundations, Bella Mari's Natural Foundation does not have chemicals and irritants that are irritating to the skin. The foundation instead contains mineral sunscreen with SPF 30. The foundation offers a high full coverage and it is lightweight on the skin. It does not cake at any time and it has lasting effects.
The cruelty free foundation does not contain parabens, petrolatum, talc, phthalates, propylene, synthetic preservatives, fragrances, dyes, glycol, Nano particles, methicone and other chemicals that are not skin sensitive friendly. it is also non-GMO and free from free from soy, gluten, dairy, peanuts, corn glycoproteins, tree nuts, vinyl, fibroin MEA, DEA, TEA, beeswax, silk, PEG and carmine.  The ingredients are both environment and skin friendly.
#6 COVERGIRL + Olay Simply Ageless 3-In-1 Foundation
COVERGIRL and Olay are both big companies known for their creation of some of the most potent beauty products in the mark. They teamed up to come up with a medium coverage foundation that comes with many benefits. It is one of the best foundations in the market for people fighting signs of aging. The foundation disguises age spots and fine line transforming your looks instantly. It also helps to fir the skin and fades discoloration.
The product contains Niacinamide, Vitamin E and Green Tea that blend together to give your skin a firm, healthy, youthful look. You do not have to worry about the color or tone of your skin because the foundation comes in 12 shades, giving a wide choice of selection.
#7 Revlon PhotoReady Concealer
Revlon is also another leader in beauty and hair products. Their quality products leave a mark of quality for majority of the users. The Revlon's Insta-Filter Foundation is a quality product that people with aging skin symptoms love. It gives you a healthy flawless complexion that transforms your skin complexion to that of a younger person. The foundation comes in different shades all with medium coverage that disguises dark spots, crow's feet and frown lines.
The foundation also comes with a built in application brush for ease of use. Before you begin applying the foundation, make sure you shake it well.
#8 Clarin's Instant Concealer
Clarin's is an instant and effective eye concealer that also Offers customized correction for all types of dark spots, fine lines circles around the eye area. The concealer has a tinted formula that masks the color of dark spots and circles, restoring the skin's natural tone. The concealer has a potent fluid texture that blends seamlessly into skin, leaving you with a healthy flawless glowing complexion.
If you are looking for the best concealer to hide the aging effects around the eyes, then this product will give you back a vibrant flawless look that you can be proud of throughout the day. It does not contain any irritants or toxic chemicals and it is good for all skin types.
#9 L'Oreal Paris Cosmetics Visible Lift Serum Tint
You can never go wrong with L'Oreal products because they offer very effective results. L'Oreal's Visible Lift Serum Tint is a lightweight serum that sets perfectly on your face that it becomes hard to tell whether you are wearing anything. The serum is a moisturizer booster that revitalizes the skin appearance instantly. Popular with users aged 60 and above the serum evens out the skin giving a subtle radiant texture.
It hydrates the skin and adds color that makes you look young and healthier, if you have fine lines and wrinkles, you do not have to worry because the serum tint has a strong infusion of vitamins and nourishing oils that diminish all those face problems. For a radiant glowing look, apply the serum on the whole face and trust the product to keep you feeling and looking fresh all day long. You can choose from 5 radiant shades.
#10 Vichy DermaFinish liquid foundation
Beat the wrinkles, fine lines, dark spots and circles with Vichy's DermaFinish foundation, which offers high coverage that lasts for up to 16 hours. The foundation has mineral sunscreen with SPF 30 protection. It is great for skins that have seen better days and changed due to change.
Xem thêm : 9 Best Foundation for Acne Prone Skin Reviews
The liquid foundation is especially good for the skin around the eyes, which suffers the most from aging effects it is gentle on the skin. Many of the foundation users say that it gives them a flawless appearance and changes their complexion to an even flawless look. The foundation does not cake or settle into the wrinkles and fine lines.
Like all Vichy DermaFinish products, the foundation is safe for every kind of skin including those that have sensitivity. It is also safe for those that wear contact lenses and it is free from any fragrances. The foundation is non-comedogenic.
#11 Almay Smart Shade Anti-Aging Skintone Matching Makeup
Fight the aging effects instantly with Almay Smart Shade Anti-Aging Skintone Matching Makeup. The foundation comes in three distinct shades with adjusting colors that transforms your skin from white to just right tone immediately after application. The shades to choose from are, the latest in exclusive Almay Tonemimic shade-sensing bead technology which is available in  in 6 skintone-matching shades, Light 100, Light Medium, Mine 200, Straight Up Medium 300, the  NEW Medium Meets Deep 400, NEW Deep Like Me 500, and NEW Make Mine Dark 600.
The foundation gives you a streak-free natural looking complexion that stays on for the whole day. It does not settle into the wrinkles or fine lines and you can trust the product to keep you looking healthy young and refreshed all day long. The foundation also provides a broad-spectrum sunscreen of SPF 20.
#12 Perricone MD No Foundation Foundation
The above foundation allows you to look your best without trying too much to look your best. The foundation enhances the skins natural beauty without covering it up wholly. Developed for celebrity makeup artists, the foundation gives you a fresh young look with a satiny finish. It hides the imperfections on the skin perfectly and improves the skins moisture levels leaving your skin well hydrated. The foundation contains Vitamins and anti-oxidants that fight the signs of aging while at the same time feeding the skin with moisture. Another ingredient that combines with these two to keep you looking young is alpha lipolic acid. To protect you from sunburn, the foundation has a mineral sunscreen with SPF 30.
#13 L'Oreal Paris Makeup Infallible
This is one of the newest products in the long range of L'Oreal products. The creamy infallible foundation has pro finish of up to 24 hours long wear. After application, the foundation gives your skin a hydrating glow with a smooth softer look. You do not have to worry about the glow fading after some few hours because it stays on for as long as you have the foundation on your face.
The foundation gives medium coverage and hides all the skin imperfections like dark circles and spots, wrinkles, fine lines, and crow's feet among others. This in turn leaves you with a clear youthful complexion. The foundation has SPF and it is ideal for normal to dry dry skin and all kinds of skin tones. The best places to apply the foundation are the cheeks, the chin, forehead, and around the eye area.
Make sure that before using the product, you have no breakouts because you could irritate the skin because of some of the ingredients present, you should keep the foundation away from the children, and in case there is any irritation after application, consult a physician.
Read more: Best Atv Goggles
What to look for in a foundation for mature skin
Mature skin is very different from youthful skin and as you age, you may realize that you cannot use the same foundations you once did when you were younger. The CONCEALER foundations from the past may not hide the fine lines as well as you would want them to. It is challenging shopping for a foundation for mature skin but there is a solution. The first thing is even if you want to use a product from the same company, make sure that the new foundation has an upgrade that caters for an older mature skin.
The formula you choose should take care of dryness, hide all the imperfections, be lightweight so that it does not cake into the wrinkles or fine lies, moisturize and offer medium to full coverage. Look out for products that have SPF to protect your delicate skin against sunburn and a foundation that has ingredients that will not irritate the skin.
One of the most confusing things when it comes to coverage is which is the best for mature skin? Majority of the celebrity makeup artists that have quite a number of older clients suggest that you should always use light reflecting formulas that give you a dewy finish and a full coverage. Do not go for a matte finish if you have mature skin unless your skin is oily. This is because a matte finish may make the skin look older and drier.
Conclusion
We wrap our reviews of the best foundation for mature skin with the hope that the list above will help you go out there and get the best for your skin type. Whatever skin imperfections you have, like dark circles, fine lines, wrinkles, age spots and dryness, you can trust the above products to diminish the effects leaving you with a youthful, strong, healthy, hydrated, smooth and flawless skin texture.
Best Foundation For Mature Skin With Large Pores
Nguồn: https://cosmeticnews.com
Danh mục: Foundations