You should ensure that you do not go past the 350 degrees Fahrenheit. You can find various types of flat irons in the market with the best one to work for thin hair being ionic technology. The technology helps to produce negative ions that make the hair smoother, shinier, and frizz-free. There are three types of ionic flat irons. One is ceramic. Flat irons that have a ceramic plate transfer heat evenly. Tourmaline is a crystal that is ground and mixed with ceramic plates. The combination helps to prevent hair damage, static, and frizz. Titanium, on the other hand, heats up very fast and transfers heat more quickly. It is best to use it on curly, or frizzy hair.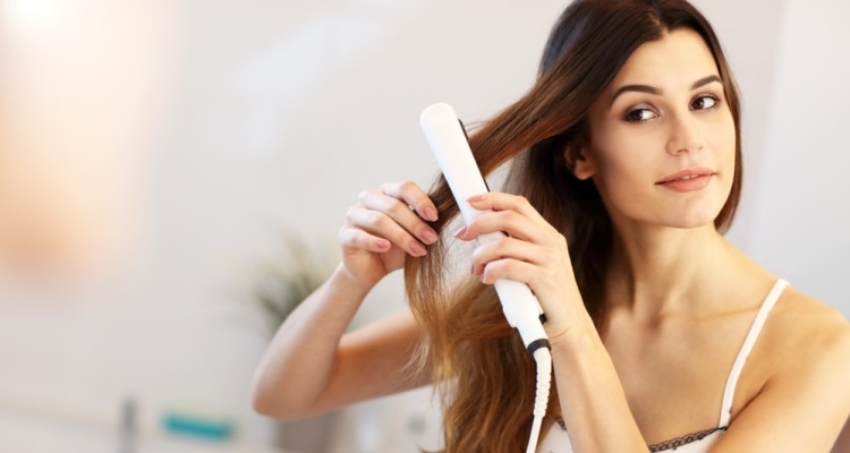 Here are some of the best hair straighteners you can use if you have fine hair.
xtava Professional Infrared Hair Straightener
Read more : Best Hair Straightener For Thin Hair Reviews
The type of heat you use on your hair can make or break your hair. The xtava Professional Infrared Hair Straightener uses infrared technology to heat the hair from the inside out. The Infrared technology helps the heat to penetrate deep into the hair strands and not only on the outer layer. When the heat penetrates deep into the hair strands, it increases the styling effectiveness and reduces the damage on the hair. The technology also helps in the stimulation of negative ions that draw out oils from the hair shaft to the surface, helping with the locking of moisture. Xtava can handle any hair, be it thick, thin hair, curly, or coarse. It can straighten your hair locks with the guarantee of a high, consistent style with even heat. The appliance can even handle lots of volume thanks to the extra-wide 2 inches floating plates. You can also use the xtava Professional Infrared Hair Straightener to style synthetic hair and hair extensions since you can customize the heat depending on your hair needs. You can also ensure that your hair stays protected from heat damage by using the xtava Heat Protectant Spray. It helps to repair the hair and replenish its moisture.
Solano Sleekheat450 Professional Flat Iron
The Solano Sleekheat450 Professional Flat Iron is a high-quality product that is very common with professionals. It comes with an adjustable temperature dial that has 5 set temperature options that range from 170, 280, 360 and 450 degrees Fahrenheit. It is more than most ceramic flat irons that only reach up to 390 degrees. If your hair s damaged, you need to start using the straightener at a lower temperature building your way up to the ideal temperature for the style design you want and the texture and hair type. The straightener has four-sided ironic plates that measure 3.5 inches. The plates glide smoothly through the hair distributing heat evenly as you perform your styling. The flat iron generates negative ions that counteract with the positively charged ions in the hair. It leaves your hair feeling more hydrated, shinier, and smoother. The flat iron has a color-coded feature that helps you track when your device is hot enough for styling. The hair straightener can gain heat up to 450 degrees Fahrenheit within 60 seconds, making it faster than many other models. It has a long cord and a rotating swivel making it ideal for salon use.
INFINITI PRO BY CONAIR Tourmaline Ceramic Flat Iron
You can find the INFINITI PRO BY CONAIR Tourmaline Ceramic Flat Iron in three different sizes that include one, one and a quarter, one and a third inches. The flat iron is made up of tourmaline plates that can heat up to 455 degrees. The device requires only 15 seconds to heat up and get ready for styling with optimal efficiency. The device has 30 different heating settings that help you to meet the requirements of different types of hair. It also has a heat recovery system that allows it to recover heat after a sudden power cut. The device also features an auto-shutdown that protects the appliance when you leave it unattended for a long time. It also has an anti-static technology that helps to minimize frizz leaving the hair healthy, shiny, and soft.
MONDAVA PROFESSIONAL Ceramic Tourmaline Hair Straightener
If you want a lightweight and highly efficient straightener, you should consider the MONDAVA PROFESSIONAL Ceramic Tourmaline Hair Straightener. The flat iron is highly advanced and has some various award-winning features. It uses ionic technology together with a ceramic tourmaline to provide you with salon-like qualities. The ceramic plate glides effortlessly through your hair, allowing you to make trendy hair designs. It is easy to use as it reaches your set target temperature in a quick and timely manner. Its highest temperature setting is 450 degrees Fahrenheit. The tourmaline technology helps to reduce the chances of frizz.
HSI Professional Digital Ceramic Tourmaline Ionic Flat Iron
Read more : 10+ Best Hair Straightener (Flat Iron) Reviews
The HSI Professional Digital Ceramic Tourmaline Ionic Flat Iron is one of the top straighteners offering salon-quality experiences. The appliance contains a combination of both ceramic and tourmaline plates whose heat ranges from 240 degrees to 450 degrees. It transfers heat better and will not crack, peel, or chip. It can cover all the types of hair, from thin to thick, coarse to excellent. The flat iron measures 1 inch and features a curved edge that allows you to flip the hair without having to curl it quickly. The flat iron is dual voltage making it a great travel device that you can use anywhere in the world. The HSI Professional Digital Ceramic Tourmaline Ionic Flat Iron is packaged together with heat gloves that help you to handle the flat iron comfortably. There is also a small bottle of argan oil that helps to repair dry and damaged hair.
Read Next: Best Hair Straightener for Rosin
Summing Up
If you have fine hair, you need to put into consideration the particular requirements of heat it needs when styling. When you expose fine hair to too much heat, it can damage and take several months for it to repair and grow back. It does not, however, mean you cannot enjoy professional salon results. All you need to do is find the best flat iron that can cater to your fine hair needs.
We strongly recommend choosing a hair straightener with adjustable temperature control and heat settings. As such, you can select one of the above models to help you maintain the health and integrity of your fine hair.
Source: https://cosmeticnews.com
Category: Hair Growth Products