Keeping hair straightened at all times is however not a simple thing to do especially for people that have haircuts. You go to sleep looking okay but wake up the following with messy and frizzy hair. Hair problems however do not have to be a problem because we have products that can help you with the mess and frizz among other hair problems.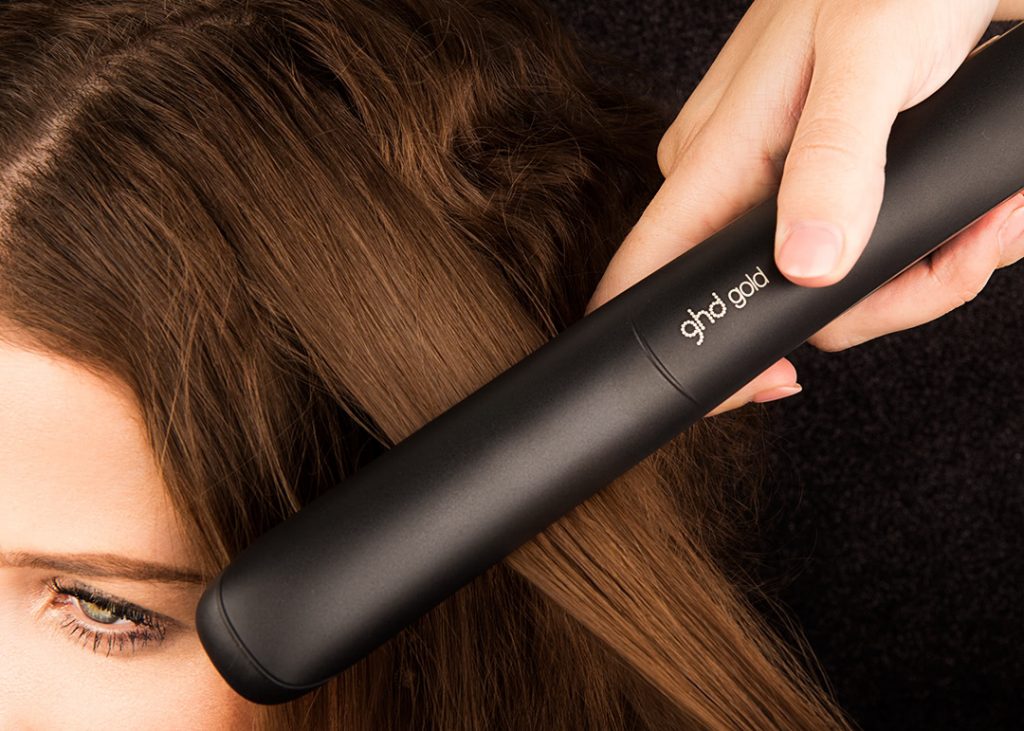 A hair straightener straightens the hair getting rid of the frizz and the mess. People have different kinds and types off hair and there are just as many types of straighteners as there are types of hair. It is daunting to choose the best brand because the market has too many different brands. Below we give you our choice of some of the best hair straighteners in the market that you can trust to give you excellent results and healthy, shiny and smooth hair.
See also:
Our Top Picks Of The Best Hair Straighteners
HSI Professional Ceramic Tourmaline Ionic Flat Iron Hair Straightener
HSI Professional Ceramic Tourmaline Ionic Flat Iron is a professional ceramic hair straightener that in the last couple of years has become very popular with many users. One of the reasons for this popularity is the straightener's sufficient and quality functionality. The straightener does not come with many features, which makes some people like it. Nothing about it is super amazing besides the work it does to straighten hair.
You will not find an aesthetic product with a design that beats that of HIS Professional. It has a decent and elegant black outlook that many professionals prefer. The body has comfortable ergonomic features and the heating system is in the tourmaline ceramic plates. One thing with ceramic heaters is that they produce instant strong heating that transfers evenly throughout the hair. After straightening, the hair becomes frizzy, shinier and healthier due to the negative ions released by the tourmaline.
It also comes with adjustable temperature controls making it a very convenient iron to use. With temperatures ranging from 240 to 400 degrees, the iron is good even for thick hair. You can however use the iron on any texture. The straightener has dual voltage, which makes it accessible to many places in the entire world. It also has a flexible and tangle-free swivel cord that allows it to rotate in every direction.
LumaBella Keratin Duel Touch Hair Straightener
This is one of the best hair straighteners in the market today. It features keratin-infused ceramic plates that give the hair a healthy shine. LumaBella keratin is the kind of straightener every woman dreams of owning. Besides the ceramic plate, the straightener has a smart heat sensor and a unique floating plate design. Ideal for different hair types, the straightener also helps to reduce breakages and splits. It restores back the strands to give them their original shine. For those that do not know, keratin is a powerful nutrient used in the hairstyling.
When hair goes through the intense heat of a hair straightener or a flat iron, it breaks and damages which does not happen with LumaBella Keratin Duel Touch Hair Straightener. The straightener has gizmos ad other high-tech features that achieve excellent noticeable and worthy results. With this straightener, you do not have to worry about any harsh damages that come with many other styling devices.
FURIDEN Professional Hair Straightener, Flat Iron
FURIDEN knows about hair care routine, grooming, shaving and personal care and it is a name trusted by many people. The company has everything you need to give you confidence and style from using its products. With over 10 years of being in the business of creating tools that elevate your style to new levels, you can wear any signature look with pride. This particular product, the FURIDEN hair straightener is a plug-in iron with a switch that you rotate to get the right temperature.
The temperature settings are numbered and the thicker your hair is, the higher the number will be. It also comes with a 360 degrees swivel cord that makes styling easy and tangle free. The swivel means you can style your hair from any direction you want. It also comes with a convenient long power cord that measures 97 inches. This means that you can reach for other items like a hairbrush while you are still styling the hair.
The straightener heats up in only 15 minutes, which helps to reduce the overall straightening time. It is good for every type of hair and it is easily portable. Its dual voltage of 110 to 240 volts means it is universal, you can use it anywhere, and everywhere you go. If you want to change your hair from straight to curly, then FURIDEN will give you great service.
ISA Professional Titanium Flat Iron Digital Hair Straightener
Xem thêm : Suave Professionals Anti Dandruff Shampoo Reviews
If you are looking to achieve silky smooth hair, then Isa Professional Titanium Straightener should do it for you. The straightener is not only titanium, but it also comes with titanium mirror plates which a new trend in hair styling. The plates are 4.4 inches allowing you to style larger hair sections with just one pass. The plates also allow you to get closer to the hair roots without the possibility of burning the scalp.
The plates come with a neon background LCD display and temperatures of between 265 and 450 degrees Fahrenheit. Temperature is controllable to suit your kind of hair. The straightener is fast and to use on curls too and it comes packed in a beautiful white gift box and a 2-year warranty. For people with short hair bangs, the straightener has an arc shaped tip that straightens this kind of hair perfectly.
The body of the straightener is good for medium to long hair. For best results, use the straighter on clean, dry and brushed hair. You will also have no breakages or hair pulling with this product.
CHI Air Expert Tourmaline Ceramic Flat Iron
When it comes to salon grade hair straightening, you can always count on CHI to give you the best services. The expert tourmaline ceramic flat iron is another great addition to their quality products. This flat iron is very similar to the CHI G2 with less tech. the hair straightener is small in size and very convenient for many people. It is easy to store as it does not occupy too much space and it is easily portable. The main objective of the straightener is to keep your hair looking healthy during styling. It distributes heat evenly on the hair creating negative ions, which in turn give the hair a healthier and shinier look.
Unlike many other straighteners, this straightener reduces the presence of static electricity for a smoother sleeker style. The ceramic plates work well with all hair types and hair lengths. If you have frizz and unparalled hair, then this should be the best flat iron to use. The iron also uses infrared technology, which comes with some healing effects. Get naturally healthy and strong shiny hair with this ceramic flat iron and enjoy the new hair thickness that it brings along effectively.
BaByliss Pro Nano Titanium Straightening Iron
If you do not want to limit your hair to just a handful of settings, then you should own BaByliss pro Nano titanium straightening iron. The lightweight flat iron comes with features that carry out 50 settings for different textures, types, sizes, colours and shapes of hair. This makes it one of the most versatile straighteners in the market. Beside the versatility, the straightener is very light and comes with thin 1-inch plates that save space on your counter or cabinet. If you have a tiny bathroom and you want to look your best without worrying about buying a regimen of straighteners for different styles, then this straightener will save you all the trouble.
The straightener is also good for people with short hair since it comes with small plates that easily glide through your hair without too much effort. In addition, if you would want to go with larger plates, they are also available. It also offers you the opportunity to straighten your hair fast, whether you have natural hair, short hair or you need to put on some extensions. Despite its small frame, the straightener runs a maximum temperature of 450 degrees Fahrenheit. Unlike some other straighteners, it is good to note that the heat settings do not come pre-set and you need to play with the iron to find the temperature you need.
Solano SleekHeat450 Professional Flat Iron
Solano flat iron is another quality ceramic straightener that heats up to 450 degrees Fahrenheit in just 60 seconds. It has infrared heat that helps to reduce the time take to style the hair. Some of the benefits of this straightener are minimising flyaway, giving the hair a smooth and shiny finish, keeping the hair looking sleek all day long and a swivel cord that does not tangle. The cord is 9ft and besides these, the flat iron is good for different types of hair. It is a convenient product to use both at home and in a salon. If you have short to medium hair, you can use the 1-inch ceramic plates.
KIPOZI Professional Titanium Flat Iron Hair Straightener
Some products come with the users comfort in mind and KIPOZI Professional Titanium Hair straightener is one of those products. The straightener has a simple temperature control mechanism and an auto shut off after every 60 seconds. It is made with titanium plate that gives an even distribution of heat while at the same time giving a tighter press. It flat irons the hair with little or no frizz to give it a shiny smooth finish. It is suitable for curly, wavy, thick, wet and dry hair.
Temperatures of the flat iron are adjustable up to 170F/450F. It comes with an intelligence safety and when temperatures go down, the flat iron shuts itself. The handle of the straightener is durable and ergonomic. It is advisable however to keep the handle away from the heat when you are styling. It also comes with an 8-foot heavy-duty swivel cord with no tangles. As a bonus, the product comes with a travelling velvet pouch for easier storage of your straightener when you are travelling, a money back guarantee, and an instruction manual and of course the straightener.
DAFNI – The Original Hair straightening Ceramic Brush
How would it feel to just brush your hair and it straightens without doing so much more? it feels wonderful and that is exactly what DAFNI wanted you to feel with the creation of their quality hair straightening ceramic brush. It is a very easy to use brush and anyone irrespective of his or her knowledge about hair styling can use it. It takes only minutes to brush the hair and make it smooth and straight.
Unlike other straighteners, with the DAFNI brush, you do not need to section your hair while styling it. The surface area of the brush is seven times more than that of a flat iron and seven times faster. This means that even if you are in a hurry, the maximum time it would take you to straighten your hair is 5 minutes.
DAFNI operates at a temperature of 365 degrees F, and throughout styling, the temperature remains constant. This makes it safe to use every day. The design of the brush is 3D ceramic. You can only use the brush with power supply of 120/60Hz. To clean, just wipe or spot it.
JUHALL Professional Hair Straightener
To solve hair problems like damage dryness frizz, styling and holding the style in place, JUHALL hair straightener uses far-infrared technology. It comes with rotatable 360 degrees power cord, which allows you to style hair from any angle without tangling. Along with the cord, the straightener has switch sensitive LED temperature indicator and control settings that allow you to adjust the temperature to suit your hair type. The indicator light flashes when heating and once it gets to its set temperature, it flashes a green light saving energy.
Xem thêm : 30 Hair Color Ideas for Short Hair
The 3D floating plates of the straightener heat fast, reducing the time it takes to style the hair. It is good for all hair types and affordable. Besides straightening, this quality product also comes with curling tongs that give you beautiful curls. It is easily portable and has worldwide dual voltage of 110 to 240 volts. You also do not have to forget about switching off the straightener after use because it auto shuts itself. The product also comes with a 24-month satisfaction guarantee. Customer care is also ready to serve you for 24 hours in case you have any problem with any of the JUHALL products.
Read Next: Best Vitamins & Supplement for Faster Hair Growth
What to consider when buying a hair straightener
Hair straighteners come in different brands, features and styling methods. Before you buy a hair straightener, you need to know what features to look for in order to get effective and quality results. Below are some of the features to help you in choosing the best hair straightener.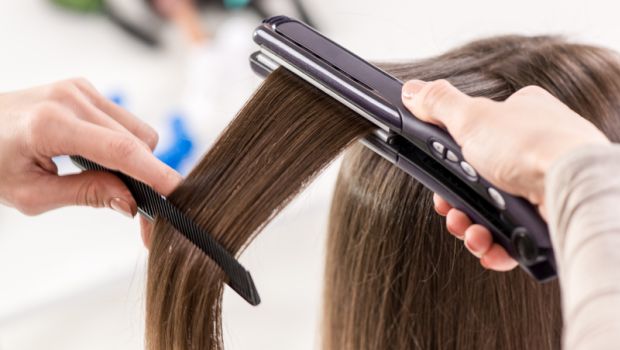 Material
The plate material of the straightener is the most important feature to consider. Different straighteners come with varying plate materials and the type of plate you choose will make the difference between good and bad performance of the straightener. The most common palate materials are;
Ceramic-coated metal – though it is ceramic, this kind of straightener will not deliver the same results as a solid ceramic metal straightener. These straighteners are also less expensive than the solid ceramic metal straighteners are.
Solid ceramic –these are slightly more expensive and they come with more benefits than the ceramic-coated metal straighteners do. They are fast, heat up quickly, smoother, and glide easily along the hair while styling. The disadvantage is that they are not durable and chip easily.
Tourmaline – tourmaline is a mineral used on hair straighteners to produce negative ions when styling. This helps to reduce static electricity while at the same time preventing the loss of moisture from the hair. The result is smooth, healthy, shiny hair.
Titanium – titanium are very similar to ceramics with the only difference being that they last longer.
Safety
Check that the straightener you buy has safety power measures. The best safety measure to look out for is a straightener that auto shuts itself when not in use or one that shuts itself after a certain period. Besides safety, this also helps to save energy
Hair length and type
Know your hair type and length before buying a straightener. Some straighteners only work well with short hair while others do fine with both short and long. Some of the straighteners for not work on thick hair while some work well on every type of hair.
Storage
How you store your straightener is very important to avoid damage and ease of portability. It would be best to go for straighteners that come with heat resistant pouches as they provide safe storage for the straighteners.
Ease of use
Always read reviews from other users to know how easy the straightener is to use. Go through the images provided by the seller and read through the instruction manual to know whether the straightener is easy to use.
Temperature settings
One of the other most important features to look out for is the temperature settings of the straightener. The styling process depends on the temperature from the product and if you do not get it right, then you will end up with a shoddy job. Check for the maximum temperature, which should be 230 or 240 degrees. Anything with 200 or less is no buy because it may not give you good results.
Wrapping it up
Some of the above brands are more expensive than others are but they are all excellent products. They all come with great features that will make you stand out once you finish styling your hair. Many of them also come with instruction manuals so that you get to use them with ease. There is no reason why you should not have great healthy, shiny and smooth hair after using any of the above products. For more articles on beauty, hair and makeup, read our earlier articles.
Best Professional Hair Straightener On Amazon:
Nguồn: https://cosmeticnews.com
Danh mục: Hair Care