You may find relief for just a day but the problem runs deep into the scalp and it is therefore necessary to get rid of it by using some form of treatment. One of the best-known dandruff treatments is a medicated shampoo and one good example is NEUTROGENA DANDRUFF SHAMPOO.
Finding the right shampoo with the best formulation to fight off dandruff and all the symptoms that come with it such as flaking, scaling, dryness ad itching is not a very easy task. Some of the shampoos contain ingredients that react to the skin causing irritations. Neutrogena on the other hand, is a shampoo you can trust to eliminate dandruff from the hair roots and leave you feeling fresh. Below is a review of the shampoo.
You are reading: Neutrogena T/Gel Extra Strength Therapeutic Shampoo Reviews
Neutrogena T/Gel Therapeutic Dandruff Shampoo Review
Neutrogena is one of the most popular brands in the beauty industry. The company has a wide range of products that include skin, hair and beauty care products. They have make up and acne care products in their range of products and many more. Dermatologists and physicians recommend the use of Neutrogena dandruff and acne treatment for effective and long lasting results.
The dandruff shampoo is a dermatologist recommended treatment for scalp itching, scaling, flaking, dryness and any other build-up associated with Dandruff, Psoriasis and Seborrheic Dermatitis. The product contains potent ingredients that work well together to clear the scalp build-up.
Ingredients
The main ingredient in this particular therapeutic treatment shampoo is 1% COAL TAR from NEUTAR TECHNOLOGY. The ingredient delivers effective therapy and treatment and continues to work on clearing the scalp of any dandruff symptoms long after use. The formula also cleanses the skin and together with other Neutrogena added conditioners leaves the hair looking healthy, shiny, soft and manageable.
Recommended and recognised by the national psoriasis foundation, the ingredient starts to work on the scalp after just one wash. The most notable inactive ingredients are water, sodium laureth sulfate, citric acid, DMDM, fragrance Hydantoin and many others. The shampoo does not contain any fragrance and the ingredients are hypoallergenic which means that they are ideal for even sensitive skin types.
Usage
Before using the shampoo, you should wet your hair first thoroughly. Use the shampoo at least two times a week or as directed by the physician. Pour a little of the shampoo on your palms and massage it into the scalp thoroughly. Build up lather and let it rest on the scald or a few minutes. Rinse off all the shampoo and repeat the same process again for faster and better results.
Store the shampoo away from direct sunlight and away from children and pets. For people with grey, tinted, bleached or blonde hair, using this treatment shampoo may cause some discolouration. If this happens, the best thing to do is to discontinue or use an alternative treatment shampoo. For better manageable hair, follow up with a conditioner of your choice or any from Neutrogena brand.
Pros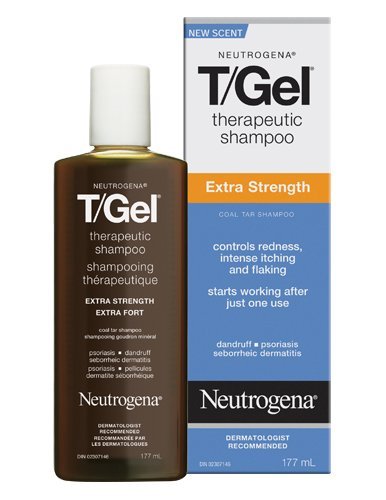 Buy from Amazon.com
Excellent results
Read more : Biolage Scalpsync Anti Dandruff Shampoo Review
One of the things that makes this the BEST DANDRUFF SHAMPOO and sets it apart from the ordinary ones is the excellent results after just the first wash.
Softer and better manageable hair
The shampoo leaves the hair feeling softer, smoother, healthier and more manageable even without using a conditioner.
Clears away scalp build-up
The shampoo treats and clears scalp build up, scaling, flaking, redness, dryness and itching which are all the problems that dandruff causes.
Dermatologist approved
The shampoo is a favourite with many dermatologists and one of the treatment shampoos that they recommend for fighting dandruff, psoriasis, dermatitis and all other kinds of scalp build-ups.
Affordable
The price is just right and considering its efficiency, that is a big bonus to the users
Fast results
After two to three washes using the shampoo, you start noticing the positive results
No harsh smell
The shampoo is fragrance free, which is another reason many people love to use it. This is especially for those that do not like strong smells.
Cons
Not ideal for all hair types
Some people with grey, blonde, tinted or bleached hair may not benefit from using the shampoo as it may lead to hair discolouration.
Oily residue
Though having an oily residue after using the shampoo is complaint from very few users, there is a likelihood that it happens to some of the users' hair and scalp, which in turn leads to hair drying out. Using a conditioner immediately after using the shampoo helps to tackle this problem
Allergic reactions
Read more : Pure Tea Tree Shampoo For Dandruff Reviews
We all have different skin types and even though the ingredients in the dandruff shampoo are dermatologist approved, some people get allergic reactions from using the treatment shampoo.
Note:  It is very necessary to read all the instructions and list of ingredients first before using the shampoo. If there is an ingredient that you feel may react to your skin, seek a doctor's opinion.
Customer's Reviews
If you are not sure about using the above shampoo to treat your dandruff and scalp build-up, maybe a look at the reviews from satisfied customers will make you make a decision. With over 300 reviews and an average rating of 4.3 stars, we can all agree that Neutrogena Dandruff Shampoo is truly, what you can confidently refer to as your BEST ANTI DANDRUFF SHAMPOO. Below is what two satisfied customers wrote about the product.
Outdoorguy gave a five star rating and wrote this:
"I've had severe dandruff condition for 15 years now, and was diagnosed seborrheic dermatitis. Tried several prescribed expensive steroid based shampoos ($300 and up), they worked but did not totally eradicate the flakes and itching. Let's say around 90% of the problem only and of course my wallet can't sustain the expense. But this shampoo is 100% effective for me after a few days of use! I used it twice a week only, and shampooed using tea tree shampoo and conditioner for twice a week as well. Rested my scalp for the remaining 3 days. This combination worked like magic!"
J.U with a five star rating wrote:
"I'm so glad I bought this. My mother tends to scratch her head subconsciously, resulting in some blood to her scalp. I searched for medicated shampoo on Amazon and I found the Neutrogena t/gel therapeutic shampoo. At first I wasn't sure if it would work because the package is so small, but after using it for a couple of weeks, my mother said her scalp doesn't bleed anymore. I'm relieved that she is healthier now."
Read Next: Nizoral A-D Anti-Dandruff Shampoo Reviews
Wrapping it up
When it comes to treating dandruff, seborrheic dermatitis and scalp psoriasis, you can trust Neutrogena t/gel therapeutic dandruff shampoo to give you effective results. You can tell that many people love the shampoo from the raving reviews and one of the major bonuses is that it does not come with a suffocating smell.
It is also dermatologist approved and created by one of the best beauty and makeup companies in the world. If you think this is the best dandruff shampoo, we would like to read your reviews on your experience and you can do that by leaving a comment below.
Source: https://cosmeticnews.com
Category: Dandruff