Other common culprits for this condition are a yeast called Malassezia which is found on all scalps, poor grooming and use of certain hair care products that could irritate the skin.
Although benign, dandruff can be an embarrassing condition and a cause of concern when they affect the kids. Fortunately, this condition can be treated using a dandruff shampoo that has been formulated using the right ingredients to fight this condition.
You are reading: Best Dandruff Shampoos For Kids Reviews & Guide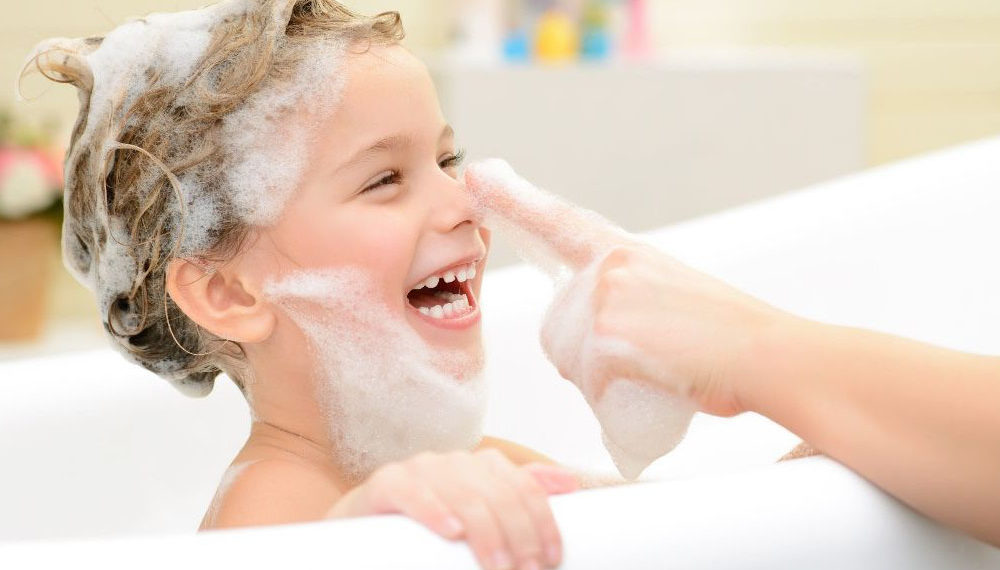 Here we review the best dandruff shampoo for kids which is tough enough to fight the most stubborn flakes but gentle enough to soothe the delicate scalp of your young one. We have also included a buyer's guide to inform you of what you should know before buying a dandruff shampoo for your kid. Read on and be informed.
See also:
Best Anti Dandruff Shampoos For Kids
Honeydew Natural Dandruff Shampoo for Kids
This ultra-gentle dandruff shampoo has been designed to fight dandruff and sooth the gentle scalp of your little one. This premium formula is an all-natural anti-dandruff shampoo which means that it is safe for children of all ages. It is also fortified with essential oils such as jojoba oil, lavender oil and tea tree oil, which offer a therapeutic effect to the irritated scalp as well as moisturizing the hair and scalp.
This shampoo is developed using mild ingredients which promote flake-free scalp and hair in the most natural way possible. It is convenient to be used on all hair types, whether thin and fragile or curly and frizzy. It is also compatible with most conditioner and can be used daily.
Additionally, this tear-free formula is manufactured in an ultra-modern facility in the USA which guarantees unmatched quality and effectiveness. Your child will love this shampoo as it will leave their scalp calm, while their hair will be clean, soft and easy to manage
Pros
Formulated with natural ingredients that help nourish the hair and relieve scalp's irritation and flaking
An ultra-gentle formula that is even suitable for infants
Free of sulfates, parabens and harsh synthetic chemicals, fragrances and dyes
Contains essential oils that moisturize hair and makes combing more easier
Tea tree oil also acts as a lice deterrent
Cons
A user lamented that this shampoo is not tear free as it made her child cry when the product came in contact with her eyes.
Customer's Reviews
Most users gave this product a rating of 5/5. This is what a consumer had to say:
"My five-year-old had horrible cradle cap junk, and I used this shampoo along with a scalp massager brush– couldn't believe how much I got off just in the first two days. By five-six days it was just about all gone! Smells nice and leaves hair feeling squeaky clean. Highly recommend!"-Kayla Wigt
Sulfur8 kids Medicated Anti-dandruff Shampoo
This anti-dandruff shampoo provides a safe solution to those with embarrassing flakes and annoying itchy scalp. This shampoo has been formulated using 1% zinc pyrithione and is recommended for use to children 2 to 12 years old.
It is important to note that zinc pyrithione ingredient is generally safe even for the most delicate skin so long as it is used within the concentrations approved by the FDA. In other words, this ingredient is safe when used in kids anti-dandruff shampoos.
Sulphur 8 kids medicated shampoo to curb the overgrowth of the yeast found on the scalp which causes flaking and also to offer a soothing effect to the irritated scalp. This formulation provides a deep cleaning, conditioning and moisturizing experiences that will leave your kid's hair and scalp fresh all day long.
Pros
Contains zinc pyrithione which is useful in fighting dandruff
Gives a rich lather that makes cleaning the hair a bliss
Reveals the natural shine of your child's hair
A little goes a long way making it very economical
Cons
Not recommended for children with hypersensitive skin
Has an unpleasant scent
Customer's Reviews
Most customers were wowed by this fantastic shampoo and gave it a rating of 4 out of the possible 5. This is what one user wrote
"I got this for my seven y/o daughter who was constantly complaining of itchy scalp and noticed flakes everywhere! We started using this shampoo this past month and have seen significant results! Rarely she is seen itching and no more flakes! She told me she ran out and I ordered, was in the next day! Thank you!"
Cantu Care for Kids Tear-Free Nourishing Shampoo
If your baby has curly hair, then this top-rated baby shampoo from Cantu will come in handy. This tea-free formula has been infused with shea butter, coconut oil and butter to gently cleanse your baby's curly helping them to maintain their unique definition.
This gentle formula contains no minerals, sulfates, parabens, silicone or gluten, making it very safe for your baby's sensitive scalp and virgin hair. Cantu cares for kids Tea-free nourishing shampoo works to nurture and nourish fragile and curls and waves while supporting them to grow strong and healthy.
Pros
Specially manufactured to meet the needs of kids with curly hair
Gentle tea-free formula
Nourishes your baby's locks
Contains no harsh minerals, sulfates, parabens, silicone, gluten or paraffin
Cons
It has a mild irritation for hypersensitive scalps
This formulation is perfect for kids with textured hair. It is formulated to take special care of their delicate locks and maintain their natural appearance.
Dr Eddie's Happy Cappy Medicated Shampoo for Dandruff
Read more : Suave Professionals Anti Dandruff Shampoo Reviews
Pediatrician highly recommends this medicated kid's shampoo as an ultimate antidote to flaking, itchiness, redness and scalp irritation for children of all ages.
Dr Eddie's Happy Cappy eliminates the troublesome symptoms of seborrheic dermatitis while ensuring the delicate skin of your baby is left feeling soft and refreshed. Also, this shampoo contains 1% pyrithione zinc, which has been approved by the FDA as a safe and active ingredient in fighting dandruff and seborrheic dermatitis.
Happy cappy gives a rich lather that makes cleaning your baby's hair and scalp a joyful bliss. It is also dermatologically tested, which ensures its safety and competency in fighting scalp related condition. Additionally, unlike other medicated anti-dandruff shampoos which have a slightly pungent odour, happy is fragrance-free an aspect that will please parents of hyperallergic children.
Pros
This shampoo is the number 1 choice when it comes to prescription solutions for treating dandruff in kids
A gentle formula that is suitable for kids of all ages
It is fragrance-free
Contains no sulfates, alcohol, parabens or any artificial chemicals or dyes
Offers moisturization
Soothes irritation and redness
Cons
A rare customer complained of irritation and redness on the baby after using this shampoo
Customer's Reviews
Majority of people who purchased this product gave it a 5/5 ranking on Amazon. This is what one user wrote:
"Within a few days, my child's scaly scalp was noticeably improved! I also decided to give it a whirl on my 38-year-old head, and it outperforms everything I've ever tried (Head & Shoulders, Denorex, Selsun, and T-gel). Very Happy Customer!"– Amazon Jesus
Certified Organic Toddler and Children Shampoo
This kids anti-dandruff shampoo is formulated using nature's finest essential oils and extracts to gently cleanse your child's delicate scalp while nourishing and protecting the untarnished hair. The formula is manufactured using pure Aloe. It is also fortified with olive oil to offer a soothing calming effect while shea butter serves to nourish and soften your baby's scalp.
The shampoo is also infused with coconut oil that will give strength to the roots for a stronger, fuller hair. The product is safe for everyday use since the natural ingredients are non-toxic and are safe for baby's scalp.
Certified Organic toddler and children shampoo contains no harsh chemicals, mineral oil, paraben or petrochemical. This means that it won't clog your baby's pores.
Pros
The formula is ultra-gentle on baby's skin but tough on dandruff
Made from natural ingredients
Safe to be used by kids of all ages used daily
Contains no harsh chemicals
Has a gentle fragrance that offers a gentle and soothing effect
Cons
Customer's Reviews
This product has an impressive customer review of 5/5. This is what a user wrote"
"Best Certified Organic kids love it 😍"- Amazon Customer
WOW Apple Cider Vinegar Shampoo
This potent formula offers amazing detoxification to your baby's scalp flushing out the toxins that cause dandruff and itching. Apple cider vinegar has been infused in this best dandruff shampoo for babies to ensure total removal of toxins in the hair giving your baby a clean and rejuvenated scalp and hair.
Also, this deep cleaning shampoo is sure to bring out your baby's hair natural shine while reducing dandruff and flakes. The formula is family-friendly and can be used by adults as well. It prevents premature balding in men and helps to restore hair loss.
This shampoo is hypoallergenic and has no sulfates or parabens. It is, therefore, suitable for all hair types
Pros
Has a detoxifying aspect that will restore life and vitality to your hair
Infused with natural botanicals making it safe for kids
Balances the PH level of your hair
Restore hair from damages caused by styling products
Cons
It is somewhat drying to the hair
Customer's Reviews
Many users gave this product a rating of 5/5.
"I have tried everything and was so sceptical  I used this one time, already a believer. This cleans and leaves hair smelling fresh and feeling clean and soft. No build-up scalp does not itch, and hair feels like silk, literally"-Ruth
Certified Organic Calendula Baby Shampoo
This baby shampoo is made from calendula flowers known for their potent anti-inflammatory properties. It will fight dandruff while gently soothing the scalp, relieving it of any irritations.
This product is rich in certified organic ingredients to clean your baby's hair safely deep, leaving it soft and easy to manage. This shampoo is specially formulated for infants but it also suitable for use by the whole family
Read more : Nizoral A-D Anti-Dandruff Shampoo Full Reviews
The best dandruff shampoo for babies is infused with Aloe and Jojoba which offer nourishment and softens the hair respectively. Chamomile and Lavender are found in this shampoo, and their therapeutic properties are matchless. They will calm your baby's nerves while soothing the scalp giving your baby a peaceful bath time experience.
Pros
Manufactured with calendula extract which a competent anti-inflammatory ingredient
Formulated with certified natural products
Can be used by the whole family
Has no parabens
Has no petrochemicals
Ideal for babies with sensitive skin
Contains safe ingredients that are safe for the environment
Cons
Some users observed that the product did not work on their babies
It is pricey
Customer's Reviews
Most customers were happy with this formula and gave it a rating of 5/5 on Amazon
''Love this. Bought as an alternative to cradle cap shampoos (when other supply ran out). Smells lovely, has no-tears formulation, really nice to apply and gives lovely soft, shiny hair (and has reduced the cradle cap to almost-gone). It's pricey, but would still recommend it and will be getting more.''-Amazon customer
W
hat is a good dandruff shampoo for kids?
You love your kids dearly and want the very best for them. Even when it comes to personal care product, you have to ensure you are equipped with proper information so that you can get a product that will compromise the health of your kids. Here are a few things to consider before buying the best dandruff shampoo for kids
Examine the ingredients of the anti-dandruff shampoo
It is vital to go for products that do not contain harsh chemicals such as sulfates, parabens, sodium chloride and the rest that will damage your baby's hair and delicate scalp. Look for a shampoo that has been formulated using organic and natural ingredients which is much kinder to your baby's skin.
You might also want to consider the scent of the shampoo. Although many fragrances used in most anti-dandruff baby shampoos are generally safe, some babies are hypoallergic and might the smell a bit bothering. Besides, some mothers prefer the fragrance-free formulations.
Tear-free formula
It is recommended to find a shampoo that will not irritate your baby's eyes when it comes to contact with his eyes. Tear-free shampoos lack sodium lauryl sulfate, which can be irritating to the eyes.
Sodium lauryl sulfate works to remove excess oils from the hair and scalp, and since baby's scalp does not contain much oil, there is no need to include an ingredient that would cause disturbance to them.
Baby's skin condition
Why do you want to buy dandruff for your baby? This is an essential consideration before purchasing a dandruff shampoo for your baby. One baby may be suffering from a severe condition such as psoriasis or eczema while another may have mild dandruff.
If you're a baby has eczema or dry skin, go for a medicated shampoo which has been formulated with moisturizing and hydrating ingredients. A child with a benign dandruff condition will benefit from a shampoo made of natural ingredients.
Read Next: Best Lotion for Baby Eczema
Alcohol-free formula
Products containing alcohol dries up the body very fast leaving it feeling tight. While choosing a baby dandruff shampoo to ensure that there are no traces of alcohol present if there is it should be insignificant level not to affect the normal functioning of the shampoo.
Remember that your baby's skin is already irritated and dried up due to dandruff and the last thing you want to to make the situation any worse. Also, the baby's skin is too delicate to handle such harsh substances.
PH Neutral formula
This is another critical factor that you should consider before tossing the baby dandruff shampoo into the cart. The shampoo should neither be acidic nor alkaline. In other words, the best dandruff baby shampoo for kids should have a neutral PH. This means that in the PH range, the baby shampoo should have a PH of 7.
Under normal circumstances, babies' PH level is near-neutral, and that is why you need to choose a product that is close to their range to avoid causing problems to the baby's skin. Also, this PH is similar to the water's PH, which means that the product will not sting the eyes even when they come into contact with the product.
As you can see, choosing a dandruff shampoo for your kids needs a lot of research before you can settle on the best. Do not yield to the pressure of buying a baby shampoo because of its elegant packaging or discounted price. Get to know the ingredients and the main reason for purchasing dandruff.
In conclusion
Getting quality and safe skincare products such as soaps, creams and shampoos can be overwhelming, especially if the baby has a skin condition. Fortunately, in this article, we have reviewed some of the best dandruff shampoos for kids that utilizes mild ingredients that are safe for your baby.
Remember that your baby's well being is the biggest priority and should not bee compromised by anything whatsoever. Read through the top-rated products reviewed in this article and choose the product that suits your baby's unique needs. Also, find included buyers guide to help you know some of the factors you should consider when shopping for your baby's dandruff shampoo.
Source: https://cosmeticnews.com
Category: Dandruff