Walking around with white particles on the hair is not something anyone takes lightly and people will try anything in the market to eliminate the problems.
For that incessant itch and flaking, we set out to review the best dandruff shampoo for men and came up with the following products that not only eliminate the dandruff problems but also leave the hair and scalp healthier, and feeling fresher. Before we give you a review of the products, let us look on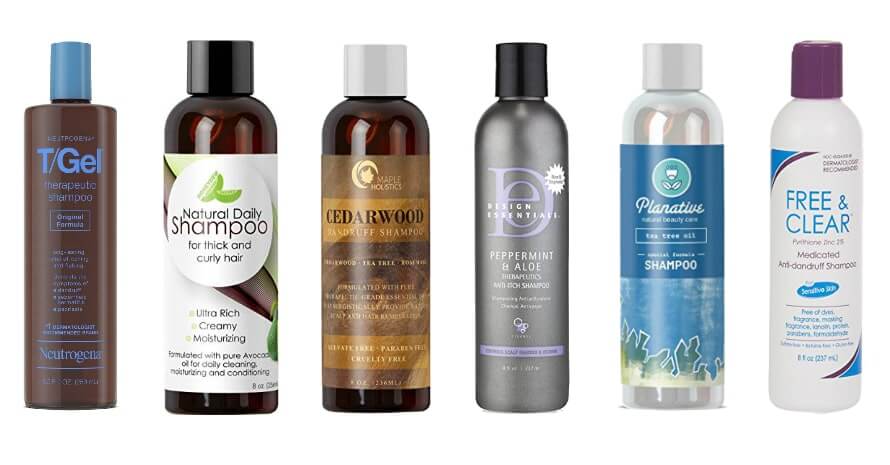 what you need to know in order to choose the best dandruff shampoo for men.
You are reading: 10 Best Dandruff Shampoo For Men Reviews
See Also:
Our Choice of the Best Anti Dandruff Shampoo For Men
Maple Holistics Pure Argan Oil Hair Growth Therapy Shampoo
Argan oil contains essential nutrients that help to nourish the hair especially the dry type of hair. The same nutrients also help to fight dandruff and other symptoms within a very short time. This particular Maple Holistics Argan oil shampoo is one of the best dandruff shampoo men can rely on for the eradication of scaling, flaking, dryness, itching and skin redness all associated with dandruff.
The shampoo contains a quality blend of healthy ingredients that are all natural that eliminate dandruff and frizz from the scalp and hair. The main ingredient in the shampoo is Moroccan Argan oil. Other notable ingredients in the anti-dandruff shampoo are Jojoba Oil, Camellia Seed Oil, and Botanical Keratin. There is also Avocado Oil, Vanilla, Peach Kernel Oil, Aqua and Honey Fragrance.
Besides treating dandruff, the sulfate free shampoo is also a natural treatment for hair loss in men and helps in hair regrowth for women. It also helps to repair damaged hair and it is hypoallergenic.
Pros
Hypoallergenic
Contains keratin
Treats hair loss
Gentle
Smells great
Affordable
Cons
Customer reviews
Over four thousand five hundred customers reviewed this product giving an average of 4.4 stars. One happy user wrote this about the shampoo:
"This is the greatest shampoo I have EVER used! Writing this review, I will probably run my fingers through my hair again still in disbelief of the results."
Maple Holistics Tea Tree Oil Shampoo
If you are looking for the best shampoo for black men with dandruff, you should think of buying this maple holistic with tea tree because it will not only leave you dandruff free but it will also reduce the greasiness in your skin. The shampoo is ideal for both men and women with mild dandruff or mild seborrheic dermatitis and those with dry skins.
For people with more severe dandruff or seborrheic dermatitis, you may need to buy one of the best medicated anti dandruff shampoos for men. Besides Tea Tree Essential Oils, the shampoo also contains Jojoba Oil, Rosemary Oil, Lavender Oil, Botanical Keratin and other essential natural oils.
Tea tree contains moisturising and microbial properties that help to alleviate itching and other dandruff symptoms. Rosemary essential oil helps to invigorate and stimulate the scalp while lavender soothes and heals. Argan oil adds to the shine and scalp health while jojoba is also another nourishing and hydrating essential ingredient. Botanical keratin conditions the hair and scalp keeping both soft and moisturised at all times.
The shampoo is parabens and sulfate free and it is hypoallergenic making it suitable for all skin types.
Pros
Hypoallergenic
Ideal for all skin types
Good for both men and women
Ingredients that heal
Parabens free
Affordable
Cons
Cannot treat severe dandruff if you have severe dandruff, this shampoo cannot be of much help and you will therefore have to buy an alternative medicated shampoo.
Customer's reviews
Over three thousand nine hundred reviewed this shampoo giving it an average of 4.3 star rating. Majority of the reviews are very positive and very few complained about the shampoo.
Arti BK gave the shampoo five stars and wrote:
"…The first time I used it I felt an immediate improvement in the itching. The second time I used it seemed to be even more effective. I still have some flaking but that horrid itching is so much better. I am not sure if this is a cure but it definitely is making me feel normal again. Also, the smell is very pleasant"
Vanicream Medicated Anti-Dandruff Shampoo
If you are looking for the best medicated anti dandruff shampoo for men, you cannot get another product that surpasses the potency of Vanicream antidandruff shampoo. It is the ideal shampoo to use for men with sensitive skin, as it contains no artificial and toxic chemicals. The dermatologist tested and clinically approved medicated anti-dandruff shampoo is mild and comes with a pleasant smell.
The main ingredient in the medicated anti dandruff shampoo is 2% Pyrithione Zinc, which contains potent properties for the control of dandruff and seborrheic dermatitis. Other inactive ingredients include lauryl glycoside, purified water sodium hydroxide and many others. If you want to achieve the best results from using this medicated shampoo for dandruff elimination, use it for at least twice a week or as directed by your physician.
Pros
Hypoallergenic
Affordable
Ideal for both men and women
Dermatologist tested and clinically approved
Contains the potent zinc pyrithione as the main ingredient
Contains no parabens, lanolin, sulfate, protein, gluten or phosphates
Non-comedogenic
Cons
May leave the hair dry
Reaction to the main ingredient
Customer's reviews
With an average rating of 4.4 stars, many users loved this medicated shampoo and gave very glowing reviews. Here is what one user wrote about the product after giving it a five star rating.
"I am allergic to all fragrance and most preservatives. This was a miracle product for me. I searched high and low and could not find an anti-dandruff product that I wasn't allergic to. Finally here it is. It works best when I follow the instructions of leaving it on my scalp for a few minutes. I will be purchasing again in the future"
Maple Holistics Sage Shampoo for Anti-Dandruff Shampoo
Maple Holistics sage anti-dandruff shampoo is your best bargain if you want to put an end to your dandruff problem. It is also the best dandruff shampoo for thick Asian men hair though it is good with all types of hair. The shampoo combines a blend of unique all natural ingredients that penetrate deep into the scalp to eliminate the problem from the source. This, the shampoo does without causing any skin irritations leaving your hair feeling and looking fresh and healthier.
The natural and free Maple holistic formula does not contain any fragrances, sulfates or toxic ingredients that aggravate scalp redness, itchiness and dryness. The ingredients of the shampoo start healing immediately after they get into the source of the problem. You start to notice the disappearance of the dandruff dust, scalp redness goes down and the uncontrollable itching and dryness all start to go away. This is also the best shampoo for oily hair with dandruff for men.
Read more : Best Dandruff Shampoos For Kids Reviews & Guide
Argan oil, which is one of the major ingredients, contains keratin that helps to strengthen the scalp moisture for long and strengthen every strand of hair. The blend of the ingredients reduce dandruff on the scalp by protecting the follicles from possible clogging which in turn helps to stimulate regrowth of healthier hair without any problems.
Pros
All natural ingredients
Protects the skin
Treats dandruff
Soothing aroma
Ideal for all hair types
Cons
Hair dryness
Not effective for everyone
Customer's reviews
The shampoo got over five thousand eight hundred reviews giving it an average rating of 4.4 star. One satisfied customer by the name Joe gave the shampoo five stars and wrote this
"I trust the ingredients in this product as well as its effectiveness and the price is reasonable considering I used to spend a lot more on the prescription grade stuff, which was harsher and more drying on my scalp. Plus, I can now go days without washing my hair so one bottle typically lasts 3 months! It's certainly worth a try and I absolutely recommend it to those who have tried everything else with no luck."
Head And Shoulders Dandruff Shampoo
One quality and highly effective product in the line of dandruff control shampoos is the HEAD AND SHOULDERS SHAMPOO AND CONDITIONER 2-1 FOR MEN. This product is specially formulated for men to give your scalp and hair a deep-cleaning experience than ever before.
The 2 in1 formula is infused with charcoal, which is known for its ability to purify and invigorate the scalp while leaving your hair healthy and refreshed. This product is guaranteed to offer proven protection from itchiness, flakes, dryness, and excess oil.
With this formulation, you can achieve your cherished desire of having an intensely moisturized, dandruff-free hair at an affordable price. With regular use, Head and Shoulder Shampoo washes away excessive oils and specks of dirt, which build up to form the irritating flakes on the scalp.
Pros
A strong and effective Formula
A 2 in 1 formula
Offers value for money
Excellent masculine scent
Fortified with charcoal
Suitable for most hair types
Gives a rich, creamy lather
Cons
It does not rinse off easily
Thins the hair excessively
Customer's reviews
"Very good!! I like this shampoo a lot. I've used it for years, but it's the 1st time I've tried it with the charcoal in it. I like this Head & Shoulders with conditioner best."
Nizoral A-D Anti-Dandruff Shampoo
Nizoral A-D Anti-Dandruff Shampoo is a highly potent product that eradicates all the symptoms of dandruff. This shampoo contains properties that help to fight itching, scaling and flaking. Besides having a strong ingredient that helps to fight dandruff, Nizoral is also gentle on the skin and hair and it comes with a pleasant smelling thick lather.
One of the reasons that make Nizoral one of fastest selling dandruff shampoo is the main ingredient. The dandruff shampoo contains KETOCONAZOLE, which is one of the fastest antifungal acting azole to use in a shampoo.
Pros
Has a pleasant smell
Uses a powerful ingredient
Clinically proven
Fast acting
Eliminates hair loss
Thick lather that leaves hair soft and clean
Ideal for all kinds of hair
Cons
Leaves hair dry
Expensive
Contains sodium laureth sulphate as one of the inactive by products
Customer's reviews
"I have what I have self-diagnosed as ACUTELY CHRONIC DANDRUFF coupled with itching and scabs (my scalp was literally peeling/shedding). I would wash my hair with what I thought were my goodie shampoos and 2 days later, I'm back to square one.
It also affected my hair growth, more so around the edges, I mean, when your scalp is peeling, that's bound to happen. Then I started using Nizoral, I've used it only twice now, about 5 days apart and here I am, over a week later, no flake, no dandruff in sight. Had to ask my mum to examine my scalp today just in case my eyes were playing tricks on me and she confirmed it. FYI, I'm Black when 4b/4c hair."
Jason Dandruff Relief Treatment Shampoo
The things that make Jason dandruff shampoo different from other traditional shampoos are that unlike those other shampoos, this one does not contain fungicides as many of the active ingredients. Some of the shampoos that contain fungicides also have a tendency of irritating the scalp due to the strength of the chemicals. All the ingredients in Jason dandruff shampoo are natural.
Pros
Versatile
Hypoallergenic
Cruelty free
Moisturizing
Gentle and long lasting effects
Readily available
Cons
Strong smell
Pricey
Only one size
Customer's reviews
"My husband was a lifelong head and shoulders user. When he married me and I started trying to get him to use more natural products he balked, how was he to keep dandruff out of his very dark hair. I tried several other options before finding this one. This is now his favorite, he will not use anything else. This is not just a band-aid, before, his dandruff was still there, it was just less, now he really does not have it. Even if he runs out, he can go for a week or more without flakes using something else. This is a great answer for him.
The only downside is the strong smell, it doesn't bother him at all, but when I walk by the bathroom when he is in the shower it is pretty strong, however, it is only when he uses it, his hair doesn't smell later in the day"
Neutrogena T/Gel Dandruff Shampoo
Neutrogena is one of the most popular brands in the beauty industry. The company has a wide range of products that include skin, hair and beauty care products. They have make up and acne care products in their range of products and many more. Dermatologists and physicians recommend the use of Neutrogena dandruff and acne treatment for effective and long lasting results.
The dandruff shampoo is a dermatologist recommended treatment for scalp itching, scaling, flaking, dryness and any other build-up associated with Dandruff, Psoriasis and Seborrheic Dermatitis. The product contains potent ingredients that work well together to clear the scalp build-up.
Pros
Excellent results
Softer and better manageable hair
Clears away scalp build-up
Dermatologist approved
Affordable
Fast results
No harsh smell
Cons
Not ideal for all hair types
Oily residue
Allergic reactions
Customer's reviews
"I've had severe dandruff condition for 15 years now, and was diagnosed seborrheic dermatitis. Tried several prescribed expensive steroid based shampoos ($300 and up), they worked but did not totally eradicate the flakes and itching. Let's say around 90% of the problem only and of course my wallet can't sustain the expense. But this shampoo is 100% effective for me after a few days of use! I used it twice a week only, and shampooed using tea tree shampoo and conditioner for twice a week as well. Rested my scalp for the remaining 3 days. This combination worked like magic!"
Honeydew Tea Tree Shampoo for Dandruff
This product is owned and manufactured by Honeydew company. This company is dedicated to providing quality products that are safe for the user and the environment. Honeydew utilizes the best natural ingredients to formulate top-notch personal care products.
It is in that spirit of goodwill to you and the environment that the company has produced one of its premium products which is the tea tree shampoo for dandruff. This shampoo is formulated using the purest Tea Tree Oil sourced from New South Wales in Australia.
The therapeutic benefits of Tea Oils are complemented with a blend of other essential oils such as Jojoba and Rosemary. This blend increases the effectiveness of this formula to fight dandruff, restore damaged hair and control the production of oils on the scalp.
Pros
Infused with essential oils to achieve maximum results on the hair and scalp
Provides instant relief from scalp inflammation
A small amount goes a long way to clean your hair way
An all-natural scalp treatment therapy
Pleasant scent
A 100% money-back guarantee
Customer's reviews
"Over the last couple of months, I've experimented with several dandruff shampoos. Nizoral and some other coal tar extract ones. This particular tea tree shampoo has been, by far, the most effective. No exaggeration, I saw an 80% decrease in flakes after like two washes. It also doesn't dry out your hair. It's more effective if you leave it in for 30-60 seconds before rinsing."
Best Dandruff Shampoo for Men Buying Guide
There are many different kinds of dandruff shampoos for men in the market but not all of them meet the requirements required to treat and eliminate the symptoms that come with dandruff. The desperation to get rid of the embarrassing situation may lead you to buy products that may either make the situation worse or act on the problem for a very short time before it recurs.
Choosing the right product is not a very easy task but if you know what to look for, then you will have no problems. How do you then know what shampoo is best for dandruff for men? This is what to look out for when buying.
List of ingredients
Read more : Neutrogena T/Gel Extra Strength Therapeutic Shampoo Reviews
The best anti dandruff shampoo for men contains some particular ingredients that help to eradicate or minimise the presence of dandruff and seborrheic dermatitis. The ingredients also help to minimise other problems such as itching of the scalp, dryness, redness, scaling and flaking. The most common ingredients that the best dandruff shampoo for men use in their products are as follows
Zinc pyrithione
This is one of the best ingredients in fighting dandruff. The ingredient contains antifungal properties that penetrate deep into the scalp to get rid of fungi and any other infections that cause dandruff or seborrheic dermatitis.
Salicylic acid
If your intention is to get rid of all the dandruff symptoms, you should also look for a shampoo with salicylic acid because it is another string agent for dandruff elimination. The ingredient penetrates into the scalp to get rid of all the dead cells. The mild acid ingredient may however leave the hair dry and you need to follow through with a quality conditioner.
Ketoconazole
Ketoconazole is another ingredient that eliminates dandruff. You however have to note that it is a very potent ingredient and you should not use ketoconazole shampoos every day. The least you can use the shampoo is twice a week or as directed by a doctor.
Selenium sulphide
Selenium sulphide is also another strong ingredient that helps to eliminate dandruff at the source.
Coal Tar
Besides treating dandruff, coal tar is another strong ingredient that also treats psoriasis and eczema and it is the best for those with sever dandruff symptoms. It works by slowing down skin cell production, which in turn reduces irritation, redness and other irritations. It is a highly potent ingredient so you should always make sure your rinse it out thoroughly to avoid any negative effects on the skin.
Soothing natural essential oils
Dandruff occurs due to many different reasons. These could be due to climate change, diet, genetics, hygiene, use of chemicals and many other reasons. Some of these reasons cause the scalp to dry which in turn leads to flaking and the presence of dandruff.
Using shampoos with essential oils helps to bring down the irritation and dryness thus eliminating the problem. Some of the most notable essential oils in dandruff shampoos are Tea Tree Oil, Jojoba Oil, Avocado Oil, Rosemary Oil, Argan Oil, and Sage Oil.
Sulfate free
A dandruff scalp leads to skin sensitivity and other irritations. If you are treating the symptoms of dandruff, you should always look for products that are sulfate free because sulfate can react with the skin to cause even more irritation.
No allergens and toxic chemicals
Again, because of the skin sensitivity, you should avoid products with allergens such as gluten, parabens, added preservatives, additives and fragrances
Scent
Always check on the scent especially if you cannot stand the strong. This is because some of the medicated treatment shampoos for dandruff contain ingredients that have a strong scent.
Type of hair
Majority of the dandruff shampoos work well for almost all hair types to eliminate dandruff and the symptoms of flaking, scaling, dryness and itching.  However, some brands only work well with particular hair types. The hair types include, thin hair, medium hair, oily hair, thick hair, dark hair, curly hair, colour dyed hair and chemically processed hair.
If you have thick hair and of the Asian descent or you are of the black skin descent, you should look for the best dandruff shampoo for thick Asian men hair or best dandruff shampoo for black men respectively. If you have thin hair, you should look for a dandruff shampoo with that will not cause any hair loss.
If you have chemically processed hair or color dyed hair, you should read the package clearly to check if the ingredients will irritate the scalp or will not do so. If you have any doubts, do not hesitate to ask for your doctor's opinion.
Skin type
Men have different kinds of scalp skin and not all the shampoos work the same for all the skin types. The scalps range from oily, dry, sensitive to normal skin. Dandruff shampoos with essential oils and natural ingredients do well for those with sensitive scalps, oily and dry scalps. For those with normal scalps, they are in mote luck as majority of the shampoos are compatible with their skin. If you are not sure of the ingredients that fit your scalp type, it is always wise to seek for advice from a doctor.
Price
Always check on the price so that you do not go beyond your budget while purchasing. If the product is too expensive, look for a cheaper one with the same abilities
Size of the bottle
Shampoo brands come in different sizes. If you have severe dandruff, you may have to use the dandruff shampoo for a longer period. If you have mild shampoo, you may need to use the product for a few weeks. Buy a size that will go well with the extent of the problems
Reviews
It is always wide to read the reviews on every product before you buy. Luckily, for you, dandruff shampoos have some of the largest number of reviews, which makes it easier to pick out on the best.
Walking into the nearest store and buying any shampoo simply because it reads that it is the best dandruff shampoo for men is not enough. you need to take all the above factors into consideration before purchasing. if you buy a shampoo with the wrong ingredients, you may put your scalp and hair into more problems larger than the dandruff.
Read Next: Best Dandruff Shampoo For Women
Wrapping it up
Choosing the right dandruff shampoo is essential if you want to achieve good results. You should pay attention to the ingredients because they will tell you whether you are choosing the right –product or not. In addition, the above dandruff shampoos for men are of the highest quality and contain the ingredients needed to eliminate dandruff and all the symptoms that come with it. They also come with glowing reviews that prove that best dandruff shampoos for men really work.
Source: https://cosmeticnews.com
Category: Dandruff