The scalp also becomes itchy. Even though it is harmless, dandruff is a chronic condition that can be embarrassing for someone who has it. Usually, the condition normally starts from between the ages of ten and twenty years. Up to 40% of people aged above thirty have the condition.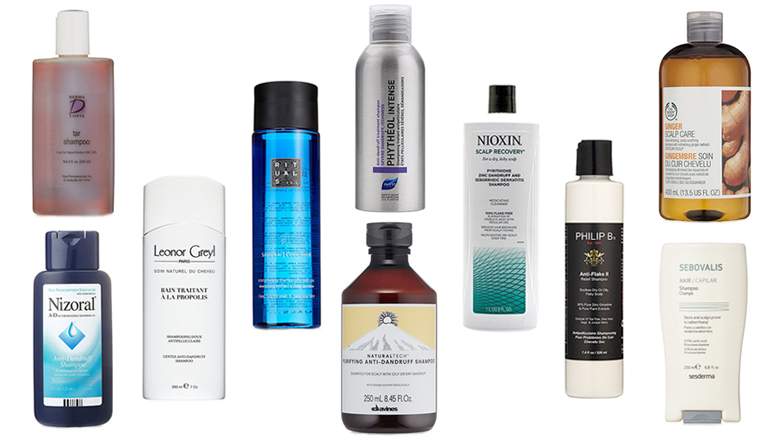 Even though the condition is common, its exact causes are not yet known. However, several factors increase one's risk of having the condition. Contrary to popular belief, dandruff is not caused by poor hygiene. However, poor hygiene makes it more visible. Some medical or skin conditions such as eczema and seborrhea dermatitis may increase the risk of having dandruff. In addition, the use of inappropriate hair products can increase the risk of getting dandruff. Even though dandruff is a chronic condition, there are ways of treatment. One of the major ways of treating dandruff is the use of dandruff shampoo. The following are some of the best dandruff shampoo that helps in dandruff treatment.
Best Dandruff Removal Shampoo For Men
#1 Nizoral Anti-dandruff Shampoo 

With Ketoconazole
Made by Nizoral, this shampoo contains some of the most-prescribed ingredients for dandruff with a mix of wheat germ oil and wheat protein. It fights dandruff by killing the fungus that causes dandruff. The great thing about this anti-dandruff shampoo is that you only use it twice a week and the dandruff outbreaks will be under control. It also controls scaling, flaking and itching.
If your hair is colored, you will not have to worry about damaging the color of your hair as this shampoo is made with salon-gentleness and therefore it is gentle enough to be used on color-treated hair and chemically treated hair. The shampoo lathers easily to form a rich and thick lather that rinses clean to leave you with a clean and fresh-smelling hair. In addition, you get to use this shampoo with any other regular shampoo so you will not have to give up your favorite shampoo for entirely. You can use your regular shampoo in between shampooing with this one and on the other days of the week when you are not using it; you can use your regular shampoos.
#2 Neutrogena T/Gel Therapeutic Shampoo Original Formula
Apart from helping get rid of common dandruff, this shampoo by Neutrogena is also effective for treating dandruff caused by conditions like scalp psoriasis and seborrhea dermatitis. By using this shampoo, you get long-lasting relief from flaking and itchiness associated with dandruff. One of the critical ingredients that make this shampoo great is coal tar extract, an ingredient that continues to work for hours even after the shampoo is rinsed off.
This shampoo from a trusted brand recommended by dermatologists not only helps fight dandruff, it also leaves your hair clean and manageable with a fresh smell. For effective use, follow the directions given by the doctor or use it at least twice a week. You can also make it your regular shampoo and use it daily.
Even though the shampoo has an unpleasant odor that only lasts for a few hours, it works very well and you begin to see changes within a few days of use.
3 Neutrogena T/Gel Daily Control 2-in-1 Antidandruff shampo 
What is awesome about this shampoo is that unlike other T/Gel shampoos, it does not have an awful smell. This light blue shampoo has a fresh smell that remains in your hair for a few hours after using it. Besides fighting the dandruff this shampoo also leaves your hair soft and manageable because it is acts as both a shampoo and conditioner. It also gentle enough to use on a daily basis, however, for best results, always follow the doctor's directions.
Besides leaving your scalp dandruff free and clean, this shampoo also caters for your hair since it has Vitamin E and wheat proteins which acts as moisturizers for both the hair and the scalp and protects your hair from any more damage. It is so gentle that you can use it on color-treated hair. By following the directions of use, you can say goodbye to dandruff in just a few weeks.
#4 BIOLAGE Scalpsync Anti-Dandruff Shampoo
Made with Pyrithione Zinc, this shampoo by Biolage helps control the appearance of flakes and relieves scalp irritation in addition to fighting dandruff in general. Even though its price might be a little high, this shampoo is totally worth it because it will leave you with a clean and healthy scalp that smells great.
Besides clearing dandruff, this shampoo can also be used for various scalp problems such as the little bumps that are caused by trapped oils that are not cleaned. This shampoo loved by hair professionals, is a great choice for people who experience dry hair with other shampoos. It also works very well. You can notice changes in your scalp after a few weeks use.
#5 Redken Dandruff Control Shampoo 
This shampoo by Redken is another amazing choice if you want to get rid of dandruff effectively. Using this shampoo is also very easy since you only sit with it for five minutes after applying it on your hair and then rinse and you are good to go.
Even though it may take some time before you see the changes, once you stick to the directions of use, you can be sure that your dandruff problem will be a thing of the past. Since it is a high-quality product, Redken is a little on the high side in terms of price but the results are totally worth the price. With just a month of use, you get 98% relief from itchiness and dandruff. You can make it your regular shampoo and control the dandruff even after the dandruff clears.
#6 Seba Med Shampoo Anti-Dandruff
This anti-dandruff shampoo by Seba Med is the perfect choice for those with sensitive skin. The antidandruff shampoo has been recommended by doctors for regular use even after the dandruff clears. This amazing shampoo keeps bacteria away while regulating sebum production for a healthy scalp.
Read more : Bumble and Bumble Sunday Oily Hair Shampoo Reviews
This shampoo is made with Mild Active Substances that gently cleanse your scalp and hair and eliminates any visible signs of dandruff.
#7 Denorex Therapeutic Maximum Itch Relief, Dandruff Shampoo
This great shampoo also serves as a conditioner to leave you with soft, manageable hair after shampooing. Made by Denorex, this anti-dandruff shampoo not only eliminates dandruff but also strengthens your hair while offering you maximum protection from itchiness associated with dandruff.
It is perfect for those experiencing scalp itchiness that may or may not be associated with dandruff. It contains menthol which aides in reducing scalp irritation, and vitamins for healthy hair that looks great. The conditioner works like any independent conditioner with results that are just as good if not better. Therefore, if you love your hair and your scalp, this anti-dandruff shampoo should be on top of your shopping list.
Read Next: 10 Best Dandruff Shampoo For Men
Best Dandruff  Shampoo For WoMen
#8 Denorex Extra Strength Dandruff Shampoo + Conditioner
For extra smooth hair and dandruff free scalp, this shampoo by Denorex is all you need. The shampoo contain menthol which leaves you with a tingling feeling once you have applied it on your hair to let you know that it is working. It is so effective that you start to see results within just a few times of using.
The great thing is that you will not need a prescription from the doctor to but it so you can purchase it and start using it once you start experiencing an itchy scalp or flaks on the scalp. The shampoo also leaves you with a great looking hair that smells fresh. It is best for moderate dandruff. In case the dandruff is severe then it is best to consult your doctor and get a prescription from him/her. For best results, use the shampoo at least twice a week. It has provitamin B5 that is responsible for shiny and thick hair.
#9 L'Oreal Paris EverFresh Antidandruff Shampoo Sulfate Free
Made by L'Oreal Paris, a respected brand in the beauty business, this is probably the best shampoo for color-treated hair and dry scalp. It is clinically tested to ensure your scalp stays free of flakes, irritation and itchiness. It is made using natural botanics to ensure your scalp and hair gets the best treatment. The shampoo is also gentle on color-treated hair.
To ensure your hair does not dry up after using the shampoo, L'Oreal Paris Everfresh antidandruff shampoo is 100% free of sulfates, parabens and harsh salts. Unlike the other shampoos mentioned here, you can opt to use this shampoo only once a week and still get best results. The shampoo also conditions your hair leaving it soft and tangle-free.
#10 PYTHEOLE INTENSE Botanical Anti-dandruff Treatment Shampoo
If you a severe or recurrent case of dandruff, this shampoo is what you need. Specifically made to fight dandruff, this shampoo combines active purifying and soothing ingredients to relieve even the worst scalp itchiness while effecting clearing the scalp of dandruff and eliminating any chance of the dandruff to reappear.
The shampoo is free of silicone, paraben, gluten and talc to ensure your hair is taken care of as it deals with the dandruff. The shampoo by Phyto Botanical Power works by providing anti-bacterial relief and prevents flaking by reducing cellular renewal. F or best results, ensure you wash hair twice, that is, lather the hair again after the first rinse for fast and effective results.
#11 Kenra Dandruff Shampoo
No matter the color of your hair, whether pink, purple or blue, you can be sure that it will not fade once you start using this anti-dandruff shampoo. That is one of things about this shampoo by Kenra. This is one of the most effective antidandruff shampoos out there. Within just a few days of use, you will begin to feel a much more relaxed scalp with reduced itchiness. However, for full recovery in terms of no dandruffs and itchiness, you will need to use this shampoo for about two to three times a week.
The disadvantage is that the shampoo may work at a slower pace on a dry scalp, but all in all, it is good choice worth your every penny. The shampoo also detangles and adds shine to your hair. It is safe for daily use.
#12 Puriya Sulfate Free Anti Dandruff Shampoo with Tea Tree Oil
Made by Puriya, this anti dandruff shampoo contains tea tree oil for safe for use for all hair types such as color-treated, curly, fine and even damaged hair. In addition, the shampoo contains no strong chemicals making it ideal to be used by everyone in the house, including the pets. The shampoo contains antifungal properties that effectively stop scalp flaking and itching in just a few applications.
Besides Tea Tree Oil, the shampoo contains Sage, Arnica and Rosemary, which add moisture to your scalp and hair, and improves hair growth by improving the blood circulation. The great thing about this shampoo is that not only does t clear dandruff, it also helps you if you have hair loss problem. It has a pleasant natural scent and gives your hair the luster you have been longing for in addition to making your hair completely soft and tangle-free. With regular use of this shampoo, you can forget about fighting the urge to itch your scalp in public. Probably the only disadvantage of this shampoo is that it is pricy. However, with all the benefits that comes with it, the price is totally worth it.
#13 Selsun Blue Medicated Dandruff Shampoo 11-Ounce Bottles
Made by Selsun Blue, this is one of the best quality anti dandruff shampoos out there. It contains selenium sulfite 1% for a thorough wash of the flakes and medicated with menthol to give you that nice tingling feeling that lets you know that it is working when you are using it. Not only does it eradicate dandruff, it also improves the health of your hair. It is recommended by doctors for the treatment of severe dandruff, itching and flaking. The rich and highly concentrated shampoo also helps in preventing seborreic dermatitis of the scalp.
It has a citrus smell and leaves your hair soft and manageable after just the first use. The shampoo is one of the best medicated shampoos out there and can be used for other skin conditions like scalp psoriasis. It can also be used on dogs to treat rashes.
Read Next: Best Dandruff Shampoo For Women
Dandruff Shampoo For Kids
#14 Dr. Eddie's Happy Cappy Medicated Shampoo For Kid
Read more : Jason Dandruff Relief Treatment Shampoo 12oz Reviews
Some of the most stubborn medical conditions that most children deal with include flaking, scaling, itching and generally irritation of the scalp. These conditions can affect children of all ages. This is where this medicated shampoo by Dr. Eddi's comes in handy. The shampoo is specifically made to cater for dandruff issues affecting children of all ages.
Seborrheic dermatitis commonly referred to as 'cradle cap' affects every 1 in 3 children below 5 years of age but there has never been a shampoo made specifically for children until Happy Cappy came up with the Dr. Eddie's Happy Cappy shampoo. The shampoo contains Licorice Root Extract, a natural ingredient that helps sooth the redness in neck fold, behind ears and under armpits. The shampoo is the first Over-the-Counter shampoo for children and is dermatologist tested paraben free, alcohol free, dye free, fragrance free, sulfate free and vegan making it the best organic shampoo for kids.
For severe cases, use the shampoo daily for up to a week. Significant improvements can be seen within the first week of use.
Read Next:Best Dandruff Shampoos For Kids Complete Guide
Tips for healthy hair and scalp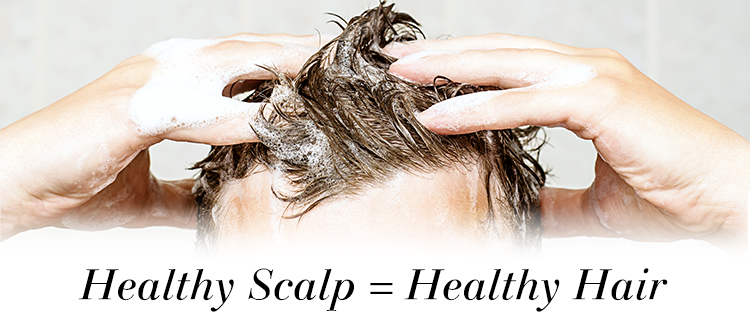 We all want that hair that makes people turn their heads when we walk past them. The hair we see on Disney characters like Cinderella and Rapunzel. The thick, bouncy and shiny hair we see on these characters is simply unforgettable. So, are you looking for tips on how to thicken your hair and make it look healthy, read on to find out.
Handle wet hair with care
Wet hair has the tendency to break easily since it is very fragile. When the hair is wet, the roots are more vulnerable to damage. To protect your wet hair, be gentle when shampooing. It is very easy to break your hair when you harshly shampoo it. Also, do not brush your hair immediately after washing it. Let it dry first then brush.
Avoid over oiling your scalp
Putting too much oil on your scalp will end up forcing you to use more shampoo when washing. The danger of using more shampoo is that you run the risk of ridding your scalp of essential oils hence leaving it dry and more prone to dandruff. To avoid such a scenario, oil your hair frequently but be careful not to overdo it. The type of shampoo also matters, for instance, use the best shampoo  for oily hair if you have sensitive skin to prevent the scalp from many problems like drying up.
Healthy diet
One of the causes of dandruff is an unhealthy diet. The best way you can ensure you not only have a healthy scalp but healthy hair as well is by watching what you eat. There are some nutrients, which are essential for hair growth and health. These nutrients include iron, proteins and vitamins. In case your diet does not provide enough of these ingredients, then you may want to consider supplements.
How to get rid of dandruff
The main symptoms of dandruff are scaling, flaking, dryness and itching of the scalp. Washing your hair and scalp with your everyday ordinary shampoo may not be enough to get rid of dandruff and the symptoms. You can use different products that include over the counter-medicated shampoos and conditioners, prescription drugs, change of diet and natural remedies.
Dandruff shampoos are some of the most effective ways of eliminating the problem. The shampoos contain certain ingredients that contain anti-fungal and antibacterial properties that penetrate the scalp to stop the overproduction of skin cells, which in turn eliminates the appearance of dandruff and its symptoms.
Some of the most common ingredients in dandruff shampoos are zinc pyrithione, ketoconazole, selenium sulfate, salicylic acid, coal tar and tea tree oil. Besides the medicated shampoos, you can also make your own DIY homemade dandruff shampoo.
Homemade dandruff shampoo
Why would you want to make homemade dandruff shampoo? Several things would make you want to make your own DIY homemade dandruff shampoo. One of the reasons would be that you prefer using readily available natural ingredients for your beauty routine such that you would want to continue with the same for hair and the other would be because you do not want to buy a shampoo that contains toxic chemicals…  One of the most efficient ingredients for homemade shampoo is tea tree oil, which is also a common ingredient in commercial dandruff shampoos. A full list of the ingredients for a recipe of one of the best homemade dandruff shampoo is;
Tea tree oil
Coconut milk
Castile soap
Baking soda
Coconut oil
Lavender oil
Olive oil
Rosemary oil
Apple cider vinegar
Fenugreek seeds
Purified water
Benefits of ingredients for homemade shampoo
Some of the most potent ingredients for homemade shampoos come with many health benefits for the skin and hair. The ingredients are easily available and do not cause any side effects. Besides these, making your own homemade shampoo also saves you money considering that dandruff shampoos are some of the most expensive in the market.
Tea tree oil is an essential oil with antifungal properties that helps to clear bacteria and fungi on the scalp. It also helps to thicken the hair. Coconut milk and coconut oil are very rich in nutrients and using them on hair and scalp leaves them healthy and natural with less dandruff symptoms.
One of the causes of dandruff is excess sebum and castile soap, derived from olive oil, contains gentle cleansing properties that rid the scalp of excess oil. Baking soda helps to clear the dead skin on the scalp as it is abrasive. It also exfoliates the skin and hair and acts as a fungicide.
Rosemary oil gives the shampoo a nice scent and so do the other essential oils. They also have properties that fight the fungi on the scalp. Fenugreek contains proteins that encourage better hair growth free from dandruff and flakes.
Cons of homemade dandruff shampoo
As nutritious and affordable the ingredients for DIY homemade shampoos, the results are not always the same as those of commercial ingredients are. It may take longer for homemade shampoos to eliminate the problem of dandruff and the shampoos do not produce as much suds as commercial shampoos. This is because majority of the industrial shampoos contain an ingredient that makes the shampoo lather more when it comes into contact with water.
Conclusion
Dandruff is a embarrassing condition. It can greatly impact your social life making you depressed and stressed in the end. Fighting the urge to itch your scalp can be embarrassing especially when you are having something to eat or drink. Other people may view it as a completely distasteful antisocial behavior and you may end up getting the side eye. Thankfully, the above shampoos are specially formulated to eradicate dandruff so you do not have to suffer in shame any longer. You only have to choose the one you like from the above list.
Source: https://cosmeticnews.com
Category: Shampoos