Although many products promise to deliver exceptional results, it may take you several trial-and-errors before you settle on the right one. In the process, you may end up scarring your face or breaking it due to harsh chemicals. Instead of going through all this stress, you should try microdermabrasion.
Microdermabrasion is a gentle, minimally invasive procedure that exfoliates the skin to get rid of dead cells and make your complexion smoother and brighter. It is a procedure that is safe for all skin types and color. A dermatologist can perform it in a treatment spa, or you buy your own microdermabrasion kit and perform the procedure by yourself. One of the best microdermabrasion to use at home is derma e microdermabrasion scrub. This is a salon-quality treatment that will buff the skin to help in reducing fine lines, acne scars and wrinkles. Below is a review of this scrub to help you understand its benefits to your skin.
You are reading: Derma E Microdermabrasion Dead Sea Salt Scrub Reviews
See also:
Derma E Microdermabrasion Scrub Review
Derma E microdermabrasion scrub is a fine-textured crystal blend, which will improve the look of fine lines, acne scars, wrinkles and skin roughness and deliver a healthier and youthful look. It is a salon-perfect formula that uses dead sea salt in a blend of crystals to buff away the dead surface skin cells and excess skin oils to achieve a more brilliant look.
This scrub is enriched with lime and natural and lemon peel, which are natural astringents. It also contains vitamin E and grape seed, which are antioxidants, to help in re-texturing the skin, making it smooth, soft and youthful. You can also use derma e microdermabrasion scrub on your hands, knees, elbows heels and any other part of your body for soft and healthy skin.
Ingredients
The main ingredient in Derma E Microdermabrasion Scrub is Dead Sea Salt. Due to its rough texture, it helps to exfoliate the dead skin. It has also been proven to eliminate common skin ailments and provide detoxifying benefits to the skin. This leaves the skin refreshed and smooth. Another primary ingredient of the scrub is a combination of citrus oils. These are gotten from lime, orange and lemon peel oils. They work on the skin to refresh and soften it.
They also re-energize the skin complexion to make it glow with the appearance of good health.
Other ingredients include Jojoba seed oil, which provides intense skin moisturization and promotes cell renewal for a revived complexion. Grape seed oil and vitamin E provide an abundance of vitamins to nourish the skin and help it to retain moisture. All the ingredients are gotten from plants and vegetables, making it one of the gentlest microdermabrasion scrubs.
Usage
To get good results when using Derma E Microdermabrasion Scrub, wash your face thoroughly. On wet skin, apply the scrub in a circular motion for one minute, while avoiding the eye area. If your skin is sensitive, scrub using less pressure.
Read more : Olay Regenerist Microdermabrasion Kit Reviews
Using warm, clean water, rinse your face thoroughly and pat dry. You can now use your favorite moisturizer to keep the skin moist. For best results, use it twice per week.
Pros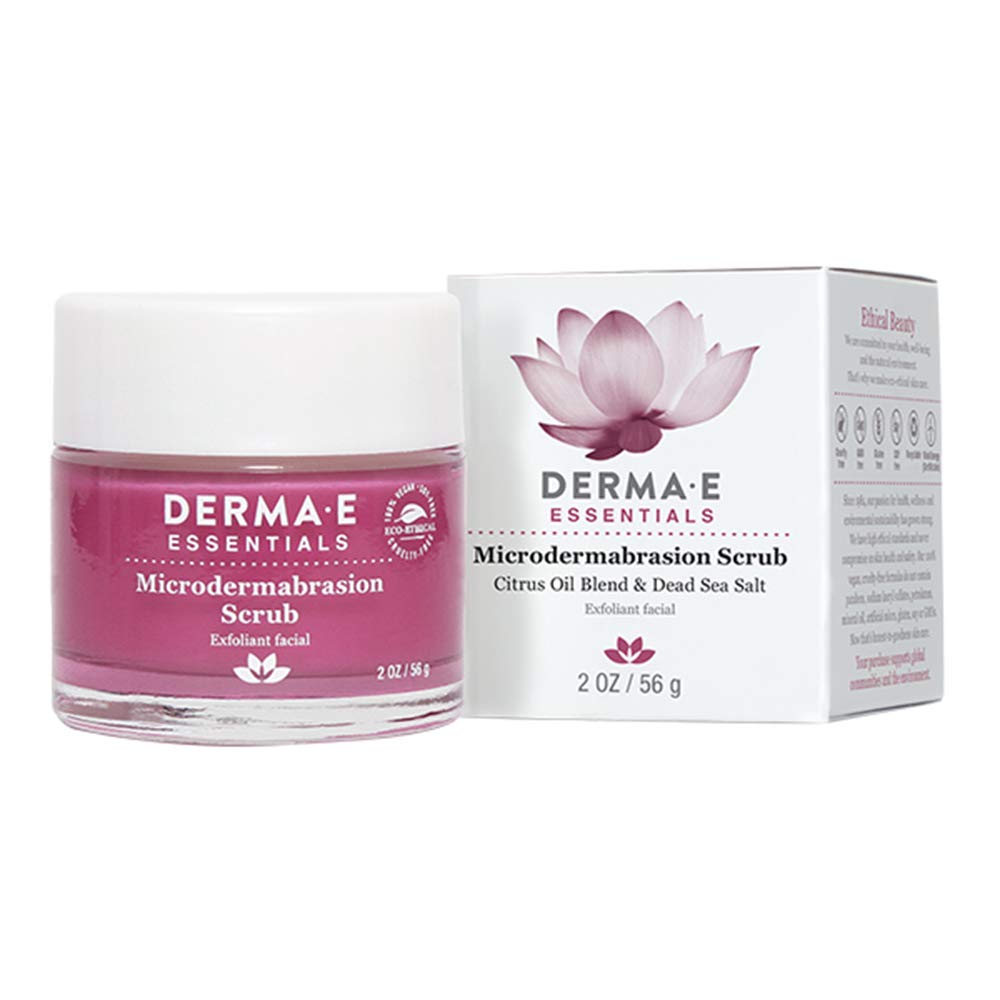 Larger molecule structure
This scrub is made of a crystal blend that has a large molecular structure. Therefore, it is not bio-available to the body. This means that it is not absorbed into the body through the skin, so it is entirely safe.
No Harmful preservatives
The ingredients used in this microdermabrasion scrub are of very quality, and they do not include any harmful preservatives. All the ingredients are gotten from plants and vegetables, and they also include dead sea salt, which is useful in eliminating common skin ailments.
Salon-Perfect Formula
This scrub is a salon-quality formulation that gives you the salon benefits right from the comfort of your home. It uses exclusive crystal blend to buff away dull skin cells to diminish acne scars, fine lines and dark spots.
Immediate results
This scrub exfoliates the dull outer surface of ageing cells leaving the skin smooth and soft and produces immediate glowing appearance.
Clinically proven results
The results of derma e microdermabrasion scrub have been clinically proven to diminish the appearance of fine lines, acne scars and wrinkles. It also re-textures the skin leaving it silky-soft, smooth and younger-looking.
100% Vegan
Derma E Microdermabrasion Scrub is made of 100% plant ingredients. This makes it 100% safe on any skin type, color and sensitivity. It has been proven to be cruelty-free; therefore, you can use it very comfortably.
Cons
Formula change
Some customers claimed that the previous formula, which they were used to, had changed at it did not work effectively as before. The exfoliation effectiveness that it gave before has been weakened give below the par results.
Poor packaging delivery
Read more : The 10 Best Essential Oil Brands And Company Reviews & Compared
Some customers received opened products while others received the product in a broken bottle. This made the product unusable, and they were forced to return it.
Customer reviews
The majority of customers liked this product, and it has a rating of 4.6/5 in Amazon. Most of them liked the resulting silk-smooth and soft feel as well as the youthful look of their skin. It is a gentle scrub that cleanses the skin deeply without irritating the skin. Below is what some of the customers said about the scrub:
Sherri gave the scrub a five-star rating and had this to say:
"The best scrub ever!. I first found it at Sally's, and even with my professional license discount, it was just under $30 with tax. I tried other brands of scrub since, Neutrogena, which was ok, if you want a very mild scrub, and Strivectin, which I'm very happy with all of their products except for their scrub. I might as well have just used soap and a wash rag. But this Derma E is the perfect scrub! I use once or twice a week, and it leaves my skin glowing, and my cheeks smooth as silk."
Mari, another happy customer, also gave it a five-star rating and wrote this:
"I love this scrub. I tried several scrubs trying to replace my more expensive brand, and I found that this one had just the right size and amount of grit in it for good exfoliation and a nice deep clean without being too abrasive. Some other scrubs have particles that are far too big, or too small, or not enough, or they dissolve too quickly. This one is perfect and I will keep buying this again and again!"
Read Next: Neutrogena Microdermabrasion System Face Scrub
Wrapping It Up
Derma E Microdermabrasion Scrub is one of the high-quality, salon-grade microdermabrasion treatments with clinically proven results. Due to its incorporation of dead sea salt in the crystal blend, it safely buffs away dead skin cells making the skin smooth, soft and youthful.
Considering its vegan benefits, effectiveness and high customer satisfaction, we recommend this product for your microdermabrasion needs. You get a salon-quality treatment right at your home, and you can easily do it on your own. If you have been struggling with acne scars, wrinkles and fine lines, this scrub will help you reduce their appearance. What's more, the results of using derma e microdermabrasion scrub are immediate.
Source: https://cosmeticnews.com
Category: Skin Care