However, for others, you may only experience the sun during summer. Even so, for both areas, it is essential to take care of your skin by protecting it from the exposure of the sun due to the UV rays that can cause unnecessary harm to the body. Luckily, apart from sunscreens, there is another method you can protect your skin while still maintaining your tan even when the sun is out called a self-tanner.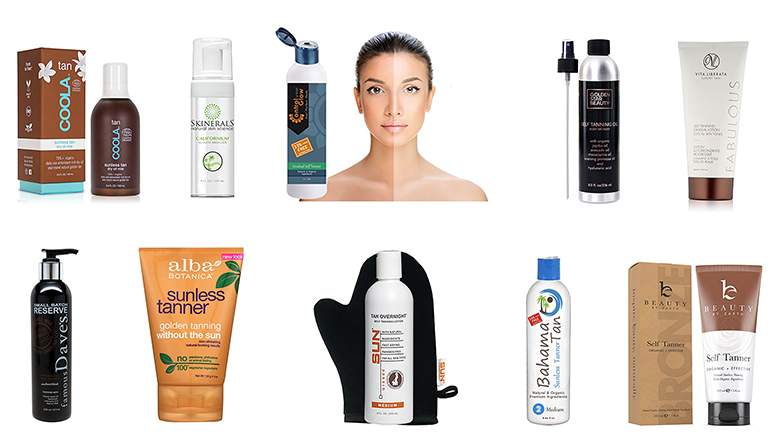 Over the last decade, self-tanners have gained a lot of popularity, and they have continued to evolve, making them even more effective. We no longer rely on the old sticky formulas that left the skin with an orange look devoid of any glow. Today, the market boasts of a range of different products that can give you that bronzed look without having to spend multiple hours in direct sunlight.
Regardless of whether you want an instant tan or one that will build up over time or maybe even one that quickly washes away there are plenty of options to go around. We took it upon ourselves to list the best self tanners in the market today. You no longer have to worry about getting streaky lines or orange palms with these self-tanners as there is one that will fit your option.
The Top 13 Best Sunless Tanner in the Market
Fake Bake Flawless Self Tan Liquid
The Fake Bake Flawless Self Tan Liquid is a bestselling self-tanning spray that comes with its tanning mitt. The non-sticky formula contains Dihydroxyacetone (DHA) Erythrulose and DMI that delivers a safe and long lasting golden tan. It works on any skin type by enhancing the skin pigments allowing you to have a more natural looking tan. It comes with an inbuilt color guide that will enable you to see where you are applying the self-tanning product ensuring that you have a perfectly golden bronze tan without any streaks. Tan will develop within 4 to six hours leaving behind a tropical scent.
St. Tropez Self Tan Bronzing Mousse
The St. Tropez Self Tan Bronzing Mousse is a leading self-tanning formula that has won the Elle Beauty Awards and was the In Style Best Beauty Buys Winner. It is a premium formula that is loved by professionals and celebrities alike. The formula is lightweight and easy to apply. It contains a revolutionary tanning technology that works to the benefit of your skin tone to provide you with a long lasting tan that can last for days in only one application. For best results, it is best to use with a tan applicator mitt. The formula hydrates the skin for 24 hours while giving off a mood-boosting fragrance. It delivers an instant glow within 4 to 8 hours of application. The tan can last for ten days.
Jergens Natural Glow +FIRMING Daily Moisturizer for Body
If you are looking for a perfect looking glow while also taking care of your cellulite problems, you need to get the Jergens Natural Glow. The formula contains a blend of vitamin E and antioxidants that help to keep the skin nourished. It also includes collagen and elastin that help the skin to get a brief firmer look. You can see the results of cellulite reductions within seven days of using the products.
On the other hand, it also delivers a subtle and streak free natural looking color by enhancing your skin's natural tone. You can get the formula for fair to medium and medium to tan skin tones. It does not leave behind any unpleasant sunless tanning odor as it has a light and fresh scent.
Best Self Tanners Drugstore
Banana Boat Self-Tanning Lotion
The Banana Boat Self-Tanning Lotion does not contain any oils and delivers a natural looking golden brown without any streaks. The formula has a self-adjusting color property that allows you to control the shade of the tan you want. It contains Aloe Vera extracts and Vitamin E properties that are beneficial to the skin. The self-tanning lotion contains oxybenzone and octinoxate that give it sunscreen properties protection you from the Sun's UV rays.
Best Self Tanner for Face
Skinerals Self Tanner Sunless Bronzer Californium
The Skinerals Self Tanner Sunless Bronzer Californium can be used on the face and the body to achieve a natural and consistent beautiful tan. The company focuses on the use of natural and organic ingredients over non-organic. It is a safer alternative to all the self-tanners that use harsh chemicals in their formulation. The Skinerals Self Tanner Sunless Bronzer Californium is best for anyone that is allergic to nuts as it does not contain it in the ingredients. For the best results, it is best to acquire a tan applicator mitt. You are sure to get a beautiful bronze glow without any splotchy patches that can last for up to seven days.
Skinerals Padded Microfiber Applicator Self Tanning Mitts
The Skinerals Padded Microfiber Applicator Self-Tanning Mitts helps you to protect your palms of your hand when applying a self-tanning formula. The mitts are made from micro-fibers, and you can use them on both sides. The ability to switch from one side to the other when one side is worn out gives the twice the life of other mitts in the market.
The Best Self Tanner Lotion
SUN LABS Tan Overnight Self-Tanning Lotion
The SUN LABS Tan Overnight Self-Tanning Lotion is made to be used on any skin type. The formula contains a blend of ingredients that nourish, hydrate and revitalize the skin as well as enhance its elasticity while still provide the best sunless tan at the same time. You do not have to expose yourself to the sun to get a tan saving you from worrying about the adverse effects of the sun. By consistent use, you can develop a more vibrant and loge lasting glow all year long.
Vita Liberata Invisi Foaming Self Tan Water
The Vita Liberata Invisi Foaming Self Tan Water contains organic botanicals such as raspberry and Ginkgo Biloba. The formula uses the companies Advoganic Technology to provide the skin with an anti-aging treatment and also to keep it hydrated while still giving it a glow. You do not need to worry about its transfer as it is as clear as water and dries very fast. You should expect to see your skin glow within 4 to 6 hours. The formula is darker than any other in the market.
The Best Self Tanner for Pale Skin
NKD SKN Gradual Glow Daily Tan Moisturizer
Xem thêm : 10 Best Drugstore Tanning Oil With Spf Reviews
The NKD SKN Gradual Glow Daily Tan Moisturizer is made from 100 percent natural DHA that provides a healthy and gradual tan look. It contains Aloe Vera, Lychee and Shea Butter that provides the skin with hydrating and healing properties hence leaving your skin soft with a natural glow and a hint of tan. The formula does not contain any perfumes, parabens, and alcohol. It can be used by any skin type including those with sensitive skin.
Bondi Sands Self-Tanning Foam Dark
The Bondi Sands Self-Tanning Foam Dark is made of a formula that meets the standard of use in a salon. The self-tanning foam contains Aloe Vera that provides the skin with healing properties and makes it soft. It dries very fast leaving behind a natural and flawless bronze tan without any streaks. The formula has a sweet coconut scent that awakens your senses.
L'Oréal Paris Sublime Bronze Hydrating Self-Tanning Milk
The L'Oréal Paris Sublime Bronze Hydrating Self-Tanning Milk is one of the best self-tanning formulas for use by both first-time tanners and pros. It is easy to apply as it works in a similar way to a body lotion. The formula contains Vitamin E that softens and nourishes the skin. The medium shade works best on neutral bases. With consistent use, you can build on the color intensity giving you the ability to customize your tan. It helps you get an even bronze skin glow without risking the harmful rays of the sun.
Body Drench Quick Tan Instant Self-Tanning Spray
The Body Drench Quick Tan Instant Self-Tanning Spray comes with a 360-degree nozzle that helps ease the application. The formula is of salon quality. The spray provides better coverage than most self-tanning products in the market. You can achieve a fantastic Natural looking brown tan within 3 to 5 hours that dries very fast on the skin.
Best Self-Tanners for Fair Skin
Beauty By Earth Self Tanner & Tanning Mitt Bundle
You no longer have to worry about your white skin as the Beauty By Earth Self Tanner can transform fair looking skin to look marvelous. The formula comes with its applicator to help you protect your palms while rubbing it on your skin. It is also able to cover up skin blemishes and imperfections without leaving behind nasty breaks or blotches. The bundle comes with a full kit from an applicator mitt to an exfoliator mitt and a face applicator glove to help you through the whole process of getting an even golden glow.
Why Should You Use A Self Tanner?
The most traditional method of tanning your skin is by sitting under the sun for hours. For tanning to occur, the surface has to undergo damage and cellular change putting you in the risk of skin cancer. However, a self-tanner offers you safer alternative tanning your skin without the unnecessary risk of damaging your skin. Self-tanners are made with an ingredient that stains the outer most layer of the skin that leads to a browning reaction. The reaction is safe since it takes place on the topmost layer of the skin that is composed of dead cells. When you use a self-tanner topically, you can achieve a somewhat safe tan appearance for your skin.
How Do You Choose The Right Self Tanner For Your Skin?
Today, getting a beautiful skin glow without the dangers of the sun is very easy. All you need to do is select the right sunless tanning products that work for your skin. But what guides you in choosing a self-tanning product?
Considering the Skin Tone
Your skin color is a fundamental determinant of the skin-tanner that you need to purchase. Pale skin calls for subtle shades. Whenever buying check to see that the packaging indicates fair or light skin. A subtle shade will give you a peachy apricot coloring rather than a too orange color. Pale skins can as well work with a tan that has a red base. The red base counteracts an orange manufactured look that you would sometimes get with a spray tan.
Most shades of bronzer work well for people that have medium or olive skins. You can choose the strength of the tan you like either deep or medium. You should as well select a tanner with a green base so that it can counteract the orange tinge.
Considering your Hair Color
The color of the hair also helps to navigate the difficult decisions of choosing a tan color. If you are a redhead or have fair hair, you can get a light bronze to brighten your eyes and give your body a nice glow. You want to do it in a way that does not make the color look too obvious. First, every time you want to apply the tan, you have to safeguard your hair by covering your head with a shower cap and using Vaseline on your eyebrows to prevent any color from sticking. Then you have to dilute the tanner regardless of the type with a moisturizer. It helps the tan become more fluid on the dry patches of the skin such as the ankles and elbows and ensures that you get a lighter color that is more natural.
If your skin is pale yet you carry with you a darker hair, you can use a deeper tan color. To give your tan something to hold on to, you need to exfoliate a day earlier rather than the day of tanning. It helps by allowing the skin to renew giving the proteins and amino-acids time to settle hence allowing the tan to grab on and become slightly darker. You need to use a darker tan color rather than layering the product to achieve a deeper color. Apply it without first mixing it with a moisturizer. In case there was a previous tan present on the skin, get rid of it first, or else you will get an uneven and artificial look.
When you change your hair color, you can change how a tan looks on your skin. A majority of ladies that color their hair have a blonde or white base to it. Therefore, you do not want to get a tan that is too dark. Peach and pink hair tones go very well with a golden glow. If you have blue or purple hair tones, you may consider going for a lighter tan.
Choosing Your Formula
Self-tanners come in various formulas including creams, lotions, sprays, and gels. Lotion and moisturizing formulas are the best for beginners since they are easy to apply and they help in hydrating the skin. Sprays and gels, on the other hand, can work on any types of skin with the best results on oily surfaces. They are less likely to clog the skin pores since they are not as heavy as the cream formula.
Xem thêm : Best Indoor Tanning Lotion For Fair Skin Review
Self-Tanning Product Options:
Lotions and creams

– These formulas are often tinted hence you can

tell in case you miss on any spot. They can be used by both beginner

and practiced tanners. They do not absorb immediately to the skin

giving you a few more minutes to blend if you so wish.

Moisturizers

– they contain a lower concentration of the active ingredient in

sunless tanners, dihydroxyacetone (DHA). With consistent use of the

self-tanning moisturizers, you will gradually build you a sun-kissed

glow. The

moisturizer

is a good starting point for novice

self-tanners.

Tanning Towelettes

– these are sheets that are pre-soaked with a

self-tanner. You only need to unfold it and swipe it across your

skin for an even glow. The pads are stress-free since you don't

have to worry about applying too much tan on your skin surface. They

are best to use whenever you are on vacation.

Sunless mousses and gels

– apart from being technical to use, these

formulas are lightweight, and they dry very fast. They are best to

layer and build up the coverage or to use when creating contours.

When applying, you need to use it six inches away and in a circular

motion. Blending should be done very fast since the color is

absorbed speedily. Even so, they are best used by experienced

tanners due to their difficulty in application.
How Should You Apply A Self-Tanner?
Whichever tanner you decide upon has the same rules of application if you are looking at achieving a smooth and even skin.
Cleaning the Skin
You always need to ensure that your skin if smooth if you intend on having a streak-free tan. Before tanning, it is proper first to take a shower. The surface should be free from any soap or moisturizer residue. Soap is known to mix the active ingredient of self-tanners, DHA and lead to the skin turning orange.
Exfoliate
Take your time to exfoliate your driest parts of your body such as the knees and elbows. You want to get rid of the dead skin since without doing it, it will end up absorbing more color than necessary making several sections of your body appear darker than others.
Dry your Skin
Make sure that after cleaning up and exfoliating, your skin is dry enough to help the tanner flow evenly. If you feel that some areas are slightly patched up, you can apply a light layer of moisturizer and allow the skin to absorb it for a few minutes before you begin the application.
Application
You should get some gloves and wear them to keep your arms from staining and also to give you a smooth object to use when applying. If your tanner does not come with gloves, you can use powder-free disposable latex gloves such as those used in beauty salons.
You should always start applying from the bottom to the top. Use small amounts and blend in a circular motion. You should aim at having a smooth application. If you administer the self-tanner in streaks, streaks will appear. It is therefore essential to use long sweeping movements to ensure even coverage.
Missing a spot is very common but very frustrating. You should revisit the area and layer with broad circular movements ensuring that you do not lose any other place.
For the face, ensure that you use a sunless tanner for the face. You may as well of to mix your body tanner with a light amount of facial moisturizer. Start with a dot on the forehead, cheeks, chin, and nose then blend it all. Finally, get rid of your gloves and apply a hand sanitizer on your palms to safeguard them from absorbing any formula then use a small amount on the top of your hands.
Afterward, you should give your skin time to dry before you dress up. Ensure that for the next 6 to 8 hours you have loose fitting clothes to reduce the chances of sweating. Even after you finish, you still need to get a good sunscreen that can protect you from the UV rays of the sun. Ensure that the sunscreen you get offers broad-spectrum protection, is water resistant and has an SPF of 30 or higher.
Read Next: Best Sunscreen for Face
Self-Tanning Mistakes
In case there is an area that has caught on too much color, you can buff using a slightly damp washcloth. If you happen to make a mistake, you do not need to start all over again. If you notice any streaks or smudges, you can cut up a lemon into halves and rub of one piece on the area lightly before buffing with a damp towel. A nail polish remover may as well do the trick.
Preserving the Tan
There are specific measures you can take to prolong the longevity of a self-tan. Always use a gentle cleanser when washing and ensure that the skin is moisturized at all times. You should as well avoid using acne treatments and retinol as they can discolor your face. Whenever you want to get a new coat, exfoliate your skin and begin the process all over again.
Conclusion
From the above, it is clear that self-tanning is indeed the safest and best option for getting skin tan without the unnecessary risks associated with exposing yourself to sunlight for long hours. Always choose a self-tanner based on your skin tone rather than the result you desire to achieve. If you have fair skin, light to medium formula may work and if you have an olive skin tone go for a dark formula.
Nguồn: https://cosmeticnews.com
Danh mục: Tanning