I'm all hands down with this brand. Neutrogena manufactures and markets most of the trusted and recommended beauty-skincare products worldwide and I'm happy to have included some of their skincare products in my beauty regimen. A trustworthy company is really important especially if we are talking about taking care of our beauty and skin health.
There were many products I have tried including those with my family that was a bit scary to use whenever you do not see on the labels who the manufacturers are.  Acne is one of the delicate skin problems common in all ages. Extra skin care and product formulation are needed. Having these skin problems will push you to try every product that promises solutions from the cheaper ones to the most expensive. But still, results and benefits are more important.
You are reading: Neutrogena Rapid Clear Acne Defense Lotion Reviews
Read more:
The Effects of Neutrogena Rapid Acne Clear Acne Defense Face Lotion
We have tried Neutrogena Rapid Acne Clear Acne Defense Face Lotion and it worked satisfactorily. If you ever you get the chance to try it, here are the immediate benefits that I have experienced and you may also expect:
It provides a soft feeling of a refreshed and moisturized skin.

With its lightweight and oil-free formulation, I have felt the soothing effects from its natural botanical components.

This lotion indeed quickly cleared acne breakouts and prevented further breakouts

It contains Salicylic Acid, an acne medication that fights acne effectively.

It has the merging power of Salicylic acid and natural botanicals that eliminate pimples and manage future breakouts.
Neutrogena recommends using it daily on your entire face to achieve smoothness and gain confidence in reducing breakouts in 8 hours as the brand commits. In my case, daily use works on me.
Neutrogena Rapid Clear Acne Defense Face Lotion which contains Salicylic Acid and natural botanicals will surely help tune the shedding of skin cells inside the skin pores, unclog it and eliminate pimples and control future breakouts. Is the product very effective? In my experience, yes it is. As long as careful application and instructions are followed, you'd definitely benefit from it as well.
Neutrogena Rapid Clear Acne Defense Lotion: Not Your Typical Face Lotion
Read more : 15 Best Body Wash For Acne Prone Skin Reviews
So you might ask, what makes it effective? I would say, following the instructions will give you the right start. But of course, it helps to know that you are using a clinically proven product to will swiftly improve and reduce blemishes while nourishing your skin carefully.
Neutrogena Rapid Clear Acne Defense Face Lotion has the sufficient medication along with botanical extracts to neutralize existing skin acne in every part of your face and body. This very effective natural formulation soothes your skin while preventing irritation and dryness. It primarily contains Salicylic Acid Formula to fight acne swiftly.
You need to remember that Neutrogena Rapid Clear Acne Defense Face Lotion will be most beneficial and effective, as I have experienced, if you thoroughly wash and cleanse your face or skin with acne before applying the lotion. A thin layer will suffice applying it once daily or night time and increase the frequency to 2 or 3 times regularly.
There will be times that you might experience some dryness as the skin tends to absorb the formula, my recommendation is to revert back to one application daily or once every 2 days.
Salicylic Acid and Natural Botanicals
Most acne medication contains Salicylic Acid. Neutrogena Rapid Clear Acne Defense Face Lotion primarily contains Salicylic Acid Formula. Is it safe? Yes, indeed. On our skin, salicylic acid helps in tuning the abnormal shedding of skin cells. It helps unclog pores, reduces skin redness on acne breakouts and effectively prevents future breakouts. Soap and water cleanse the face but does not eliminate the acne currently existing, Salicylic Acid swiftly does.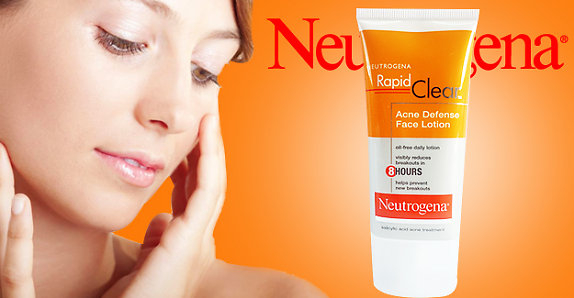 Read more : 10 Best Moisturizer for Acne Reviews
Making the lotion formula very effective especially that it was proportionally combined with natural botanical extracts to provide safe, soothing and refreshing fell in every application. I am confident that having these ingredients, you will surely achieve the exact benefits we experienced. But of course, every skin type or acne situation may vary depending on its severity and source. That is why you really need to follow instructions and carefully read the labels of whatever product you decided to use.
Acne Breakouts and Prevention
Acne breakouts are mostly common with teenagers as they pass through adolescence and experience various changes in their biological physique. There are cases, however, that such skin problems extend to later years up to their 40's. Surprising it may seem and hopelessness may arise, prevention is still better than cure. There is no substitute for having enough rest, sleep and proper hygiene. But there are cases that acne problems are sometimes internal problems before it gets external manifestation.
Proper diet helps a lot. Consulting your physician comes next. Generally, acne is related to what we call production of sebum. What is sebum, then? It is an oily substance produced by the skin on a natural process. Excess production of sebum may mix with dead skin cells that will be stored in skin pores. These clogged pores are the perfect home for bacteria and their growth, resulting in skin inflammation and irritation then leading to pimples and acne.
I think that's how my face had manifested these terrible menaces. However, every acne breakout is somehow different from every case in terms of severity and location. That's the reason why we can opt for several formulation and preparation from trusted manufacturers. Good thing Neutrogena Acne Products comes in varying preparations and versatility.
Neutrogena Rapid Clear Acne Defense Lotion: A Promising Product
Inasmuch as product formulation and natural ingredients are very important, your own personal experience and that of your family really matters most just like I do.  If you are experiencing acne problems and need help, consult your physician and trust the skin care experts.
Neutrogena Rapid Clear Acne Defense Lotion is indeed one of those products that deserve your trust and confidence in your quest to fight and prevent acne struggle. Always make sure to read the labels, be aware of the natural ingredients and follow the instructions carefully. Surely, curing and preventing acne problems is a fight you can win with the use of modern and safe medication as I have shared with you.
Source: https://cosmeticnews.com
Category: Acne