You can find it readily available in fruits. However, the quantities are not enough to offer your skin protection. You should therefore, include vitamin C serum into your daily skincare routine. When you apply vitamin c topically, it increases the protection against free radicals and damage from the sun. It also helps improve the tone of the skin. It increases the production of collagen and reduces hyperpigmentation on the skin surface.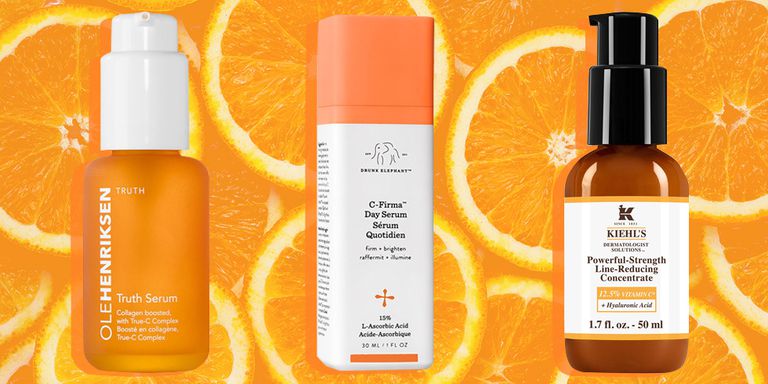 However, vitamin C is very potent and can irritate if you do not use it properly. It is essential that you to use only the best product, especially if you have sensitive skin. Here are some of the best vitamin C serum for sensitive skin products that you may consider.
You are reading: Best Vitamin C Serum for Sensitive Skin for Brighter Skin
ArtNaturals Anti-Aging Vitamin C Serum
The ArtNaturals Anti-Aging Serum is especially noteworthy due to its incredible price tag and a fantastic range of ingredients. The serum promises to help you get rid of crows feet, and dark spots form your skin. It helps in the fight against acne, works to brighten and tighten your skin and leaves the skin well hydrated. The formula is especially beneficial to users with aging skin or those with skin that is damaged by the sun rays.
The serum contains ascorbic acid, a potent antioxidant that helps in protecting the skin from free radical, fading dark spots and stimulating the production of collagen. There is also sodium ascorbyl phosphate, which is a form of vitamin C in a highly stable water-soluble form. The serum has several ingredients that are of importance to its functionality, such as cassia Angustifolia seed extract, which is a botanical form of hyaluronic acid. The extract seeps deep into the skin, securing the moisture, assisting in tissue repair, and increasing the skin protection. It also contains Gotu kola extract that helps to calm any skin inflammation, enhance skin moisturization, and help in the synthesis of collagen. Other botanicals include dandelion extract that is responsible for the skin toning. Aloe Vera soothes the skin, and wild geranium is accountable for the brightening and tightening of the skin.
There is also horsetail extract whose properties help to keep the skin free from germs. The serum is gentle enough for use on all skin types, including sensitive skin. It is fast-absorbing and can add some additional protection against the effects of the sun. You should use it on clean and dry skin, preferably under the sunscreen. If you use a toner, ensure that it comes before applying the serum.
DERMADoctor Kakadu Vitamin C Serum
Read more : Best Vitamin C Serums for Acne Prone Skin Reviews
The DERMADoctor Kakadu Vitamin C Serum is one of the best products in the market made to suit all skin types. The formula comes from the Kakadu Plum that grows in Australia. It has about 55 times more vitamin C content than what you can find in an orange. The clear serum is lightweight and absorbs quickly on the skin. It has an earthy smell that is familiar to anyone that has used vitamin C before.
However, it does not last for long. The ingredients that make up the DERMADoctor Kakadu Vitamin C Serum are unique than what other serums use. It contains a base formula that consists of water, glycerin, ethoxydiglycol, 3-0-ethyl ascorbic acid and PEG-40 hydrogenated castor oil. Ascorbic acid has a percentage of 20. It also contains vitamin E and ferulic acid that help to increase the efficacy of the serum. This serum will leave your skin smoother, softer, more elastic, and firmer.
It will help in getting rid of your wrinkles as well as fine lines. The potent Vitamin C protects your skin from free radicals. It is cruelty-free, and dermatologist tested and approved. It is as well allergy-tested and noncomedogenic.  The serum is hypoallergenic and non-drying. The formula does not have parabens, sulfates, dyes, phthalates, gluten, and fragrance.
Brandt Extend Your Youth Vitamin C Power Dose
The Vitamin C Power Dose by Dr. Brandt will help you achieve visible results in the reduction of skin wrinkles and fine lines. It reduces dark spots on the skin and leaves you with smoother and brighter skin. Its age-reversing properties are powerful as it can quickly get your skin closer to your youthful appearance.
It contains the highest concentration of stabilized vitamin C, that is at 20 percent, which brightens, smoothens and provides the skin with anti-acne properties. It also contains Kakadu plum extract that has 50 times more vitamin C content than an orange, providing a boost to the already present ascorbic acid. Together, they help protect the skin from hyperpigmentation, damage from the sun, and formation of wrinkles and fine lines.
Read more : Best Vitamin C Serum for Hyperpigmentation Reviews
The product has had a positive impact on clinical trials. Ninety-seven percent of the patients reveal to have firmer skin. Ninety-three percent showing better skin clarity and 83 percent depicting a reduction in the number of fine lines and wrinkles.
Read next: Best Vitamin C Serum for Acne Prone Skin
Summing up
Since vitamin C is highly potent, you can start by using lower concentrations of the serum. You can start from 10 to 15 percent and work your way up to 20 percent. Regardless of the type of serum you choose, you should build up tolerance by using it once or twice in a week. You can then increase the usage gradually until you can use it daily. Keep away from serums that contain synthetic fragrances and dyes and choose those that have hyaluronic acid, aloe vera, glycerin, and vitamin E.
Refer:
Ferulic acid – https://www.healthline.com/health/ferulic-acid
Gotu kola extract – https://www.webmd.com/vitamins/ingredientmono/gotu-kola
Source: https://cosmeticnews.com
Category: Serum